Ola has created the buzz but the real slog begins now
100,000 bookings, a mega factory and 'direct-to-customer' sales. But even as Ola as created interest in EVs, FADA President  Vinkesh Gulati says there are some areas of concern.
Ola has created the buzz in the EV market but the real slog begins now.
Vinkesh Gulati:"I am not sure this (100,000 tally) is achievable in the current stage of electric 2W development, especially when the segment is still to reach sales levels of 100,000 units annually."
On July 22, Ola announced that its e-scooter will be available in 10 colour options – both bright and dark – which makes it the widest range of options available from any electric two-wheeler OEM.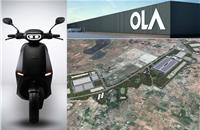 Ola Electric has been making the news for a while now but the brand still has a "lot to prove and understand" about the Indian automotive market. Additionally, says Vinkesh Gulati, President, Federation of Automobile Dealers Association (FADA), the sales aspect of 'direct-to-consumer' is another point of concern.
"Statements like the 'biggest factory in the world', and thousands of crores of investment creates eyeballs and is a very good strategy," he concedes. Ola has earmarked Rs 2,400 crore for a gigantic factory in Hosur, Tamil Nadu and recently received over 100,000 bookings for its e-scooter whose launch date is still unknown.
As Gulati says, there are hardly any details beyond this. "Nobody knows its price, specifications, mileage, etc. In the first 24 hours, they received 100,000 bookings . . . it is now nearly a week and this should have grown to 500,000 but no one is aware of the number," he adds.
The silver lining in the cloud is that Ola has generated a "lot of interest" for electric vehicles which will prompt other companies to fast-track their launches. Gulati would rather remain circumspect as of now especially on the number of bookings.
"I am not sure that this (tally) is achievable in the current stage of electric two-wheeler development . . . especially when the segment is still to reach sales levels of 100,000 units annually," he says. Numbers were around 30,000 units last year (high-speed scooters) and expected to increase to nearly 80,000 units in FY2022.
Direct-to-customer sales model not sustainable for mass-market OEM
The other area of concern pertains to Ola's plans on direct delivery to customers. "How will the company manage insurance and registration? It is not as if you start using the scooter immediately on delivery. I doubt if Ola can handle registration and insurance from a central place," says Gulati.
He also does not believe that the 'direct-to-customer' sales model can be successful in any mass-market segment. "If you want to sell some small numbers you can still do it, but if it is a mass-market product, it is very difficult in a country like India with the kind of compliances that are needed," elaborates Gulati.
Perhaps this can be achieved five to 10 years down the line and even FADA is stepping on the gas for digitalisation and online registration to happen across India. "Even if all these things are done digitally, there will still be need for some process/mediation to support the customer on the lines of what Tesla is doing," he says.
Yet, Tesla is still doing low volumes in its online drive and there is always a technician to help the customer whenever necessary. As Gulati says, the traditional internal combustion engine vehicle requires 10 visits to a dealership which is three times more than an EV.
"But even here, you need somebody and cannot completely do things online. After all, there are tyres, batteries, motors, brakes, accelerator in an EV and a whole lot of moving parts," says Gulati. Ola will hopefully have all the answers in place when deliveries of its e-scooter begin.
ALSO READ
Harish Bijoor: 'The big challenge for Ola is its name, which is a burden and a solution too.'
RELATED ARTICLES