Okinawa tops in high-speed electric scooter sales in India
Gurgaon-based Okinawa Autotech is the sole electric two-wheeler OEM to have crossed the 10,000-unit sales mark in high-speed scooter sales in FY2020.
Okinawa, which sold 10,133 high-speed electric scooters in FY2020, saw strong demand in Uttar Pradesh, Maharashtra, Karnataka and Tamil Nadu.
Hero Electric had 7,399 units to its credit in FY2020.
Ather Energy sold 2,908 units in FY2020. July 2019 sales of 464 units were its best monthly numbers last fiscal.
Demand for electric two-wheelers, the low-hanging fruit in the electric mobility industry in India, is gradually picking up but the pace could have been better. It is likely FY2021 will see considerably more action than FY2020, what with a number of new e-scooter manufacturers, some of them new, gearing up to introduce a flurry of new models.
However, at present, even though there are more than a dozen EV OEMs in the fray, only half of these sell FAME II-eligible, high-speed electric two-wheelers. India's electric vehicle industry saw total sales of 156,000 electric vehicles in FY2020, up 20 percent year on year, albeit this is on a very low base. This total comprised 152,000 two-wheelers (97.43%), 3,400 cars (2.17%) and 600 buses (0.38%), compared to FY2019's 130,000 units comprising 126,000 two-wheelers, 3,600 cars and around 400 buses.
Electric scooters comprised the bulk of sales — 97 percent of the total 152,000 two-wheelers while the remaining three percent comprised electric motorcycles and cycles. However, the bulk of the sales in the electric two-wheeler space came from low-speed electric scooters with a maximum speed of 25kph. These scooters don't need to be registered with the transport authorities and as a result their sales are not reported. The fact that this particular category was not covered by the FAME II incentives caught many manufacturers off-guard.
Okinawa Autotech sells 10,133 high-speed e-scooters in FY2020
An analysis of the OEMs selling high-speed electric two-wheelers in India reveals that the Gurgaon-based Okinawa Autotech sold the highest number of high-speed electric scooters and is the only one to have crossed 10,000 sales mark in FY2020.
EV (two-wheeler) market leader Hero Electric was second in this segment with sales of 7,399 units, while Ather Energy clocked 2,908 units. One of the reasons why demand is yet to pick up in a big way for high-speed electric two-wheelers is their relatively higher price compared to their IC-engined counterparts.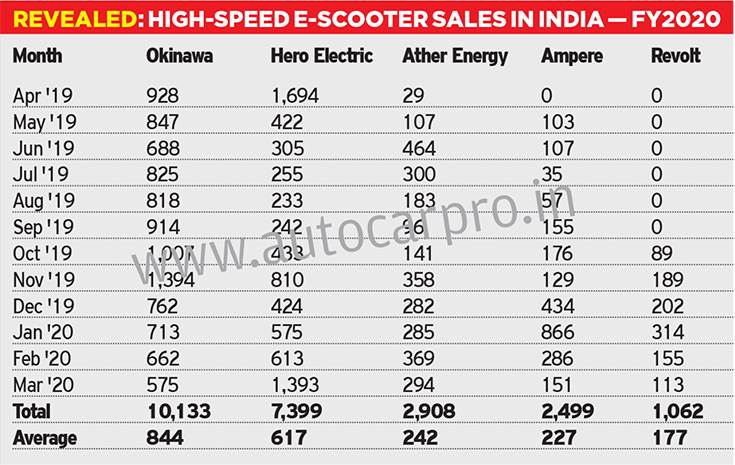 Okinawa saw a strong demand in Uttar Pradesh, Maharashtra, Karnataka and Tamil Nadu. For Hero Electric, the demand came in from Haryana, Rajasthan, Uttar Pradesh, Maharashtra, Karnataka and Tamil Nadu. Meanwhile, for Hero Electric, its strong dealership network across the country helped create a relatively expansive demand base.
In terms of monthly average sales of high-speed electric two-wheelers, Okinawa sold 844 units per month, Hero Electric 617 units while Ather Energy clocked 242 units. Ampere sold 227 and Revolt totalled 177 units each month in FY2020.
READ MORE: Autocar Pro's 2-Wheeler Industry Special is a must-read
RELATED ARTICLES