Okinawa claims record sales of 12,000 e-scooters in September-October
Sells 12,000 units of its superlative product range – Ridge, Praise, Ridge 30 & Ridge+ scooters in September- October 2018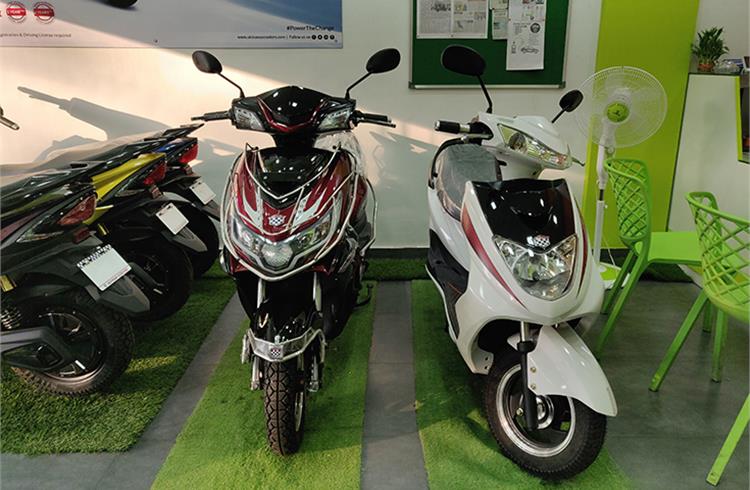 Okinawa claims record sales of 12,000 e-scooters in September-October
Okinawa claims record sales of 12,000 e-scooters in September-October
Okinawa claims record sales of 12,000 e-scooters in September-October
Okinawa claims record sales of 12,000 e-scooters in September-October
Okinawa scooters' showroom in KoparKhairane
Okinawa claims record sales of 12,000 e-scooters in September-October
Okinawa claims record sales of 12,000 e-scooters in September-October
Electric two-wheeler maker Okinawa Autotech reported record sales during this festive season. The company says it has sold 12,000 units of its Ridge, Praise, Ridge+ and Ridge30 scooters.
The company says with these sales numbers it has exceeded its own expectations for the season by a significantly large margin. The company sold 500 units of the Ridge+ in October and had planned to sell another 1,500 units in November. On the back of strong demand during Diwali, however, the brand sold 12,000 units over the September-October period.
For the e-scooter maker, a major growth driver has been the adoption of Okinawa scooters by several e-scooter taxi fleets and last-mile connectivity platforms across the country such as Vogo, Fae Bikes, Bikxie and KDM Group. Furthermore, Okinawa claims its market reputation, as well as burgeoning demand for convenient and quality detachable batteries in e-scooters helped the sales.
According to Jeetender Sharma, MD, Okinawa Autotech, "Since its launch, the Ridge+ has exceeded customer expectations through its convenience, high mileage and unmatched design. It has earned a name for itself in the market as a highly powerful and trusted vehicle and its detachable battery has made it all the more popular."
The company says the main USP for the Ridge+ is the detachable battery, giving consumers the confidence of opting for an electric scooter, knowing that they will have the freedom to charge the battery at their own convenience. The Ridge+ has a top speed of 55kph and can travel 120km per charge. The Ridge+ also features a micro-charger with auto-cut that gets the scooter up and running in just two hours.
Also read: EV sales in India grow to 56,000 units in FY2018, demand up for 2Ws but abysmal for PVs
Hero Electric bets on big growth in electric 2W sales in FY2019, FY2020
RELATED ARTICLES