Nitin Gadkari urges citizens to follow traffic rules, contribute towards road safety
The appeal has come in wake of the growing number of road accidents in the country and the related fatalities.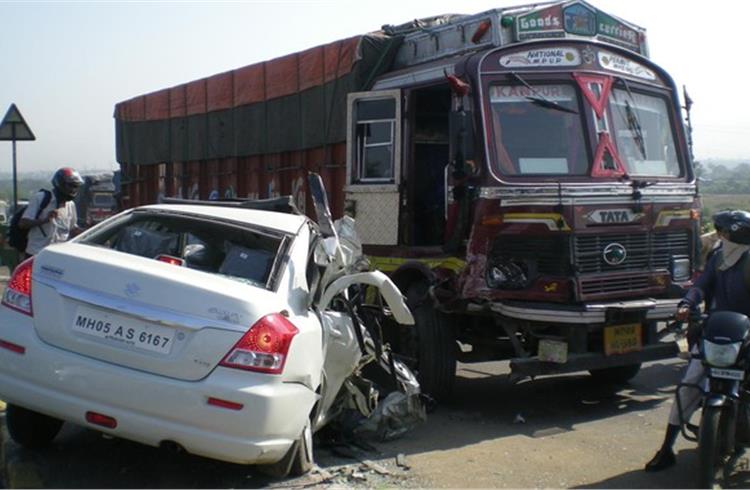 The union minister of Road Transport & Highways and Shipping Nitin Gadkari took to Twitter to appeal people to obey traffic rules and exercise utmost care and caution on the roads. He has requested people not to drink and drive and not to violate traffic rules.
The appeal has come in the wake of the growing number of road accidents in the country and the related fatalities. On June 9, the minister had presented the 'Road Accidents in India 2015' report in New Delhi. The detailed analysis, as expected, paints a grim picture of road safety in the country. While road accidents emerged as a major public health problem globally, India has been witness to a rising number of accidents, fatalities and injured. In 2015, there were over 500,000 accidents, killing 146,000 people and leaving thrice the number injured.
The Minister said that the growing number of road accidents in the country is a matter of grave concern, and it is extremely sad that so many innocent lives are lost every day due to these accidents. He further reiterated his commitment to bring down the number of accidents and related fatalities and said that his ministry is working in earnest towards this end.
So far, the government 726 black spots have been identified across the country which recorded repeated accidents/fatalities and steps are being taken to rectify engineering defects at such spots at a cost of Rs 11,000 crore. Crash barriers are going to be installed in hilly terrains like Himachal Pradesh. A Group of Ministers (GoM) is working on recommendations to make Indian roads safer, paving way for the introduction of a new Motor Vehicles Act in the Parliament soon.
Click here for the full list of road safety recommendations of GoM
Gadkari also informed that 10% of the CRF funds given to each state are to be used for identifying black spots on state and other highways. He called upon state governments to send proposals for the same. He added that NGOs have also been roped in to create awareness on the subject.
RELATED ARTICLES