Maruti Suzuki sells 146,203 units in March, numbers down 8.5% in Covid-impacted FY2021
In what was an extremely difficult year comprising 11 months of sales, PV leader puts on a strong show.
Passenger vehicle market leader Maruti Suzuki India has announced its sales numbers for March 2021 and the 11-month fiscal year of FY2021 (April 2020-March 2021). While March 2021 saw total domestic PV sales of 146,203 units versus 76,240 units in March 2020, when sales were down by 48% YoY due to the advance of Covid-19 last year. Domestic sales in March 2021 have only recovered to March 2019 levels (145,031 units).
For FY2021, the carmaker has recorded total domestic market sales of 1,293,840 units, down 8.5% YoY (FY2020: 1,414,346), mainly because of the Covid-induced loss of sales, the company moving out of offering diesel-engined vehicles and a zero production and sales month of April 2020. This also means that cumulative FY2021 numbers comprise 11-month sales versus a full 12 months of FY2020.
How the segments fared
The entry-level duo of the Alto and S-Presso hatchbacks has clocked numbers of 226,159 units, down 8.7% YoY (FY2020: 247,776). This is indicative of the fact that demand is still to rev up in India's town and country where buyers are preferring to go in for used cars.
The six-car pack of the Wagon R, Swift, Celerio, Ignis, Baleno and Dzire which accounts for the bulk of sales for the carmaker – 56% of the total 1,293,840 units – sold a total of 719,.647 units, down 8.6% YoY. Given that all these models once had a diesel engine and now longer are offered with one, it marks a remarkable resurgence for the company in this competitive segment.
The premium Ciaz sedan, which sees sizeable competition in the marketplace, sold 13,852 units over 11 months of FY2021 – averaging 1,259 units a month – and down 45% YoY (FY2020: 25,258). Clearly, Maruti Suzuki needs to add some oomph and possibly come up with an energetic marketing strategy to sell the Ciaz.
The overall YoY sales decline for the company would have been steeper than 8.5% had it not been for the sterling performance of its Utility Vehicles. The quintet of the Gypsy, Ertiga, S-Cross, Vitara Brezza and XL6 have together sold a total of 229,101 units, down just 2.6% YoY (FY2020: 235,298). Put that strong performance in a difficult year to the surging demand for the petrol-powered Vitara Brezza and the sustained demand for the Ertiga family MPV, which is also seeing strong demand for its CNG variant.
Meanwhile, demand for the Eeco van remains strong, given that a total of 105,081 units were sold in 11 months of FY2021, down 11.3% (FY2020: 118,404).
Growth outlook
Considering that the company is seeing decent month-on-month growth, it can be expected it should continue to record an uptick with every passing month albeit the growing number of Covid-19 infections could prove to be a spoilsport. However, in the face of skyhigh petrol prices, the company is seeing robust demand coming along for its clutch of CNG-powered models.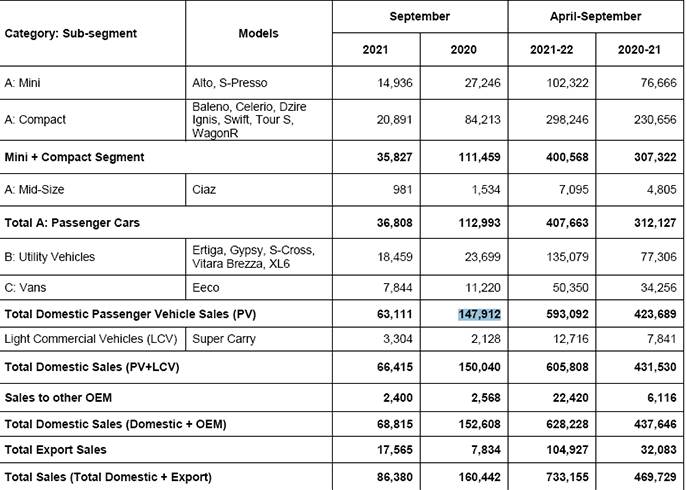 RELATED ARTICLES