Maruti Suzuki sales up 16% in August, 118% growth in SUVs-MPVs buffers 9% decline in cars
At 58,746 units, the SUV-MPV share grows to 38% of passenger vehicle sales of 156,114 units compared to 20% in August 2022; hatchbacks, at 84,660 units, down 10% YoY and account for 54% of PV sales, down from 70% a year ago, indicating the marked shift to UVs.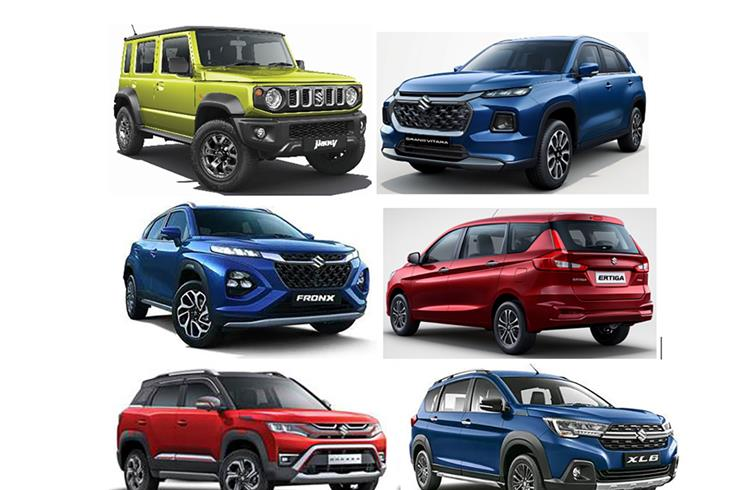 Passenger vehicle market leader Maruti Suzuki India's August 2023 wholesales reflect the same trend as in June and July. The surging demand for its expanding portfolio of utility vehicles and MPVs has once again saved the blushes for the company last month.
Maruti Suzuki despatched a total of 156,114 PVs in August 2023, 21,948 units more than it did a year ago and an increase of 16% (August 2022: 134,166 units). Month on month, August 2023 sales are up 2.62% (July 2023: 152,126 units).
The model-wise sales split, as detailed by Maruti Suzuki, reveals that of its four sub-segments (see data table below), the eight-strong UV portfolio of the Brezza, Ertiga, Fronx, Grand Vitara, Invicto, Jimny, S-Cross and XL6 sold 58,746 units, growing 118% YoY (August 2022: 26,932 units) and accounts for 38% of total sales. A year ago, in August 2022, the UV share in Maruti's total PV sales was just 20 percent. Powering this growth is the new lot of premium SUVs and MPVs from the Nexa channel.

In stark contrast is the rate of growth in the other three sub-segments – sales of the entry-level budget Alto and S-Presso hatchbacks are down by a massive 45% to 12,209 units from 22,162 units a year ago. The compact car portfolio (Baleno, Celerio, Dzire, Ignis, Swift, Tour S, Wagon R) with sales of 72,451 units, which betters July's 67,102 units, posted just a 1% YoY increase (August 2022: 71,557). The Ciaz sedan's sales were down 44% at 849 units and the Eeco van sold 11,859 units, down one percent.
Overall sales of hatchbacks at 84,660 units in August 2023 are down 10% on August 2022's 93,719 units. Importantly, the share of hatchbacks to Maruti's total PV sales is reducing – it is 54% in August 2023 versus 70% in August 2022. The marked shift to UVs is clearly seen here.
That's also apparent in the cumulative wholesales for the April-August 2023 period. The 247,196 UVs sold in the first five months of FY2024 constitute an 89% YoY increase (April-August 2022: 131,056 UVs). In terms of contribution to overall PV sales, April-August 2023 UVs account for a 34.22% share compared to 20.28% (April-August 2022: 131,056 UVs to 646,170 PVs).
RELATED ARTICLES