Maruti Suzuki launches new 1.2L Super Carry, 158,000 units sold since launch
Maruti Suzuki aims to increase sales of its sole CV by using its proven 1.2-litre petrol engine which powers the Wagon R, Swift, Baleno and upcoming Fronx; introduces new CNG cab chassis variant.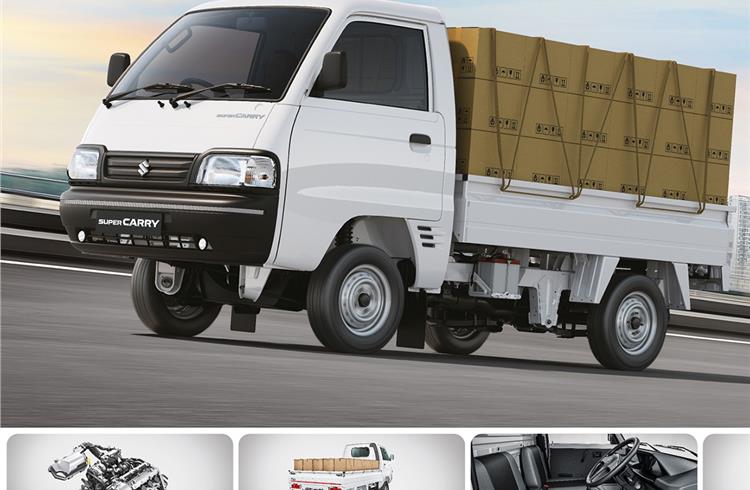 Maruti Suzuki India today launched the upgraded version of its mini-truck, the Super Carry. The big news is that the Super Carry, the company's sole commercial vehicle in the Indian market, gets a more powerful engine. Also introduced is a new CNG cab chassis variant, which allows buyers to customise their Super Carry depending upon specific application.
The Maruti Super Carry, introduced in the Indian market on September 1, 2016, will now be powered by the company's 1.2-litre, 4-cylinder, K-Series dual jet, dual VVT engine which develops maximum power of 59.4kW (80.7ps) at 6000rpm and 104.4 Nm torque at 2900rpm in petrol (compared to 54kW and 98 Nm in the existing model). In CNG form, it develops 52.7 kW (71.6 ps) at 6000rpm and 95 Nm at 2800rpm. This is the same powerplant used in the Wagon R, Swift, Baleno and the upcoming Fronx, in varying states of tune.
The new engine is mated to an upgraded five-speed manual transmission that offers improved gradeability which enables an easier drive up steeper gradients than in the existing model. While the petrol Super Carry has a maximum payload of 740kg, its CNG sibling has 625kg.
Cab chassis variant enables Super Carry buyers to customise to specific applications. CNG cab chassis costs Rs 615,500 (ex-showroom Delhi).
With the launch of the new Super Carry, Maruti Suzuki has also introduced a new CNG cab chassis variant (Rs 615,500, ex-showroom Delhi). The mini-truck is also available in CNG Deck (Rs 630,500), Petrol Deck (Rs 530,500) and Petrol Cab Chassis (Rs 515,500) variants.
Commenting on the new Super Carry launch, Shashank Srivastava, Senior Executive Officer, Marketing & Sales, Maruti Suzuki India said, "The Super Carry, built for the unique requirements of the Indian mini-truck customer, has been accepted well in the commercial vehicle segment with more than 150,000 units sold since its launch in 2016. The new Super Carry will continue to offer an excellent value proposition to customers. We are confident that it will prove to be an ideal companion for our commercial customers and partner in their success."
Maruti Suzuki, with its sole CV, currently has a 4% share of India's CV market, which saw total sales of 962,468 units in FY2023. A total of 38,006 Super Carrys were sold in FY2023, up 12.40% on FY2022's 33,812 units (see 7-year sales data table below). From launch in September 2016 through till end-March 2023, the Super Carry has sold a total of 157,959 units.
Key products highlights of the New Super Carry include front disc brakes, reverse parking sensors and seatbelt reminders, an engine immobiliser system, larger steering wheel with lighter operation to enable better manoeuvrability, smoother gearshifts and improved ride comfort further enhance its appeal. The mini-truck's CNG variant maintains its unique proposition of having a 5-litre emergency petrol tank.
The Super Carry, which is sold exclusively through Maruti Suzuki's over 370 commercial outlets spread across 270-plus cities across India, sees multiple applications including e-commerce, courier, FMCG and goods distribution.
RELATED ARTICLES