Mahindra reveals new electric SUV platform 'INGLO'
All-wheel-drive, 80kWh LFP battery, upto 4.7m length – these are some of the headlining features of the new SUV EV platform.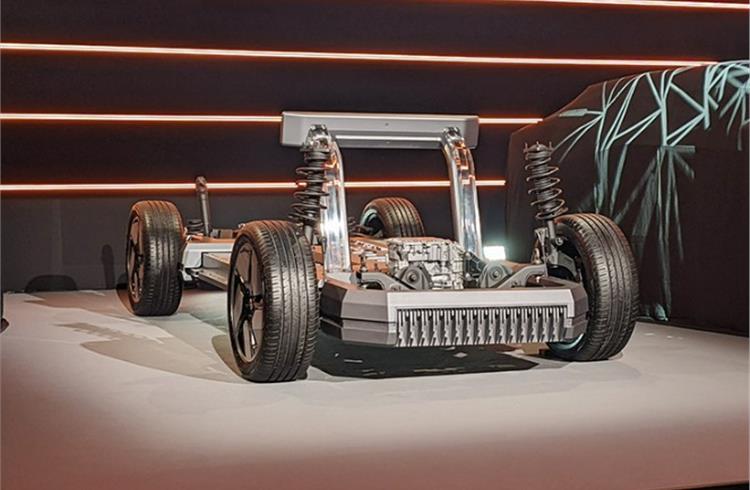 New lightweight skateboard INGLO platform to offer modular and scalable opportunities to M&M to carve out SUVs of different footprint with up to 80kWh battery capacity and 282hp from single and dual motor setups.
M&M's future EVs to be categorised under XUV and BE sub-brands and be based on the new 'INGLO' platform.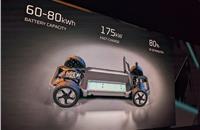 With its recent launches of the XUV700 and the Scorpio N, Mahindra has certainly had a massive amount of success, and today the company signalled its intent to make a big splash in the EV space too. At a mega event in London, the Indian automaker unveiled its new electric architecture and showcased five electric SUVs based on it.
Called INGLO, the modular electric skateboard will underpin the company's new range of born-electric EVs set to arrive at the end of 2024. Interestingly, the company says that the platform will use Volkswagen MEB components – earlier this year, the two firms announced intent to evaluate such a plan.
Mahindra electric SUVs: dimensions
The INGLO platform will be used to build SUVs that will range between 4,368mm and 4,735mm; for reference, the XUV700's length stands at 4,695mm. While the platform will have a flexible wheelbase, it will only be by a small amount of 13mm, ranging between 2,762 to 2,775mm. The big variation, however, will come from the front and rear overhangs, which will see an 87 and 293mm bandwidth, respectively.
Mahindra is also paying particular attention to ground clearance, which is a big issue with most EVs. The company says it is targeting a ramp breakover angle of 20 degrees and a battery to ground clearance of 218mm, whereas others that the company has benchmarked are in the range of 150 to 190mm.
Mahindra INGLO EV: battery
Mahindra says its new architecture will use a common battery pack design with standardised cell-to-pack technology that will use both Blade and Prismatic cell structures. Mahindra will use the LFP chemistry, which, while being lower on energy density, is reputed to be safer than NMC-based cells. Vehicle battery sizes will range from 60-80kWh and will be able to accept a fast charge of 175kW, which would charge the battery up to 80 percent in less than 30 minutes. Mahindra says the 80kWh battery should return a driving range of about 435km to 450km under the WLTP cycle.
Mahindra INGLO EV: motors
The new e-SUVs will have both rear drive as well as all-wheel-drive set-ups. The front motor will make a maximum of 109hp and 135Nm of torque, while the rear motor will put out a maximum of 286hp and 560Nm of torque. On board, Mahindra says the rear drive models will deliver between 231hp and 286hp, while the AWD models will make between 340hp and 394hp. Mahindra promises a 0-100kph time between 5 and 6 seconds.
Mahindra INGLO EV: safety
Going with its stated intent of having its new cars secure a high score under the various NCAP programs, Mahindra says the INGLO platform cars will do well under GNCAP, EuroNCAP and BNCAP too. The body-in-white has three load paths to distribute frontal crash energy and battery protection formed by ultra-high strength boron steel. Active safety too has been given due attention and Mahindra says the cars will have ADAS capabilities up to L2+ autonomy.
Mahindra INGLO EV: handling dynamics
With Mahindra's recent strides in handling, the company says it's using semi-active dampers to deliver a balance of good ride and excellent handling. With the active dampers, the Drive modes will also thus influence suspension response and feel. The front suspension set-up consists of McPherson struts, while the rear comprises a five-link set-up. Steering duty will be done by a dual-pinion rack assist, while stopping power will come from brake-by-wire technology that will be decoupled from the hydraulic system and allow for multiple brake modes for pedal feel and recuperation.
Mahindra INGLO EV: features
Given that the first of the new e-SUVs is still some time out, not much of their specific features was disclosed, however, the company did say that the cars will offer a vehicle-to-load (V2L) function to power external electrical devices like camping lights, for example.
In addition to the boot, the SUVs will also have a front trunk or frunk and the highlight of the cabin will most likely be the massive pillar-to-pillar triple screen set-up which comprises a panel housing three 1920X720p high resolution 12.3-inch displays. There will also be an HUD with augmented navigation.
Mahindra INGLO EV: launch
At the unveiling, Mahindra also announced that its new EV range will comprise of two sub-brands, the XUV.e series and the BE series. The first to arrive will be the XUV.e8 in December 2024 followed by the XUV.e9 in April 2025, and later in October that year, the BE.05 will debut, while the BE.07 is slated for October 2026. For now the launch of the BE.09 is yet to be decided.
RELATED ARTICLES