Keeway makes an Indian debut, unveils three motorcycles
Lead promoter Adishwar Auto Ride India to operate Keeway and Benelli brands in the country.
Sixties 300i retro-modern scooter
K-Light 250V cruiser motorcycle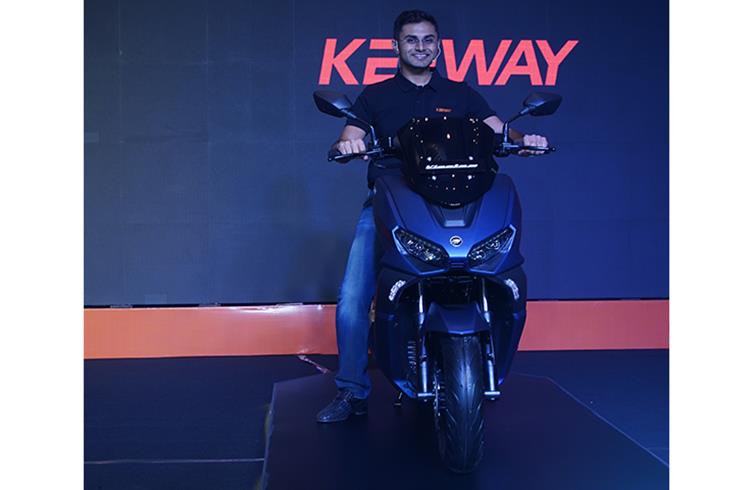 Chinese motorcycle manufacturer QJ-owned Keeway, a two-wheeler brand of Hungarian origin, has entered the Indian market with its new entity – Keeway India.
The company is being promoted by Adishwar Auto Ride India (AARI) – which is also operates Benelli India. Both Benelli and Keeway are owned by QJ and Vikas Jhabakh, managing director of Benelli India will serve as the MD of Keeway India as well.
The motorcycle brand has debuted in India with three new products – the K-Light 250V cruiser motorcycle, Vieste 300 maxi scooter and Sixties 300i retro-modern scooter.
Tapping synergies, Keeway will benefit the already established dealer network of Benelli India with its 40 outlets across the country and AARI would also be using its manufacturing setup in Hyderabad to assemble both Benelli and Keeway motorcycles.
The company will commence test rides of the three products at the Benelli-Keeway showrooms starting May 26, with deliveries slated to commence from early June after a price announcement. Online bookings have already commenced for the new Keeway products.
The Hungarian brand, which is present in almost 98 countries, has established solid ground in the European two-wheeler market as well as in North America, South America and Asia. Keeway India has announced its roadmap to strengthen its portfolio to eight products by end-2022, with a cruiser, two retro-street motorcycles, a naked street and a race replica to follow soon after the launch of the K-Light 250V, Vieste 300 and Sixties 300i.
According to Vikas Jhabakh, Managing Director, Keeway India, "We are privileged and excited to introduce the young and energetic Hungarian marque to the Indian Market. At Benelli India, we have been successfully operating in the uber-competitive Indian mobility market for years. In our tenure of catering to the unique needs of the Indian motoring enthusiast, we identified a requirement for an attractively designed, well-powered and reliably performing mobility products that are attuned to the price and quality conscious Indian buyer. To fulfil this need, we identified Benelli's youthful Hungarian sibling Keeway as the right partner for us."
RELATED ARTICLES