JK Tyre's Dr Raghupati Singhania conferred Mexico's highest civilian honour   
'The Order of the Aztec Eagle', the highest Mexican order to foreign nationals, conferredon Dr Singhania for his outstanding contribution towards Mexico.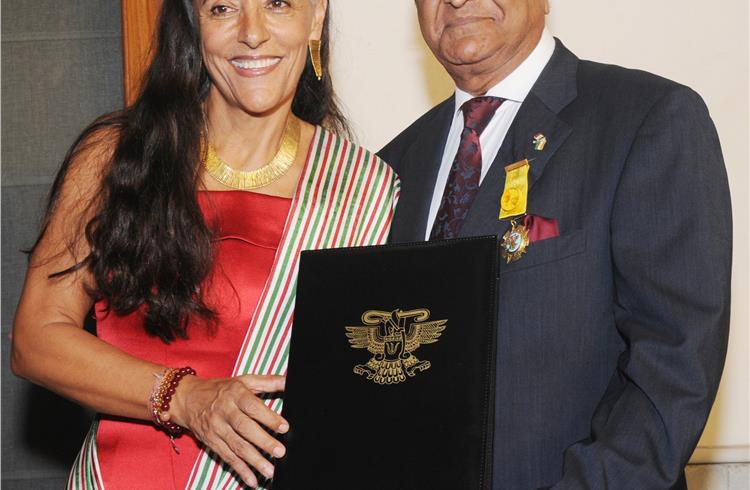 Dr Raghupati Singhania, chairman and managing director, JK Tyre & Industries, has been conferred with the 'Mexican Order of the Aztec Eagle', the highest honour accorded to non-nationals by the government of Mexico.
On the eve of the 128th National Day of Mexico, Ms Melba Pría, Ambassador of Mexico to India, presented the award to Dr. Singhania on behalf of the president of Mexico. The top honour is in recognition of Dr. Singhania's exemplary leadership, his noteworthy services towards humanity and his efforts to strengthen bilateral ties between India and Mexico.
Receiving the award, Dr. Singhania said, "I am honored with the recognition that Her Excellency Ms. Melba Pría has conferred upon me. It has been a privilege to have played a role in creating interest among Indian businesses in investing in Mexico. I have fond memories of my first conversation about Tornel with the then President of Mexico, Mr Felipe Calderon, and the rest, as they say, is history. The government of Mexico has indeed given a boost to business by welcoming foreign investment with open arms. It is a reflection of the Mexican government's helpful attitude towards industry, something that is worth looking up to for other countries too."
In 2008, JK Tyre & Industries Ltd expanded its robust manufacturing operations by acquiring Tornel having three production facilities in Azcapotzalco, Tultitlan and Hidalgo. Under Dr. Singhania's strategic leadership, the company turned around the facility in the very first year by improving efficiencies and increasing market share across product segments. Over the years, production capacity has been expanded, and Tornel's global footprint enhanced in North America and the Latin America markets.
The company more recently implemented the first-ever labour restructuring programme in Mexico, at JK Tornel by rightsizing the workforce.
Part of the JK Organisation, JK Tyre & Industries Ltd ranks among India's leading tyre makers. It has a global presence in 100 countries across six continents, backed by production support from 12 plants – nine in India and three in Mexico. Currently, the capacity across all its plants is about 35 million tyres per annum.
RELATED ARTICLES