Inter-city buses in spotlight at Prawaas
Prawaas 3.0's theme was  "Towards Safe, Smart, Sustainable Passenger Mobility", and saw the participation of over  100 exhibitors
The inauguration at Prawaas 3.0
The VECV pavilion at Prawaas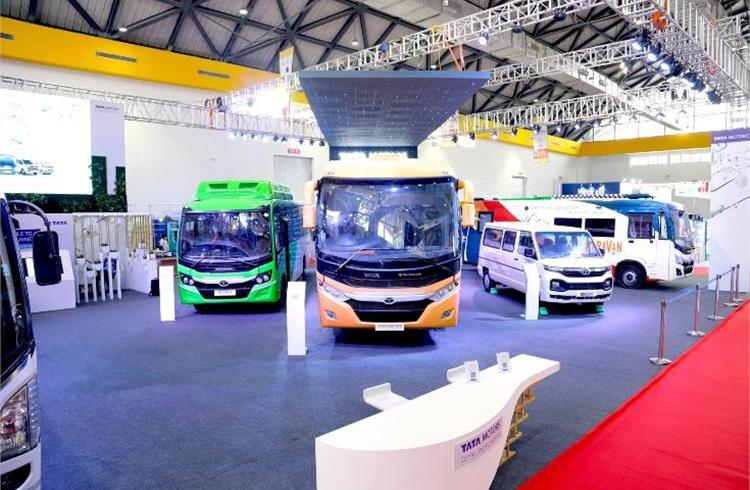 Tata's display of mobility solutions at Prawaas 3.0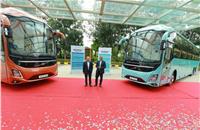 The third Edition of Prawaas, one of India's leading trade fairs for passenger vehicle operators which was held on August 4-6 in Hyderabad saw scores of enquiries and even orders from the tour operators, say vehicle manufacturers which participated at the event.
Organised by Bus & Car Operators Confederation of India (BOCI), and apex organization of all the state federations of private sector bus and car passenger transport operators across the country, it represents a braod swath that includes eight major transport segments -- intercity & intracity, school transport, tour operators, taxi cabs, tourist cabs, employee transport, critical and emergency response services, amongst others. The third edition took place close to three years after the last edition in 2019 due to the pandemic.
Prawaas 3.0's theme was "Towards Safe, Smart, Sustainable Passenger Mobility", and saw the participation of over 100 exhibitors from across the spectrum of segments including Volvo Eicher, Ashok Leyland, Tata Motors, JBM, Abhibus, Redbus, amongst others.
According to Prasanna Patwardhan, President, BOCI, the private transport operators ferry more than 32 crore passengers daily which according to him, is exponentially higher than airlines, railways and state transport units (STUs). One estimate suggests that 1.5 million buses ply in the country currently under the umbrella of BOCI.
The sector, however, has yet not received its due recognition and in Patwardhan's view, the government needs to formulate appropriate policy measures and fiscal support which will help the sector not only come out of the continuing impact of pandemic but also flourish in times to come. "A conducive ecosystem will bring ease of travel to millions of people every day," he added.
The three-day event saw the stakeholders discuss and deliberate on topics such as green energy – vehicles and infrastructure, role of passenger transport to boost tourism, future of public transport, changing times for passenger transport with innovative technologies, amongst others.
Vinod Aggarwal, Managing director & CEO, VE Commercial Vehicles (VECV) said, "Indian bus industry is on the path of revival. With the market opening up across segments, inter-city travel is picking up robustly and will soon touch pre-COVID levels". VECV, on its part, unveiled the next generation Volvo and Eicher intercity buses at Prawaas 3.0. Among the buses unveiled at Prawaas 3.0 were the company's newly launched Volvo 9600 15 metre and 13.5 metre intercity coach, and the Eicher 13.5m Intercity Coach. IN 2020, VECV acquired the business of Volvo Buses India for Rs 100 crore.
Chennai-based Ashok Leyland, the flagship Company of the Hinduja Group introduced 13.5 metre bus chassis at the event. The bus chassis (4X2) for inter-city travel is a new platform engineered for high speed intercity commute with larger saloon space. According to the company, it offers 20 percent additional passenger capacity (36 sleeper berths) against the 12 metre intercity chassis (30 sleeper berths), thereby maximizing per trip revenue for customers. Sanjeev Kumar, Head - MHCV, Ashok Leyland said, "Ashok Leyland has been a pioneer in urban mobility, and staying true to this we are proud to launch at Prawaas our 13.5m bus chassis built to provide maximum space and comfort."
Mumbai-headquartered Tata Motors during the event showcased a battalion of its portfolio which included front engine 13.5-metre bus – the Magna sleeper coach for intercity and luxury travel. Alternate-fuel-powered vehicles at the exhibition include the Ultra Electric 9/9 bus specially designed for staff transportation, Starbus Long Range CNG and LPO 10.2 CNG AC school bus. CNG is becoming increasingly popular in the bus segment, and the Tatas clearly want to leverage this.
The display by Tata also features a customisable caravan with modern facilities, aimed at the tourist sector, and Winger 9S and Magic Express, ideal for last-mile passenger transportation. Rohit Srivastava, Vice President, Product Line – Buses, Tata Motors said, " This has emerged as an excellent platform for showcasing new products and technology as well as providing possibilities for deeper collaboration between operators, business visitors and other stakeholders within this segment. This year's theme vitally highlights the necessity of using emerging technology and innovation to make sustainable transportation a reality.
RELATED ARTICLES