India becomes first market to get Lamborghini's performance-spec Huracan Evo
The Italian sports car marque is considering India as one of its major markets and is eyeing significant growth from the niche performance segment in the country.
Lamborghini Huracan Evo launched in India, priced at Rs 3.73 crore
India becomes first market to get Lamborghini's performance-spec Huracan Evo
India becomes first market to get Lamborghini's performance-spec Huracan Evo
India becomes first market to get Lamborghini's performance-spec Huracan Evo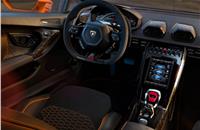 Lamborghini today introduced the updated version of its flagship sports coupe - the Lamborghini Huracan in India. Christened Huracan Evo, the car gets a significant performance boost with a 5 percent bump up in power compared to the regular Huracan, which now tops off at 640bhp from its naturally aspirated 5.2-litre V10 engine.
The motor has seen changes made to its intake and exhaust manifolds which now house titanium intake valves and a super sport exhaust for better outflow of the gases. The engine produces 600Nm of peak torque at 6,500rpm and with intricate updates made to the car's aerodynamics as well, Lamborghini claims a 0-100kph time of under 3 seconds, with a top-speed of well over 325kph. The aerodynamic efficiency on the Huracan Evo gets improved to six times with a seven-fold increase in its downforce.
Lamborghini has also brought in its all-new vehicle dynamics suite - the Lamborghini Dinamica Veicolo Integrata (LDVI) - which offers torque vectoring, an all-wheel steering and advanced traction control to enhance the vehicle's stability.
The company has also given an update to the interior of the car and has put in an 8.4-inch capacitive touchscreen infotainment system with gesture control features and with integrated telematics and vehicle dynamics system.
Lamborghini has been able to sell over 10,000 units of the Huracan globally since its launch in 2014. The super sports car has become the most successful saloon model for the company, also surpassing the Gallardo LP560-4 Mk II launched in 2012 and having sold 6,000 units in between 2014 and 2018, in comparison.
The APAC region, including India is a key focus market for Lamborghini and while the company clocked a substantial growth of over 50 percent with overall sales of 5,750 units in 2018 (CY2017: 3,815), the region contributed 1,301 units with the Huracan and Urus becoming the top-sellers at 576 and 363 units respectively.
"2018 has been a landmark year for us. Where we were earlier present only in the super sports segment, the success of the Urus has made us come out with flying colors in the overall premium luxury space," said Sharad Agarwal, country head, Lamborghini India.
Committed towards India
"We launched the Urus and now the Huracan Evo in India just after their global debuts and that shows our commitment towards the Indian market. The success of a brand lies on both internal and external factors. While we are strengthening our internal pillars, there still lie challenges in terms of the external conditions of taxation, infrastructure and policy instability," Agarwal added.
"The market trends have noticeably changed over the last two-to-three years. Apart from the metros, we are seeing over 25 percent of the demand coming in from Tier II and Tier III areas, with first-time business entrepreneurs also forming 23 percent of the buyer club. The Urus has also seen demand from women buyers," he said.
Lamborghini India is already seeing good interest for the Huracan Evo from customers, even having an undisclosed order-bank for the race machine. The company is looking at a three-fold growth target over CY2016 by next year, but, it is now waiting for the car to subsequently launch in other markets and will see a good number getting allocated to India to commence deliveries in July.
RELATED ARTICLES