Hyundai teases Alcazar seven-seater SUV ahead of global unveil on April 6
Korean carmaker announces culmination of durability tests being conducted on the premium SUV
Hyundai teases Alcazar seven-seater SUV ahead of global unveil on April 6
Hyundai teases Alcazar seven-seater SUV ahead of global unveil on April 6
Hyundai teases Alcazar seven-seater SUV ahead of global unveil on April 6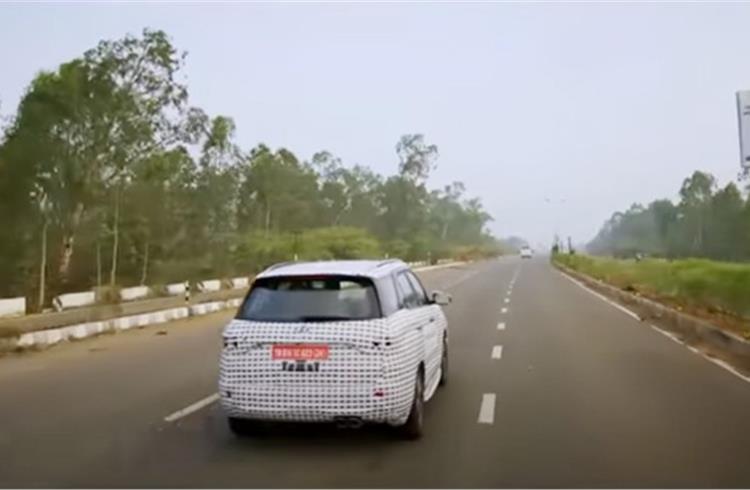 Hyundai teases Alcazar seven-seater SUV ahead of global unveil on April 6
Hyundai teases Alcazar seven-seater SUV ahead of global unveil on April 6
Hyundai teases Alcazar seven-seater SUV ahead of global unveil on April 6
Hyundai Motor India today released some visual and camouflaged teasers of its soon-to-be-unveiled Alcazar seven-seater SUV. The Creta-based Hyundai is to be officially revealed on April 6.
The Korean carmaker today announced the culmination of durability tests being conducted on the premium SUV, which has been tested over varying terrains such as rough roads, fast paced highways and hilly terrain.
The new Hyundai Alcazar will be powered by the same petrol and diesel engine options that are offered on the Creta SUV, thereby giving customers more choice than its direct rivals – the MG Hector Plus, the Mahindra XUV500 and the Tata Safari.
The Hyundai Alcazar will go head to head with the recently updated MG Hector Plus and the Tata Safari. Additionally, it will also see competition from the likes of the outgoing Mahindra XUV500 and its upcoming next-gen XUV slated to hit the market later this year.
Sources have told Autocar India that the Hyundai Alcazar three-row SUV could come with ADAS technology, which is known as Hyundai SmartSense overseas. While specific details are scarce at present, expect the SUV to come with Hyundai SmartSense features like forward collision assist, which includes automatic emergency braking tech, blind spot collision avoidance assist, driver attention warning, automatic emergency braking while reversing, and rear cross-traffic alert. Additionally, features like smart cruise control, highway driving assist and lane departure warning can also be expected on the Hyundai Alcazar.
Hyundai, which has sold a total of 471,535 passenger vehicles in FY2021, will be looking to give its domestic market sales a new charge with the Alcazar.
RELATED ARTICLES