Hyundai Motor India's Tarun Garg: 'We have to be flexible to provide relevant solutions.'
Korean carmaker's Director (Marketing, Sales & Service) believes the market opportunity exists for all kinds of engine technologies.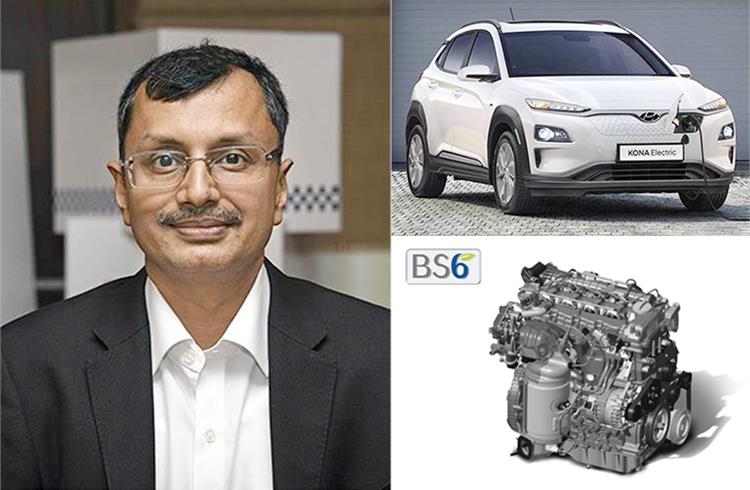 With Hyundai Motor India making a conscious choice to continue with diesels in the BS VI era, the company has clearly benefited from its decision with up to 60 percent of the sales, especially for its top-selling UV Creta, being for the oil-burner powertrain.
Now even as there is a marked increase in EV adoption in India with the electric PV segment registering 110 percent year-on-year growth, the Korean carmaker believes market opportunity exists for all kinds of technologies. Mass electric mobility in India though is many years away.
According to Tarun Garg, director, Marketing, Sales and Service, Hyundai Motor India, "I think the penetration (of EVs) is still going to be very slow and it is still many years away when we can say that EVs will overpower or maybe exceed IC-engine vehicles. So, they have to really go in tandem."
"Battery cost has really not come down at a pace it was expected to be. Once the cost of batteries comes down, EVs will be much more affordable along with the charging infrastructure also strengthening up. It is then that the entire ecosystem will be ready for a much faster adoption of EVs, but I feel it is still a long way ahead."
"India being so big and different, all kinds of market opportunities exist and that is why I say that even when we talk about say 10 years down the line, the market will still exist for both IC engines and EVs. But yes, the march towards cleaner mobility has begun but it is not only EVs . . . it could also be hydrogen fuel cells, CNG, petrol and diesel."
"CAFE 2 norms and RDE are coming and we will have to be very flexible and very much aware of the new technology changes happening to be able to provide relevant solutions to customers."
Being the Indian arm of the technologically-strong Hyundai Motor Group gives it an advantage in the local scheme of things. "Having a strong parent who is very confident about the future is important. When we talk about Hyundai Motor Corporation, one can clearly see that we are really talking about new technologies. The Hyundai Nexo FC EV is already selling in good numbers in Korea and the US. We are already investing so much into the newer technologies, for instance, we have already globally launched the Ioniq brand of EVs," says Garg.
He adds, "We are fairly confident about the future of the auto industry and are looking at revolutionary technologies. We are looking at all options such as EVs – as we have said, we will introduce a mass-market EV in the next three years. We are also looking at hydrogen fuel cells. So, we are considering various options to provide leaner, greener and cleaner mobility options for the customers."
RELATED ARTICLES