Hyundai Creta drives past 150,000 sales in India in 21 months
Averaging sales of 7,177 units a month, the popular Creta is accelerating Hyundai's drive to its best-ever sales in India for a fiscal year.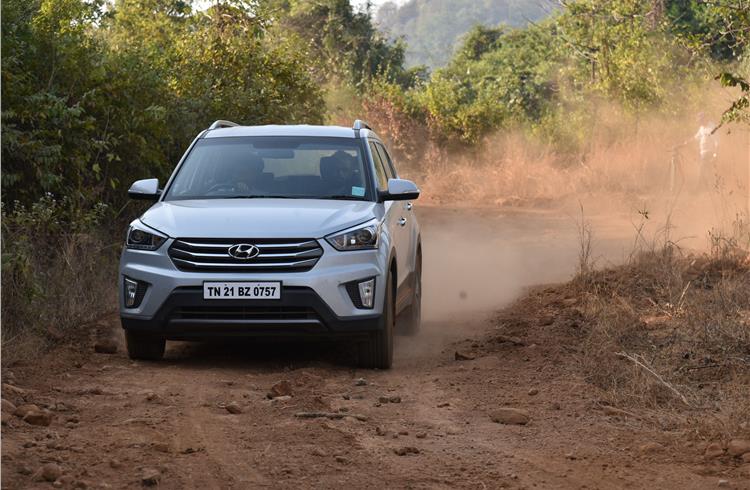 The Indian automobile market is riding an SUV wave and how. Two days after Autocar Professional revealed that the Vitara Brezza – Maruti Suzuki's first-ever compact SUV – had crossed the 100,000 unit sales landmark within a year of its launch, Hyundai Motor India's Creta has notched a milestone of its own.
Having clocked its highest-ever monthly sales of 9,002 units in February 2017, the Hyundai Creta has driven past the 150,000 unit sales in the domestic market 21 months after it was launched, averaging sales of 7,177 units each month.
The Creta is available with a choice of one petrol (123hp, 1.6L) and two diesel engines (90hp 1.4L / 128hp 1.6L).
Within eight months of its official launch on July 23, 2015, the Creta had received over 100,000 bookings and a waiting period of up to 10 month, enough to make Hyundai ramp up capacity by 30 percent for the model. To mark the model's first anniversary, Hyundai rolled out a limited-run First Anniversary Edition as well as newer variants of the Creta including a petrol automatic and a more affordable diesel automatic to further bolster its position as one of the best-selling SUVs in the country.
With its stellar sales performance, the Creta also became the second most sold UV in India in 2015-16 after the Mahindra Bolero, which ended the fiscal with sales of 67,484 units. Of Hyundai's total of 64,796 UVs sold, the Creta accounted for 63,836 units in 2015-16, helping the Korean carmaker overtake Ford India, Renault India and Tata Motors.
Hyundai set to record best-ever sales in a fiscal
As Hyundai Motor India completes two decades, it is now eyeing speedier growth in the domestic market. The company, which sold 484,000 units in 2015-16 and had a market share of 17.36% at the time – its highest ever yet – is looking to cross the sales milestone of 500,000 units in the current fiscal.
With just one month to go for the end of the fiscal year, the Korean carmaker is well placed to cross its sales target. For the 11-month period of April 2016-February 2017, the company has sold a total of 464,948 units. This means it needs sales of 35,052 units in March 2017 to reach its target as well as record its best-ever sales in India.
The manner in which the Creta is selling, Hyundai is well on its way to clock a new high. Stay tuned for further updates.
Also read:
UV sales in India to cross 1 million units annually by 2020: IHS Markit Automotive
RELATED ARTICLES