Honda 2Wheeler India's water-conservation mantras replicated at Honda APAC plants
India's second-largest two-wheeler maker's water conservation efforts  at its four manufacturing plants help save up to 2,426 million litres every year.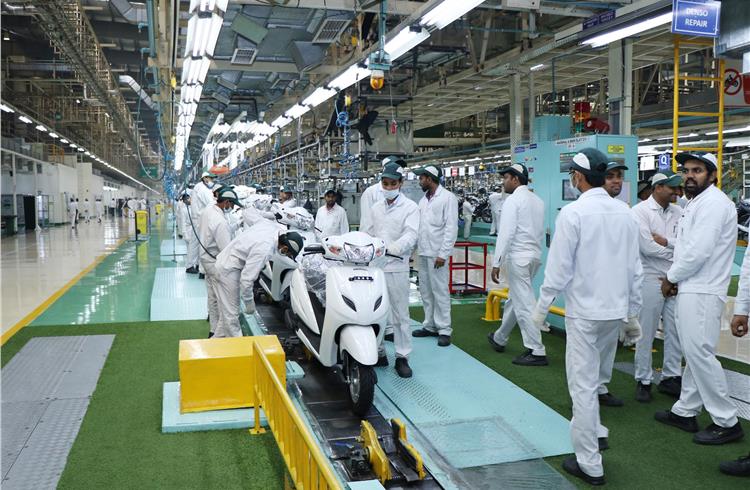 HMSI, which has 4 plants and a combined production capacity of 6.4 million two-wheelers, saves up to 2,426 million litres every year as a result of its aggressive water conservation initiatives.
A zero liquid discharge unit at an HMSI plant.
Rainwater harvesting pond at the Tapukara plant site in Rajasthan.
Honda Motorcycle & Scooter India (HMSI), India's No. 2 two-wheeler manufacturer with four plants and a combined production capacity of 6.4 million units, is doing its bit to save water and reduce its carbon footprint in a time when the automotive industry – one of the largest consumers of water – is implementing a sustainable drive the world over.
In line with its parent Honda Motor's global philosophy to target sustainable excellence through green manufacturing practices, HMSI says it continues to reduce the environmental impact of its operations, as well as throughout the lifecycle of its products
Since beginning operations in India in 2001, HMSI follows the 'Honda Triple Zero Approach'–zero CO2 emissions, energy risk and waste. In its second year of operation itself, HMSI established a strong Environment Management System within the ambit of ISO 14001. Since then, various initiatives have been undertaken to reduce the carbon footprint, water consumption and hazardous waste generation.
Water conservation and environmental excellence are intertwined pillars of sustainable excellence. HMSI has adopted the 3R principle of Reduce, Reuse and Recycle in this regard. This is seen in its implementation of zero liquid discharge by waste water recycling, rainwater harvesting, coolant treatment plant, use of hot water generator instead of boiler, installation of efficient flow water taps and use of recycled water from the sewage treatment plant in toilet flushing. In addition, HMSI has been able to meet 100 percent of its Narsapura factory water requirement through rainwater harvesting.
HMSI's water consumption down by 88% since 2002
As a result of its many initiatives and technologies, HMSI has reported considerable gains. From 2002, it has slashed its water consumption by 88 percent. As of March 2019, the average water consumption for all four factories put together is 0.138 KL/vehicle.
The company harvested 2,574 million litres of rainwater in FY2019 across all factories and recycled 451 million litres of waste water effluent through its zero liquid discharge systems. HMSI says it goes about its water conservation goals by deploying management and monitoring systems such as department-wise monitoring and variance analysis. In addition, through continual improvement driven by its Environment Management System, HMSI has been able to implement a number of water conservation technologies across all its factories.
Six water-saving measures at HMSI replicated at Honda APAC plants
Overall, Honda's holistic and robust commitment towards water resource conservation has cascaded from the very top throughout all facilities and also to its component suppliers and dealers, who have begun implementing these systems at their facilities.
Notably HMSI's aggressive focus on environmental improvements has seen some of its eco-friendly initiatives being replicated at some Honda plants globally. HMSI has been able to adopt several innovative best practices which have helped notch benchmark performance and inspire similar programmes at Honda plants in the Asia and Oceania region.
Six water-saving measures from HMSI have been deployed in five overseas Honda plants and have been instrumental in achieving considerable water savings. These six measures comprise:
- Zero liquid discharge system
- Rainwater reuse system
- Installation of automatic chips cleaner
- Implementation of PRV in hand-wash water line
- Installation of automatic sensor taps and urinal sensor
- Water saving through uniform distribution by garden sprinklers
HMSI's Green manufacturing mantras at a glance
The major water conservation measures deployed at HMSI are:
- Rainwater harvesting and groundwater recharge through construction of open ponds inside and outside the factory premises resulting in cumulative savings of 2,426 million litres a year.
- Rainwater harvesting through collection of rooftop water in underground tanks and storm water in open water tanks for treatment and industrial use, resulting in cumulative saving of 148 million litres a year.
- Implementation of membrane bio reactor technology, resulting in saving of 14,904 KL a year.
- Use of copper/zinc shot blasting replacing water for jig cleaning in paint process, resulting in saving of 60 KL a year.
- Utilisation of 451 million litres a year of recycled water for all industrial process water applications.
- Use of efficient water taps and drip irrigation systems resulting in saving of 8,340 KL a year.
- Use of closed loop hot water generator for heating application with saving of 1,400 KL a year.
- Minimising air washer usage as per ambient temperatures, resulting in saving of 68,000 KL a year.
- Replacing steam generation to hot water, resulting in saving of 11,120 KL a year.
RELATED ARTICLES