Grupo Antolin opens global design centre in Pune
Pune facility, with over 250 personnel, to cater to Grupo Antolin global requirements for automotive interiors.
The new facility was inaugurated by Chairman Ernesto Antolin,  CEO Ramon Sotomayor and the employees of Grupo Antolin India.
Grupo Antolin opens global design centre in Pune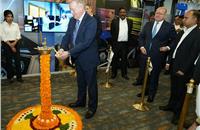 Grupo Antolin, global supplier of technological solutions for car interiors, inaugurated its new state-of-the-art Global Design and Business Services office in Pune today. The new facility was inaugurated by Chairman Ernesto Antolin, CEO Ramon Sotomayor and the employees of Grupo Antolin India.
From this center, which has over 250 employees, Grupo Antolin will support all the major car manufacturers worldwide in the area of automotive interiors including product design, product simulations, product lifecycle management, project support, IT support, logistics support and environment compliances. The company plans to expand staffing with another 150 to 250 people in the coming years.
As the new Design & Services office, the Pune facility will cater to Grupo Antolin worldwide in the field of car interiors. Grupo Antolin is already present in India for the last 20 years and has been operating its five manufacturing facilities in Maharastra, Tamil Nadu, Karnataka, Haryana and Gujarat. It supplies car interior components to all major customers including Tata Motors, Mahindra & Mahindra, Volkswagen, Hyundai, Toyota, Maruti Suzuki, Honda Motors, Stellantis Group, Renault Nissan, and MG Motor India.
Grupo Antolin is a market leader in overheads systems and manages approx. 75% of the market share in India. Grupo Antolin also supports door panel, ambient lighting, hard and soft trims and various other interior components required by the car manufacturers. The company has more than 1,500 employees in India.
India has become a key focus market for the company's global strategy to consolidate its position as a leading provider of automotive interior technology solutions. The company's sales in India have grown by 47% in the first six months of the year, up to 42 million euros. Grupo Antolin expects solid growth in the coming years in India thanks to new projects with vehicle manufacturers like Skoda Volkswagen, Mahindra and Tata Motors for the areas of Door Panels, Ambient Lights and Overhead systems.
APAC region shows maximum growth potential
The global automotive interior market is expected to grow from $122.56 billion in 2021 to $133.78 billion in 2022 at a compound annual growth rate (CAGR) of 9.2%, according to Research and Markets. The automotive interior market is expected to reach $167.90 billion in 2026 at a CAGR of 5.8%. Asia Pacific was the largest region in the automotive interior market in 2021 and is expected to be the fastest-growing region in the forecast period. Reason enough for Grupo Antolin to increase its business in the region in the coming years.
As part of its global strategy, Grupo Antolin works to integrate new technologies in the vehicle interior, from HMI functions to functional lighting, and smart surfaces with the highest perceived quality. The company focuses on helping carmakers to develop a more advanced, technological, and sustainable automotive interior that offers passengers a unique onboard experience. This means being close to customers in the main production markets, such as India, adapting to their needs and requirements.
Grupo Antolin, which supplies the world's leading car manufacturers through 140 factories in 26 countries, clocked sales of 4,055 million euros (Rs 33,247 crore) in 2021. It has four Business Units – Overheads, Cockpits & Doors, Lighting & HMI, and Electronic Systems.
RELATED ARTICLES