Growing demand for ARAS from Indian two-wheeler OEMs
Fast-growing 125cc motorcycle market could be the first to see use of Advanced Rider Assistance systems in India. 
Israeli Company Ride Vision's lifesaving camera system has won the 2021 CLEPA Innovation Award in the safety category. Its ARAS functions help save riders' lives through the coordination of a camera system, collision avoidance algorithm, and ECU.
Continental Automotive India's Krishan Kohli: :Beyond ABS, we expect ARAS functions like Blind Spot Assist, Adaptive Cruise Control coming into the two-wheeler market in India."
Ride Vision's co-founder Uri Lavi: "We are already building the ARAS product for almost all the market segments including mid-sized and entry-level models."
"We are happy with just ABS. It is also vital to introduce new measures like two-wheeler crash testing and more crash avoidance technologies. We should not just focus only on cars."
In what looks to be a gradual maturing of the two-wheeler market in India, which clocked sales of over 15 million units in a Covid-impacted FY2021 and records 18 million-plus units in a good year, there is nascent but growing demand for ARAS (Advanced Rider Assistance Systems) products.
ARAS functions augur well for the vast population of two-wheeler riders who are among the most vulnerable group of road users. India, predominantly a two-wheeler market, saw 55,336 fatalities in 2018 and 56,136 in 2019, accounting for 36.5 percent and 37.1 percent respectively in the total number of road deaths.
While ARAS will typically go into the executive and premium two-wheeler segments, there is no doubt that, like all technologies, economies of scale and increased localisation will see it filter into mass-market commuter segment products over the years. At present, there is growing demand for ARAS functions in the 125cc motorcycle segment, which is seeing a surge of consumer demand.
ARAS functions, which essentially increase safe mobility, is what ADAS is for four-wheelers. While systems and technologies that help prevent road crashes or accidents are classified as active safety devices, those that reduce accidents are known as passive safety systems. Active safety essentially means reducing the likelihood of the occurrence of dangerous road traffic situations. Over the years, the boundaries between active and passive safety systems have narrowed.
India, which is predominantly a two-wheeler country saw 55,336 fatalities in 2018 and 56,136 in 2019, accounting for 36.5 percent and 37.1 percent respectively in the number of road deaths.
Continental walks the safety talk
The subject of ARAS took centre-stage on October 27, at Autocar Professional's Two-Wheeler Conclave. Krishan Kohli, Head India Market - BU HBS & VED & MD, Continental Automotive Brake Systems India said that India has come a long way in the past two years on the safety of two-wheelers.
Krishan Kohli: "The 250cc+ segment will definitely see many ARAS functions. Bajaj Auto is definitely a tech and performance player. Expect Hero MotoCorp, Honda and TVS Motor to include these safety solutions as well."
"With a clear focus from the government of India, there are multiple safety norms on both active and passive safety. The mandatory ABS for two-wheelers of 125cc and above helps riders to handle panic situations. Beyond ABS, we expect ARAS and functions like blind spot assist, lane change assist, adaptive cruise control, emergency brake assist, forward collision warning, traffic sign assist and intelligent headlight assist to come into the two-wheeler market in India in the future," said Kohli.
ARAS as a life saver
Failing to see a car or a motorcycle approaching rapidly from behind in the left-hand lane or in the blind spot next to the motorcycle/scooter can happen easily, especially in heavy traffic on multi-lane freeways or highways and in an urban traffic environment as well.
The ARAS function 'Blind Spot Detection' (BSD) can monitor these blind spot areas and can indicate hazardous lane changes. The rearward facing radar sensor monitors the road area behind and next to the motorcycle and warns if a lane change cannot be recommended.
Blind Spot Detection and Lane Change Assist warn the rider of vehicles driving in the blind spot area.
Meanwhile, Adaptive Cruise Control (ACC) enables more relaxed and safe riding especially on long- distance highway and country road rides. Through the automatic adaption of the motorcycle's speed, this intelligent function ensures always safe distance to the vehicle in front and detects the relevant object in front even when riding in an inclined position.
Emergency Brake Assist (EBA) detects critical traffic situations and ensures an optimum use of the available braking power. Therefore, the area in front of the motorcycle is continuously monitored. As a preliminary stage to the EBA, the ARAS function 'Forward Collision Warning' (FCW) is meant to avoid accidents caused by inattentive riders by means of optical and haptic alerts.
Optimal vision is essential at night, when the risk of an accident is twice as great as the risk while riding during the day. Intelligent Headlight Assist (IHA) enables better vision at night. Motorcyclists can delegate the constant tedious task of changing from high to low beam to the 'electronic co-pilot'. The system ensures a perfect illumination of the road at any time, without dazzling oncoming vehicles and those travelling ahead of the rider's motorcycle / scooter.
According to Krishan Kohli, Continental, which has an overarching global mission of 'Vision Zero: Zero Fatalities. Zero Injuries. Zero Crashes', is actively engaged in developing new technologies designed to prevent accidents and also save lives. In line with this goal, Continental has partnered with both OEMs and NCAP to push the envelope on new safety solutions. "We can also see OEMs looking to have multiple ride modes, optimised curve braking, emergency brake assist and ARAS functions in the 125cc motorcycle segment in India. Bajaj Auto is definitely a technology and performance player. The 250cc+ segment will definitely see many of these ARAS functions. Other OEMs will also soon follow this," he pointed out.
Ride Vision: Looking to make a difference in India and globally
Seconding Kohli's comments was Israeli company Ride Vision's co-founder Uri Lavi, who pointed out that technology can help prevent an accident before it happens. Ride Vision is an ADAS solutions company, which aims to bring its range of Artificial Intelligence-enabled Collision Avoidance Technology (CAT) products to the Indian two-wheeler market.
Ride Vision's co-founder Uri Lavi: "We are already building the ARAS product for almost all the market segments including mid-sized and entry-level models."
Founded by Uri Lavi (CEO) and Lior Cohen (CTO), the company's safety product is christened 'Ride Vision 1'. In April 2021, Ride Vision announced its partnership with New Delhi-based Tier 1 supplier Spark Minda to introduce the safety technology in India.
Ride Vision's product offers ARAS features including forward collision alert, distance keeping alert, blind-spot alert, dangerous overtake alert and auto video recording among others, which helps the rider to react in real-time to critical threats and avoid accident and injury while on the road.
Ride Vision uses a combination of image-recognition and AI technologies to power its solution. Its patented human-machine warning interface (HMI) and predictive vision algorithms help riders make critical life-saving decisions in real time. The hardware includes two wide-angle cameras mounted on both the front and rear of the vehicle, unique alert indicators placed on the mirrors, and an onboard main computing unit that stores Ride Vision's patented algorithms.
The Collision Avoidance Technology system is built to work with any make and model of two-wheeled vehicles, significantly reducing production cost and providing freedom of modularity to manufacturers.
­­The Tier 1 supplier says the roads in India are known to be very busy with numerous vehicle types, unique road behaviour and challenging manoeuvrability and Ride Vision's CAT has been uniquely built to address these challenges, specifically for two- and three-wheelers.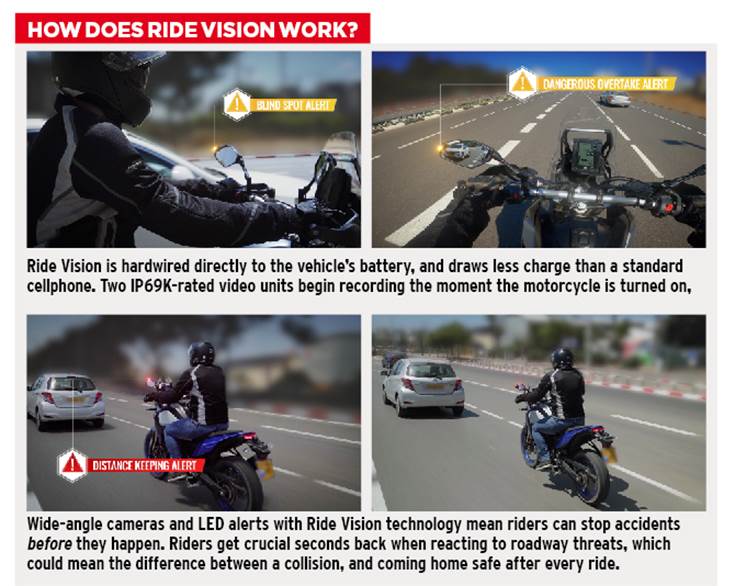 The Ride Vision system can be retrofitted onto virtually any two-wheeler, and is available for OEM and fleet management bulk applications. Early tests of Ride Vision with on-road fleets have already yielded impressive results. Recent data has indicated that the use of Ride Vision results in an incredible 60% reduction in potentially fatal collisions, and a 25%+ reduction in the risk of a frontal collision and injury.
According to Lavi, "As per data coming from India, I believe Blind Spot Detection and Forward Collision technologies will be ideal for two-wheeler rider safety and will help in the majority of two-wheeler accidents. Also, India is innovating and accelerating its safety program with ABS, CBS and also Global NCAP tests. Initial adoption of ARAS will be steered by the sheer fact that there is demand from OEMs as well as consumers for advanced rider assistance systems in India. When you add governmental push to that, there will be convergence."
In an interview with Autocar Professional earlier this year, Lavi had said: "I have been in discussions with ARAI and with OEMs, and it looks that definitely there will be a safety feature for two-wheelers because of the high number of fatalities in the country every year. That means there is lot of demand for safety features that allows the government and OEMs to differentiate themselves."
"Secondly, insurance companies will play a key role in the adoption as the next piece will be the commercial adoption of two-wheelers. As these are used for last-mile deliveries and by small businesses, for a fleet operator it becomes interesting as on one hand you have the insurance liabilities and on the other hand you have the fleet to operate. If you now give them an advanced device, which not only improves safety of the user, but also provides discount on insurance. For insurance companies, it allows them to onboard more customers as they now have solution that mitigate the gap. The third customer will be the biker himself, as the awareness will grow as they will see the solutions in new two-wheelers. As the popularisation of the product will also create the thought for the customer that they can benefit from the solution without the need to purchase a new two-wheeler."
SaveLife Foundation's Piyush Tewari, who was the third panellist on Day 3 of the Two-Wheeler Conclave, had the last word though. He said the two-wheeler segment in India is largely ignored when it comes to safety. "We are happy with just ABS. But it is also vital to introduce new measures like two-wheeler crash testing and get GNCAP involved. More crash avoidance technologies should be introduced, and we should not just focus only on cars."
RELATED ARTICLES