Goa targets 30% EV registrations each year, offers sops for manufacturing
Offers incentives to promote shift to EVs across two-, three-, four-wheeler segments, create 10,000 jobs, encourage investment in EV ecosystem
Goa, the state with the susegad way of life, is plugging into electric mobility in a big way. The Goa Electric Mobility Promotion Policy 2021 unveiled today targets 30% of annual vehicle registrations to be EVs starting 2025. This follows the state's first EV policy announcement in February this year.
In February, the Goa government had announced various incentives designed to drive EV adoption and a target of 30% of total vehicle registrations to be EVs by 2025. The government has set up a dedicated EV cell and is offering incentives up to Rs 30,000 for electric two- and three-wheeler buyers, no road tax or registration fees on the purchase of e-two-wheelers. The government is also pushing for all commercial two-wheelers operating in Goa to switch to electric by December 31, 2025.
Interestingly, despite its size, Goa has a vehicle density of 625 vehicles for every 1,000 people and is ranked 15th in the world in terms of vehicle density. Goa currently has a two-wheeler population of about a million comprising around 70% of the total vehicle parc.
What's in the EV Policy?
Goa's EV policy aims to promote electric mobility in the two-, three-, four-wheeler (passenger and commercial) segments, create 10,000 jobs direct and indirect jobs, encourage start-ups and investment in the sector, promote R&D, and create an ecosystem among others.
In addition to providing subsidy on e-vehicle purchase, the state government is aims to develop the EV manufacturing ecosystem by providing capital subsidy of up to 20% of Fixed Capital Investment (FCI) up to Rs 5 crore (whichever is lower); 100% net SGST reimbursement on setting up of manufacturing plant and 50% stamp duty exemption on purchase of land.Interestingly, Goa which has a huge two-wheeler population aims to convert the same to electric by 2030. The EV policy states that 'to ensure the switch happens in a time-bound manner, all two- wheelers involved in commercial activity operating in Goa shall switch to complete electric by December 31, 2025. For beyond December 31, 2030, all the two-wheelers sold in the state of Goa to be 100% electric. However, the existing registered ICE vehicles shall be allowed to operate until their end of life.'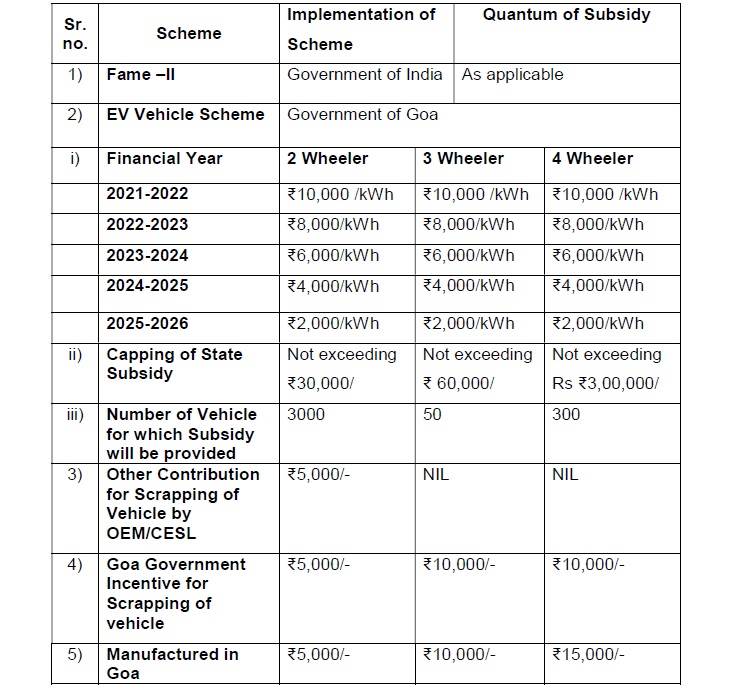 Charging station at every 3km
To ensure ease of EV charging, the the EV policy aims to have a EV charging station at every 3km for which the Goa government, through the Department of New and Renewable Energy, will provide concessional locations for charging stations at bare minimum lease rentals. These concessional locations shall be carved out from existing public parking zones such that they offer easy entry and exit. Installation of the first 50 charging stations in the state is expected to happen within 3 months from the notification of policy at selected Kadamba Transport Corporation (KTCL) bus depots, international airports and government complexes.
To train requisite EV-ecosystem-related manpower, skill development courses in EV maintenance and component assembly will be started in ITI s and Polytechnics'. A stipend of up to 50% of the cost of course fee subject to a limit of Rs 10,000 per year per student in all skill development and re-skilling courses affiliated to Board of Technical Education and State Council for Vocational Training will be offered.
Recognising the potential of EV sales in Goa, in September 2021, Ather Energy set up its first dealership in Goa at Porvorim, Pilerne in association with Eveer Auto.
Sohinder Gill, director general, Society of Manufacturers of Electric Vehicles (SMEV) said: "We congratulate the central as well as state governments for holding a successful EV conference in Goa. The recommendations and views shared by goverment representatives are encouraging, which will further strengthen industry's confidence. Additionally, we welcome the Goa EV policy, which has laid down a clear target of conversion of ICE two-wheelers to electric by 2030. However, we believe that limiting subsidy to only 3,150 EVs may not be enough to accelerate the adoption. The state that has over a million ICE vehicles on road may need to relook at the numbers to be supported under the scheme so that more number of citizens can avail the benefit and shift to electric."
RELATED ARTICLES