Faurecia breaks ground for new plant in Kia Motors India's Vendor Park in Andhra Pradesh
Faurecia Interior Systems is investing Rs 50 crore in the new facility, which will supply to Hyundai Mobis, the vehicle cockpit vendor for Kia Motors India   
Faurecia breaks ground for new plant in Kia Motors India's Vendor Park in Andhra Pradesh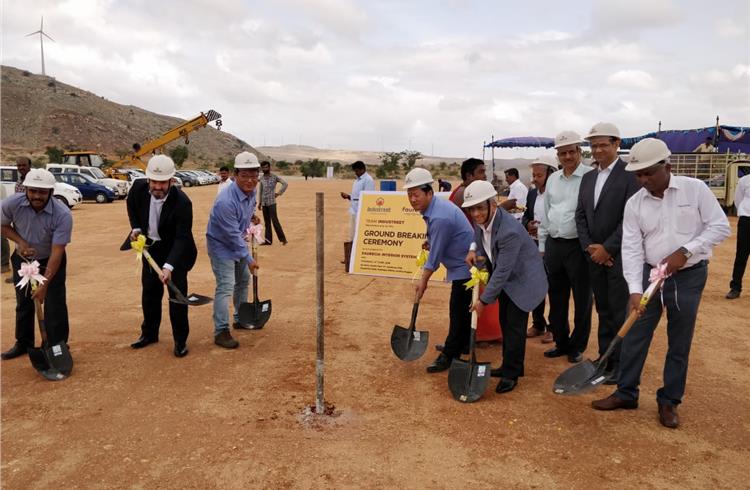 Faurecia breaks ground for new plant in Kia Motors India's Vendor Park in Andhra Pradesh
Faurecia breaks ground for new plant in Kia Motors India's Vendor Park in Andhra Pradesh
Faurecia breaks ground for new plant in Kia Motors India's Vendor Park in Andhra Pradesh
Faurecia breaks ground for new plant in Kia Motors India's Vendor Park in Andhra Pradesh
Global component and technology major Faurecia's Interior Systems division today laid the foundation stone for a new plant at Kia Motors India's component Vendor Park A at Ammavaru Palli, Penukonda Tensil, Anantpur district in Andhra Pradesh.
Faurecia Interior Systems will produce injection moulding and assembly for supply to Hyundai Mobis, which will make the vehicle cockpit for Kia Motors India.
The start of production for Faurecia's India plant is Q3 of 2019. The company aims to get the plant ready in 180 days. The plant, spread across 15,000 square metres, is to come up on a 12-acre site. Faurecia is investing Rs 50 crore in the plant, which will employ around 400 people once production commences.
As is known, Kia Motors India is going all out with its India operations. The carmaker has laid down the structural framework for its new manufacturing facility in the Anantapur district of Andhra Pradesh. The plant covers an area of 23 million square feet and is expected to create about 3,000 jobs and produce 300,000 vehicles annually once it is fully operational. Construction of the facility began mid-2017 with an investment of about $1.1 billion (around Rs 7,050 crore)
Also read: Faurecia displays its 'Cockpit of the Future' in India
Kia Motors aims to enter Top 5 league in India
Kia Motors kicks off first supplier meet in New Delhi; targets 80% localisation at SOP
Kia evaluating Stonic crossover, Grand Carnival MPV for India
RELATED ARTICLES