EV Forum: Analysing market dynamics and challenges
The introduction of EVs have radically changed the automotive market dynamics. A detailed perspective.
On day two of the Autocar Professional's EV Forum, MG Motor India's COO, Gaurav Gupta, Mercedes-Benz India's VP – Sales & Marketing, Santosh Iyer, Srivaru Motors' Founder and CEO, Mohan Ramasamy, Founder & CEO, Srivaru Motors, Schaeffler India's President-Automotive, Sanjeev Saxena and Ola Electric's Chief Marketing Officer, Varun Dubey discussed on various aspects of 'Market Adoption and New Avenues' in the field of electric vehicle.
"Eighty percent of India still does not have mobility. There is a fundamental shift happening in the auto industry. And, the way people consume shared mobility will change due to EVs," said Varun Dubey, Chief Marketing Officer, Ola Electric.
He pointed out that this is a paradigm shift in the automotive world, "The new energy vehicles will help address 40 percent of pollution on account of vehicular traffic across Indian cities."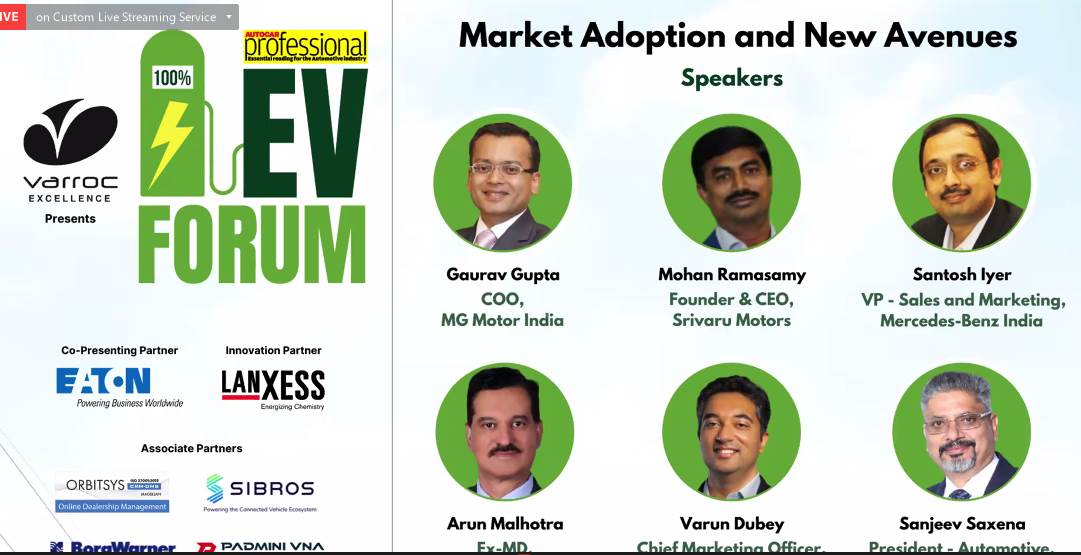 MG Motor India's Gaurav Gupta stated that there is a better customer acceptance, which is encouraging EV makers to introduce products. He also mentioned that MG Motor is working on more products in the EV space and their next car will be an EV.
"We all have a role to play to bring options to the consumers. Also, we have a role to play in developing the ecosystem also. The R&D and the local technology in India, constant effort has to be made. Customers are seeing better economic value and charging points are giving them confidence," Gupta added.
MG India has also partnered with IIT-Delhi and other institutes across India to build better synergies with academia for comprehensive grasp of this fast emerging area of studies – EV and the EV ecosystem. "There is a need to build modular scale by EV industry stakeholders. To create a buzz, new product introduction in the market is important. Customer education about EVs is also important," he added.
Over the past one year, there has been an 'improved awareness and huge capital infusion which is helping EV companies to develop better vehicle', said Mohan Ramasamy, Founder & CEO, Srivaru Motors. "Customers interest to spend more towards aspirational products has also increased," he pointed out.
Sanjeev Saxena, President – Automotive, Schaeffler India mentioned that the government has taken steps to ensure the growth of EV and now it is time for private players to start investing and innovating. "We are right now at a cusp of EV evolution," he said, pointing out there will be issues and it needs to be solved.
Challenges and the cost factor
According to Santosh Iyer, VP – Sales & Marketing, Mercedes-Benz India, they are trying to take out unwanted costs away from the price of the vehicle, making it easy for consumers to buy an EV. He mentioned that Mercedes will be different from the mass market approach and will always operate at the top end of the table.
"We are trying to take the unwanted cost away. We are trying to bring down distribution costs and do away with unwanted costs for customers. OEMs have realised that it is time to change and it is happening and will soon happen. Customer adoption will happen when the cost of EVs will be close to ICE vehicles. There is a sharper focus on technology and carbon-neutral sustainable raw materials. We are committing to 100 percent sustainable cars and from 2025, Mercedes-Benz will use carbon neutral steel," Iyer explained.
Ramasamy added, "There is a significant need of semiconductor engineering which is both a challenge and an opportunity. Also, radical reskilling and a complete revamp of the skill set of workers is required. This is another key challenge."
RELATED ARTICLES