Domestic two-wheeler sales rebound on the back of strong festive demand
India's two-wheeler industry is seeing green shoots of recovery as domestic dealer dispatches grew by 1.33 percent at 14,96,052 units for October 22 as compared to 14,77,355 units in the year-ago period.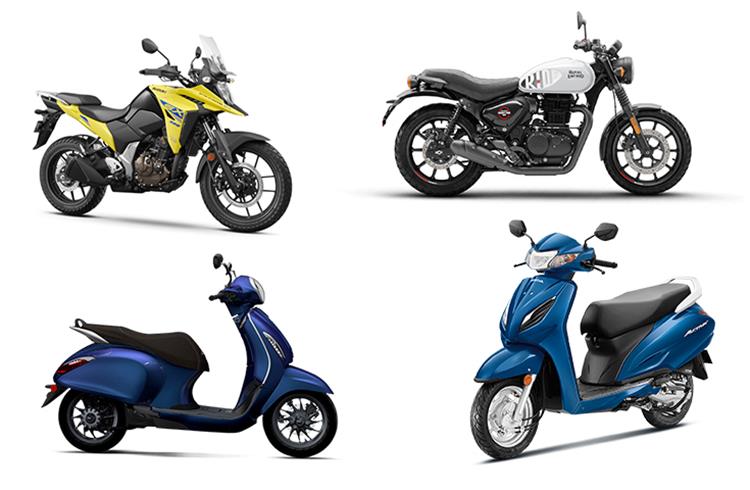 It is no secret that the four-wheeler industry posted better results than the two-wheeler segment in the past nine months. It was expected that during the festive period there would be a seismic shift in the two-wheeler market. In reality, that didn't happen. Traditional strong markets in North India failed to live up to their reputation while the markets in the Southern states did surprisingly well. As a result, the performance figures appear somewhat mixed, but overall, they do indicate that the market isn't stagnating anymore. In fact, there are indications of an upward trend that may appear marginal when compared to the double-digit growth of four-wheelers but is still discernible.
Speaking to Autocar Professional, Vinkesh Gulati, former FADA President said that "two-wheelers will continue on the path of recovery thanks to the wedding season which will further give relief to the sector which has been facing negative headwinds due to multiple challenges."
Gulati however, indicated that targeting the pre covid levels of growth is "still miles away" as there continues to be stress at the rural level with inflation and unseasonal rains continuing to play spoilsport dampening overall consumer spending.
Here's a quick look at how the brands have fared so far.
Royal Enfield
Royal Enfield has shown the strongest recovery of 84.44 percent from 76,528 units of domestic sales in October 22 as compared to 40,511 units in October 21. This is due to huge consumer interest in its highest-seller, Classic 350, followed by the recently introduced Hunter 350, Meteor 350, Bullet 350, and Electra 350 series.
Suzuki Motorcycle India
The maker of the Hayabusa range of premium superbikes, Suzuki Motorcycles managed to sell a record 69,634 units in the previous month as compared to 56,780 units year-on-year (Y-o-Y). The brand recorded an impressive 22.63 percent jump in sales that were helped with renewed consumer interest in new, upgraded colour options for its popular Suzuki Access 125 range of scooters.
"Considering the fact that Suzuki Motorcycle India sells premium products in the domestic market, this is a very satisfying culmination of our efforts. This remarkable sales increase is a sign of the growing popularity of the brand in the domestic and overseas two-wheeler market," said Satoshi Uchida, Managing Director, Suzuki Motorcycle India.
Honda Motorcycle and Scooter India (HMSI)
For the best part of the year, it was a tug of war between Honda Motorcycle & Scooter India (HMSI) and its closest rival by volume, Hero MotoCorp. HMSI which pipped Hero MotoCorp in retail sales last month ended up narrowing its wholesale despatches gap by close to 20,000 units for October 22.
HMSI closed the festive season with the company's domestic dispatches up by 7.94 percent from 3,94,645 units, year-on-year (Y-o-Y) to an impressive 4,25,000 units in October 2022. The product offensive was led by the Premium edition of the Activa, Dio Sport Edition and Shine Celebration Editions.
Commenting on the company's performance, Atsushi Ogata, Managing Director, President and CEO, Honda Motorcycle and Scooter India said, "This year's festival season has ushered in a period of real growth and positive sentiment and we are truly elated to witness such strong demand pouring in from the market."
With this market confidence, HMSI is preparing to widen its retail footprint aggressively. New Red Wing outlets have been opened in Raigarh (Chhattisgarh), Kamareddy (Telangana), Katihar and Supaul (Bihar) and Visakhapatnam (Andhra Pradesh).
The maker of Activa scooters also plans to add more throughput to its Big Wing dealerships with the introduction of the naked streetfighter motorcycle CB300F which now will have a presence in newer outlets in Rajkot (Gujarat), New Delhi, and two outlets in Hyderabad (Telangana).
Honda Motorcycle and Scooter India (HMSI's)which dominates Karnataka and Gujarat belt with over nine million customers has seen its net profit soar by 604 percent to Rs 1,000 crore in FY22.
Hero MotoCorp
Even with a score of 4,42,825-unit sales for October 22, it wasn't what the two-wheeler manufacturer was expecting. In fact, year-on-year (Y-o-Y) performance was down by 16 percent as compared to 5,27,779 units. Even worse, the brand continued its downward trend due to its overreliance on the Splendor and slower recovery in the rural markets. This had the industry volume leader selling less than five lakh units since June till date.
Analysts tracking the company said that price hikes during the quarter increased the average selling price by three percent leading to the cost economics not going in the consumer's favour. This is not surprising in a fiercely competitive market driven by discounts and incentive schemes which play a very important role in the consumer decision making. Honda's Activa scooter sales overtook Hero MotoCorp's entry-level volume selling the Splendor model.
TVS Motor Company
Innovative TVS Motor Company is proving to be one of the fastest-growing ICE to EV players in India's two-wheeler market. Its numbers also tell a story of sharp recovery for the Hosur-based bike maker for the month of October 22. The company saw a seven percent jump in the total domestic dispatches of 2,75,934 units as compared to 2,58,744 in the year-ago period.
What's more, in its latest report, global investment banking firm UBS has recommended TVS to emerge as India's fastest ICE to EV player.
TVS Motor Company plans to launch five EVs in the next 12-15 months and has revised its overall product portfolio to ensure decent volumes from its three service lines of scooters, motorcycles and EVs.
In the electric vehicle segment, it has recently introduced TVS iQube Electric which comes with a price advantage. The model is priced at least Rs 30,000-35,000 lower than rival Ola Electric's top-selling Ola S1 Pro. This model has showcased a strong sales growth of 8,103 units in October 2022 as against sales of 395 units in October 2021.
According to brokerage firm Emkay Global Financial Services, "TVS Motor is expected to post double-digit volume growth in FY23E and market-share gains in both the domestic and overseas markets."
Bajaj Auto
The Pune-based two-wheeler maker reported domestic sales of over 2.06 lakh units in Oct 2022. That figure represents a 3.72 percent growth Y-o-Y to 1,98,738. Top-selling models for the brand included Pulsar, Platina, CT 100, Avenger and sports bike Dominar as well as Chetak electric scooter.
While four-wheeler retail sales brought cheers to the industry during the 32-day festive period with double digit growth, the two wheelers had mixed results during that period. But post that, there are reports of brisk business that has lifted the sentiments in the market.
RELATED ARTICLES