Autocar Professional's May 15 issue is out!
The May 15 issue of Autocar Professional is a Mobility Startups special and it gets you key strategies adopted by top two-wheeler OEMs, the winds of change in the tractor segment.
The May 15 issue of Autocar Professional brings to fore how global and local OEMs are upping their India game and putting the focus back on the rural markets. It's all about strategy and increased investments that manufacturers are focusing on. This 56-page issue brings you detailed reports, key insights, relevant perspectives, exclusive interviews and a lowdown of the top strategies being adopted by auto manufacturers.
Cover Story
Honda Motorcycle & Scooter India is recasting the overall cost structure, targeting rural markets and converting one of its four India plants into an export hub as it redefines priorities for the two-wheeler business in India. President, MD and CEO, Atsushi Ogata and the outgoing Director, Sales & Marketing, Yadvinder Singh Guleria share their views.
Rural Focus
Focus on the rural markets is driving innovations for many other firms too-
-CNH Industrial is finally beginning to appreciate what India has to offer in the tractor space - Raunak Varma, MD & Country Head, CNH Industrial India says setting up of a tech centre in India is a recognition of the country's strategic importance.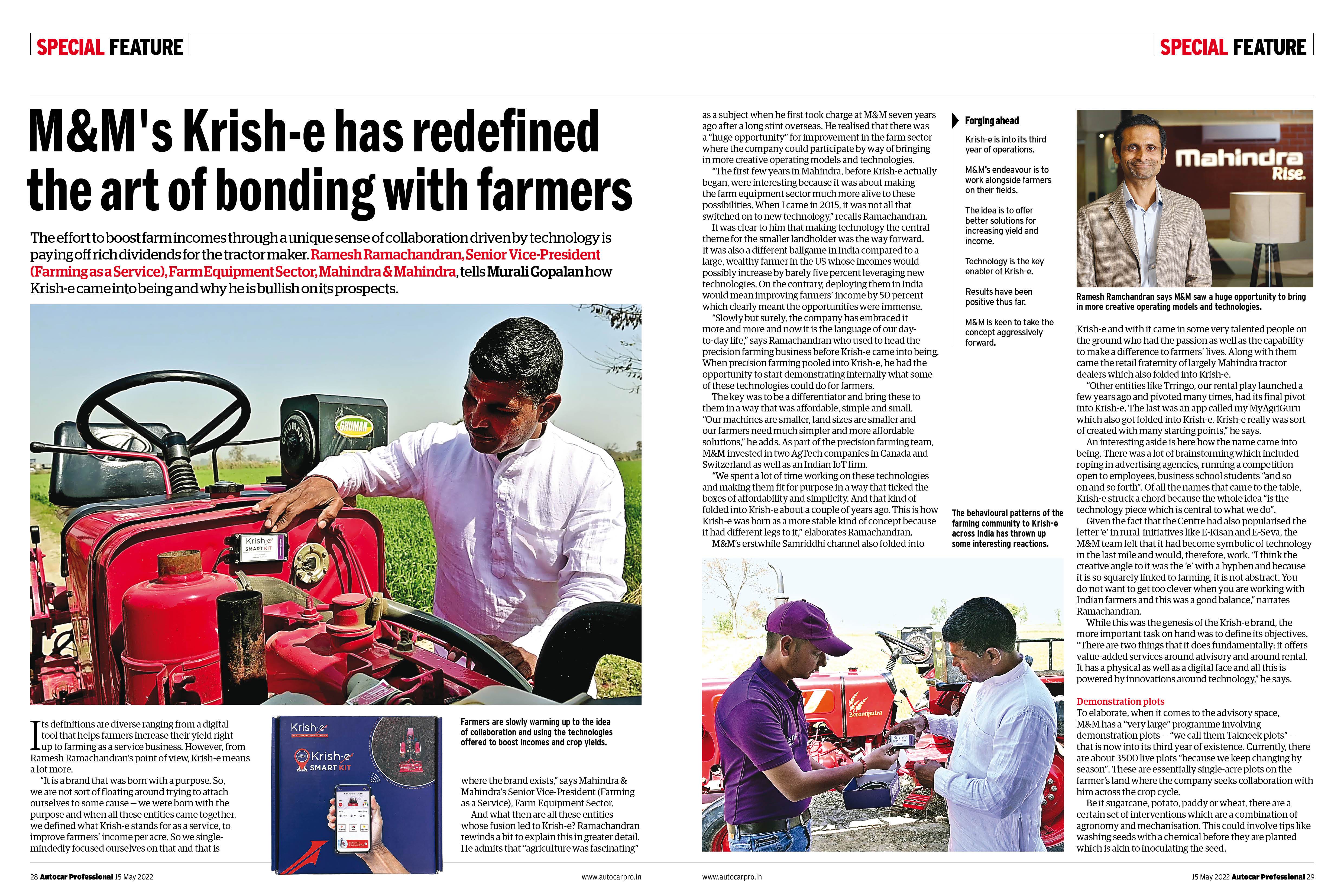 -In an effort to boost farm incomes through a unique sense of collaboration driven by technology, Mahindra & Mahindra's Krish-e is in its third year of operation collaborating and helping with better solutions for increasing farm yield and income.
Mobility Startups Special
In sync with the latest trends in the automotive sector, we get you some interesting developments from the Mobility Startups space-
-An exclusive interview with Raghavender Sahdev, CEO and co-founder of NuPort Robotics on their partnership with EKA, dynamics of the Indian markets and futire plans of partnering other Indian OEMs.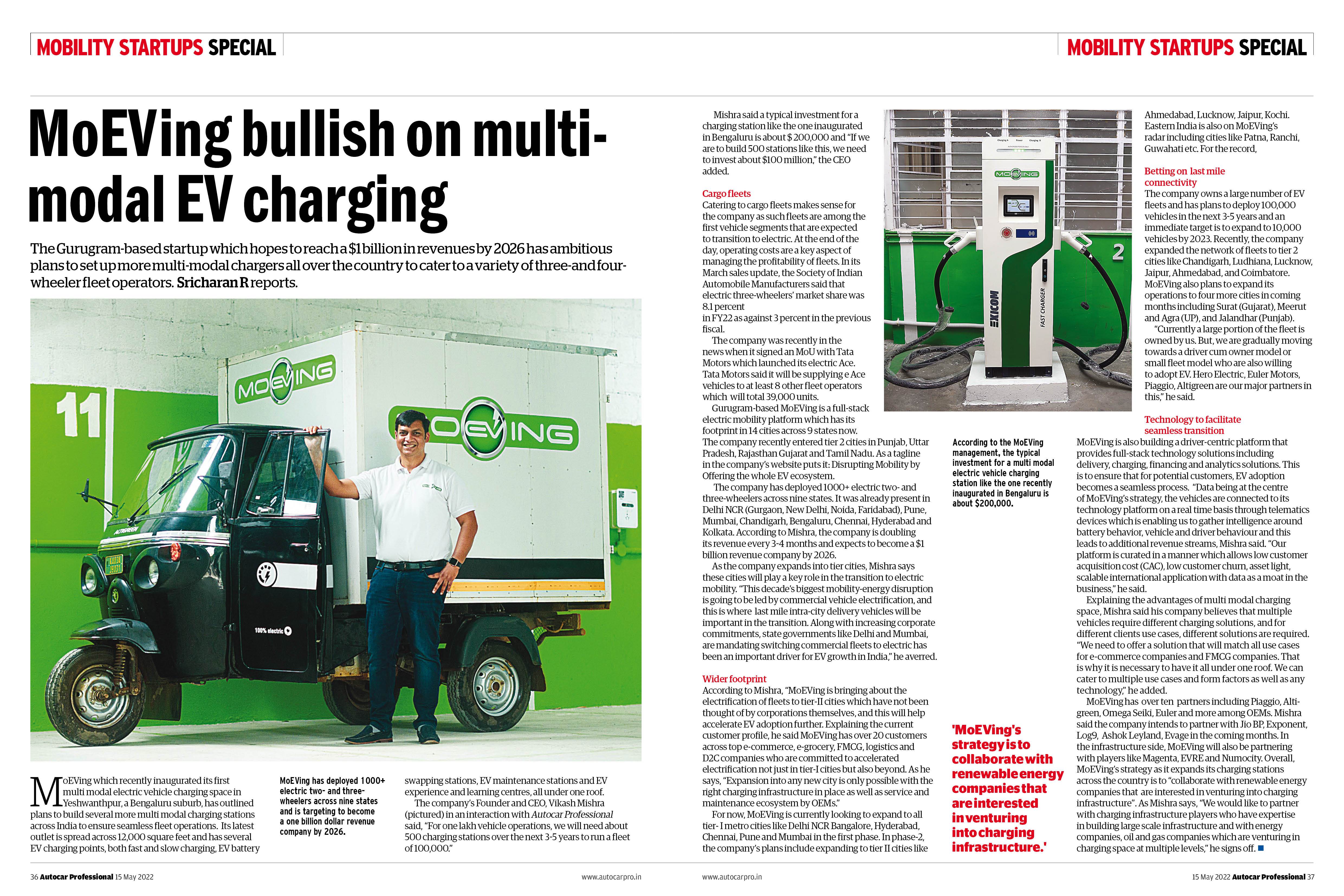 -The Gurugram-based startup, MoEVing, hopes to reach a $1 billion in revenues by 2026 and has ambitious plans to set up more multi-modal chargers all over the country.
-Changing behaviour patterns and mobility preferences are giving vehicle leasing a greater thrust. Gurugram-based Pumpumpum is looking to capitalise on that. Find out how?
-Pluss Advanced Technologies (Pluss), promoted by Carborundum Universal (CUMI, part of the Murugappa Group) is working on a solution to tackle thermal runaway and is confident that it has the answer to the problem. Find out more by downloading the latest issue of Autoccar Professional.
Corporate Buzz
But that's not all, lots of other key developments across the auto ecosystem in the past fortnight –
-The Managing Director and CEO of Stellantis India, Roland Bouchara is bullish on the Jeep and Citroen brands as the company strengthens its product portfolios and retail networks.
-Shell Lubricants India wants to leverage digital solutions and channel upskilling to enhance its brand and market share.
-Rajratan Global Wire's new plant will be operational by end of 2023 and the company is looking at scaling up capacity aggressively.
How you can read this issue
Autocar Professional magazine is also available through all good newsagents and for download from Magzster. You can also buy one-off copies of Autocar Professional magazine – contact Ganesh at ganesh@haymarketsac.com. Alternatively, never miss an issue – subscribe to Autocar Professional magazine today.
RELATED ARTICLES