Autocar Professional's March 15 issue is a 'Green Mobility Special'
This 56-page special has a host of articles on what companies are doing to build the EV ecosystem in the country.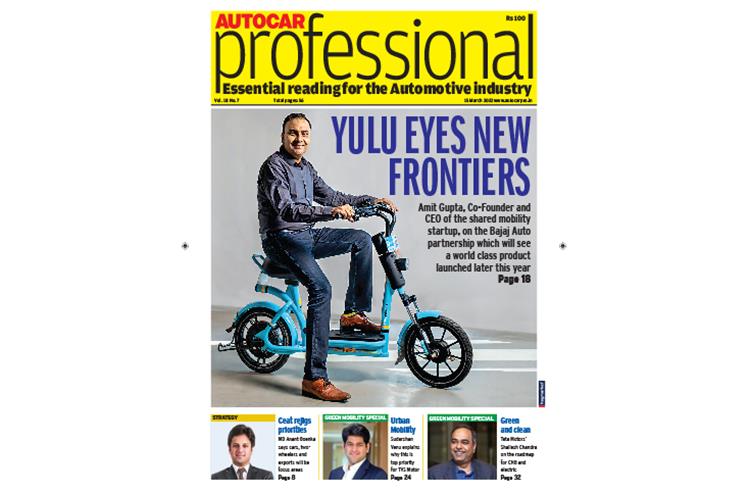 As the focus in the mobility world increasingly shifts towards sustainable options, we get you a comprehensive coverage of the various aspects of how this transition is playing out from low-emission or zero tail-pipe emission initiatives across the automotive industry.
Our 56-page special has a host of articles on what companies are doing to build the EV ecosystem in the country – from passenger vehicles to last-mile connectivity, two-wheelers, battery swapping and charging infrastructure.
Yulu's brave new frontiers


Bengaluru-based startup is working in collaboration with Bajaj Auto to bring out a world-class mobility product. Co-founder and CEO, Amit Gupta says he is also exploring an ownership model for Yulu and expanding to other cities. We have the details.
The Green Push
The Electrification agenda is gaining momentum in India, and we bring you interesting perspectives from the head honchos spearheading this change

Tata Motors: Shailesh Chandra, the MD of Tata Motors Passenger Vehicles and head of its electric Mobility business talks about the transition to electric, and the multiplier effect it will have over time.
-TVS Motor: In the two-wheeler space, Joint Managing Director, Sudarshan Venu and his global team are focusing on a slew of initiatives in electrification in a bid to take forward the company's vision of urban mobility.


-Switch Mobility: Ashok Leyland's electric arm Switch Mobility's Executive Vice-chairman and CEO, Andy Palmer is keen on building competencies to cater to a wide range of markets and would like to see more of its electric buses in India and across the world. We get you all the highlights.
-MetroRide: This Bengaluru-based EV platform driven by artificial intelligence is gearing up for its next phase of growth. It has tied up with 3 OEMs, 3 battery battery swapping partners and 3 charging partners to fuel the next phase of growth.
-ChargePool: Lack of adequate charging infrastructure is seen as one of the key roadblocks hindering faster EV adoption. Lono Mobility's ChargePool app aims to address range anxiety by creating a pool of home chargers willing to let other EV users access them.

-Attero Recycling: End-of-life recycling of EV batteries is another key area of concern. Attero Recycling aims to be a disruptor in this space and make a key contribution to the circular economy. Find out their strategy.
News Buzz
In other news, Ceat rejigs growth opportunities and plans to focus on high-margin tyre businesses in two-wheelers, off-highway and passenger cars.
Tata Technologies plans is hiring for new businesses especially the EV segment. But that's not all. This fortnight has news analysis and perspectives. We get you all the highlights.
First impression


We take you on an exciting drive in the Skoda Slavia. Grab your copy today for a detailed drive report.
How you can read this issue
Autocar Professional magazine is also available through all good newsagents and for download from Magzster. You can also buy one-off copies of Autocar Professional magazine – contact Ganesh at ganesh@haymarketsac.com. Alternatively, never miss an issue – subscribe to Autocar Professional magazine today.
RELATED ARTICLES