Autocar Professional's Man of the Year 2020 is Tata Motors' Shailesh Chandra
Each year, Autocar Professional honours a business leader who has made a marked difference to his company and to industry. This year, it's Shailesh Chandra, President of Tata Motors' Passenger Vehicle business, who has achieved an amazing turnaround and during a pandemic.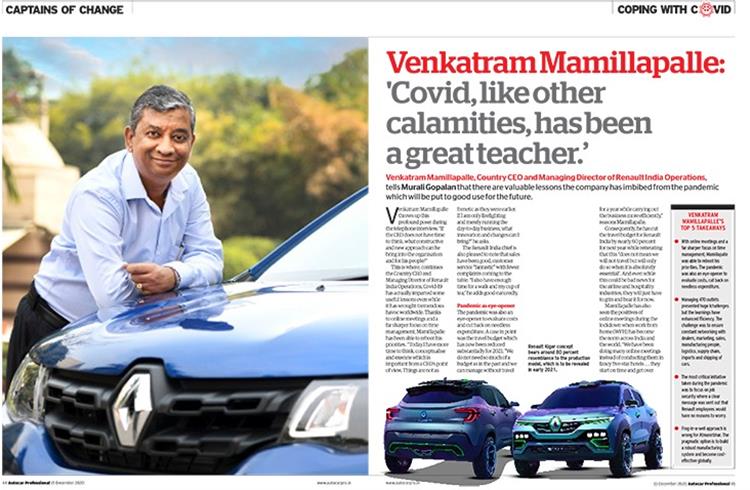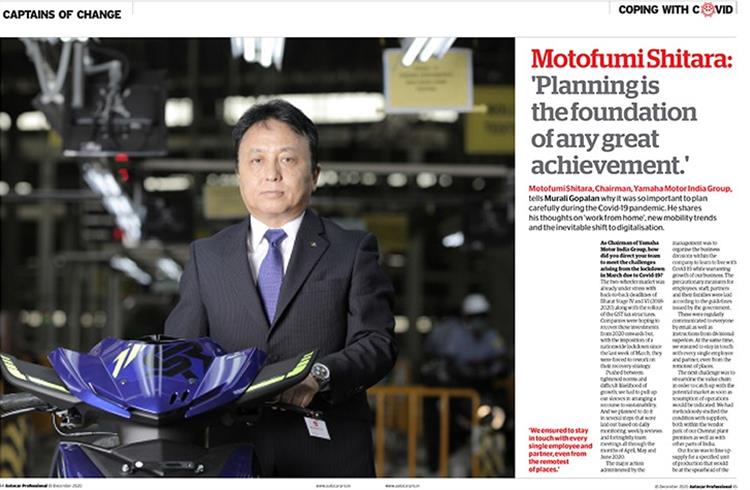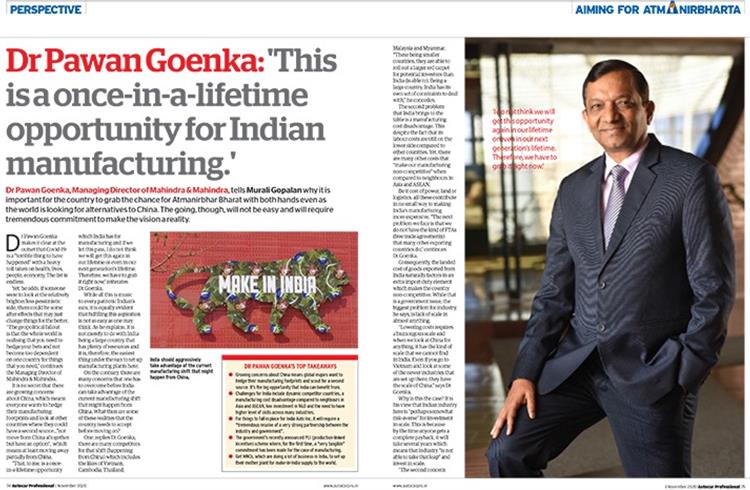 As a full-of-challenges 2020 comes to an end, it's time to take stock of a year that has been an absolute churner that nearly took the breath out of the business world, industry per se and India Auto Inc. But it also brought out the best from companies and captains of industry, who fought the many odds with grit and gumption, devising new strategies to keep the engine and wheels of growth turning, even if it meant work from home. It was also a year about keeping people and teams motivated, to do the impossible in an impossible year. The tragedy of a global pandemic has shown us the best of humanity – through the selfless efforts of countless individuals and groups to help others in the most difficult circumstances.
Autocar Professional's 16th Anniversary Issue recognises all these captains of change, be they at the top or spread out across the entire automotive value chain. This collector's issue – all of 160 pages – is a must-read collection of exclusive interviews, in-depth features and analysis. The bigger story is all about a resilient India Auto Inc, which rose to the challenge and pulled out all the stops to ensure that the show goes on.
Man Of The Year 2020: Shailesh Chandra
Restarting the engine of growth in such difficult times is challenging but that's just what Shailesh Chandra, President of Tata Motors' Passenger Vehicle Business Unit, has achieved. Having taken charge in April, just when the lockdown kicked in, he has achieved an amazing turnaround at Tata Motors.
In a span of less than eight months, that too during the pandemic, the new President of Tata Motors' Passenger Vehicle Business has worked relentlessly to bring the mojo back into the system. Sales are soaring and there is tremendous confidence among employees, vendors and dealers as customers make a beeline for Tata cars. For successfully leading the growth story in India's cut-throat passenger vehicle market, and also the charge in the EV market, Chandra has been voted as our 'Man of the Year 2020'.
Coping with Covid
Even as the buzz about the business of e-mobility grew louder, the Covid-scarred world saw the emergence on another E: Emotional quotient. Captains of industry and companies re-jigged their definition of people power and went to great lengths to ensure their personnel were happy doing what they did best, even if it is with a new world dynamic – Work From Home. Find out how industry unleashed an era of change through our exclusive interviews and special features in the 'Coping With Covid' section.
Masakazu Yoshimura, Managing Director of Toyota Kirloskar Motor, says the company leveraged its experience and relied on its best practices to get past the turbulent times.
Venkatram Mamillapalle, Country CEO and Managing Director of Renault India Operations, is emphastic when he poins out that there are valuable lessons the company has imbibed from the pandemic which will be put to good use for the future. It's an opinion many CEOs share.
For Daimler India Commercial Vehicle's MD and CEO, Satyakam Arya the new focus is on digitalisation and reskilling employees.
What's Cummins India's secret to stay strong in difficult times? Well, Managing Director Ashwath Ram says investment in new technologies and automation helps.
But that's not all, we have a compelling list across India Auto Inc on stories about companies created opportunities amidst a crisis as big as Covid.
Aiming for Atmanirbharta
The auto industry can ill afford supply chain disruptions and the face-off with China meant that the not-in-time imported components can have assembly lines grinding to a halt. As global majors scout for a second source of supply, India has an opportunity like never before. It's all there in the exciting section called 'Aiming for Atmanirbharta'.
As the world moves away from China, Dr Pawan Goenka, Managing Director, Mahindra & Mahindra, sees it as a once-in-a-lifetime opportunity. "This is a once-in-a-lifetime opportunity which India has for manufacturing and if we let this pass, I do not think we will get this again in our lifetime or even in our next generation's lifetime. Therefore, we have to grab it right now," reiterates Dr Goenka in an exclusive interview.
Meanwhile, ACMA President Deepak Jain says the Covid-led difficulties have actually helped the industry become more resilient.
According to Sunjay Kapur, Chairman of Sona Comstar, the pandemic has been a huge learning experience for industry, be it terms of accelerating digitisation, implementing Industry 4.0 as a tool to stay globally competitive, or the need for increased training and reskilling of manpower to be future-ready. And he points out that localisation of electronics is the next big opportunity for India.
In an engaging conversation, Skoda Auto Volkswagen India's Managing Director Gurpratap Boparai speaks of the rebuilding efforts that are needed for the country to become a global hub
The New Normal
Selling vehicles has always been a black art. Now, Covid-19 has led to the emergence of a new landscape – a new normal – which spans digitisation, contactless purchase and brand loyalty, among a host of other things. We speak to a clutch of industry heads and marketing pundits to find out how they plan to strike the right balance with the socially distanced customer of today.
Vivek Srivatsa, Tata Motors' Head of Marketing - Passenger Vehicle Business Unit, highlights the need to connect communication with emotion
Maruti Suzuki's Executive Director — Marketing & Sales, Shashank Srivastava adds that Covid has no doubt pushed the digitisation initiative significantly.
That's just a tip of the iceberg. We get you a stunning list of industry leaders from manufacturers to dealers on how the companies are adapting to the new normal.
Newsmakers of 2020
While there is no dearth of unsung heroes across the automobile sector, particularly in the difficult year that 2020 has been, there are some who stand out both in terms of the achievement as well as the way they achieved it.
But who are these 17 movers and shakers of 2020? The list celebrates the achievements of Union Railways Minister, Piyush Goyal who put the Indian Railways in the fast lane and Tesla's maverick co-founder Elon Musk. Keen to find out about the rest? Grab a copy of Autocar Professional's 16th anniversary issue to find out more.
New Mobility
2020 may also be remembered for being the hottest year on record. Climate change is a silent emergency and greenhouse gases in the atmosphere are still rising. Our 'New Mobility' section features interviews and essays on just what leading OEMs and component players are planning to make the motoring world greener and cleaner.
Dheeraj Hinduja, Chairman of Ashok Leyland, focuses on the strategy to go global as the dynamics of the mobility industry continue evolving
Meanwhile, Dr Andy Palmer, Chairman of Switch Mobility, Ashok Leyland's UK subsidiary. highlights on the need to go green and clean.
And Diego Graffi, MD and CEO of Piaggio Vehicles is betting big on electrification and the growing EV competition in India.
Infrastructure: the road to growth
Cars, two-wheelers and commercial vehicles are only as good as the roads that take you on the journey. With 40 kilometres of new roads being built every day and the government's focussed attention on increased infrastructure spend to revive the economy, there is reason to cheer for the equipment industry, logistics providers as well as the commercial vehicle manufacturers.
Girish Wagh, President, Commercial Vehicle Business Unit, Tata Motors says that encouraging market trends and government relief measures will play a crucial role in revival of the CV sector.
VE Commercial Vehicles' CEO and MD, Vinod Aggarwal says the company is working towards gaining double digit market share.
We'd love to tell you more about Autocar Professional's 16th Anniversary issue but it's best if you get your hands on the real thing.
Where to buy?
Autocar Professional magazine is available through all good newsagents and for download from Magzster. You can also buy one-off copies of Autocar Professional magazine – contact Ganesh at ganesh@haymarketsac.com. Alternatively, never miss an issue – subscribe to Autocar Professional magazine today.
Also read: Safety emerges as the lead driver in Tata Motors' PV sales upswing
RELATED ARTICLES