Autocar Professional's July 1 issue packs a punch and more
The automotive industry is buzzing with action, new retail trends, alternative mobility options and brand new launches. It's all there in the latest edition.
The dynamics of automobile retail is changing and how. At Autocar Professional, we strive to highlight market trends and the way they impact sales parameters in this Covid-scarred world. This 56-page July 1 issue gets you in depth insights, exclusive interviews and top market news across segments including OEMs and component manufacturers.
The race to own 'Used'
Used cars sales are giving new cars a run for their money. Most industry experts expect the pre-owned segment to account for 1.6-1.8 times of new car sales by end-FY2022. By FY2025, close to 7 million used cars are expected to be sold.
Find out what the biggest operators in the pre-owned segment including Maruti True Value and Mahindra First Choice along with Volkswagen India have to say.

Start-ups like OLX Auto and Cars 24 too are looking to make a mark in this fast-developing market.

FADA president Vinkesh Gulati outlines what it means for the dealer fraternity in India.

The race for affordable mobility options have also led to the popularity of the subscription and leasing models. Zoom Car's Greg Moran details the strategy of growth.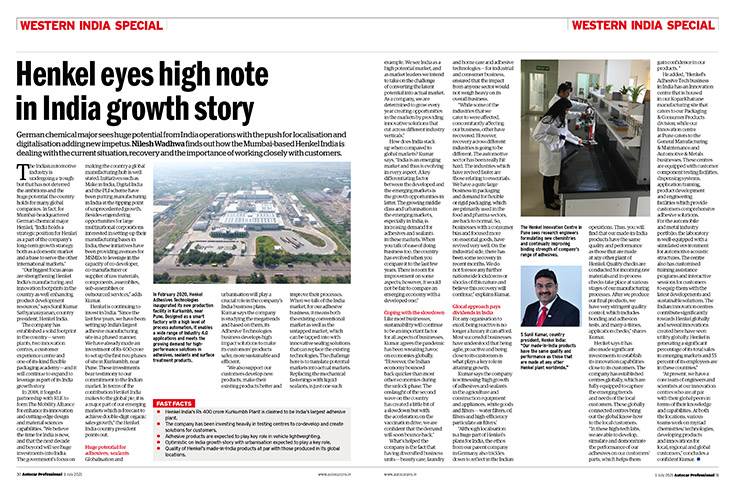 Western India Special
The western part of India houses major auto hubs including Maharashtra, that accounts for nearly 35 percent of the country's output of automobiles by value, and Gujarat.
Tata Motors is betting big on is two key vehicle architectures ALFA and OMEGA, as it takes forward it turnaround drive and puts a lot of focus on SUVs. We speak to President and CTO, Rajendra Petkar.

Aurangabad-based Endurance Technologies is on track to roll out its locally manufactured ABS units this October.

German chemical major, Henkel India sees huge potential with the push for localisation and digitalisation adding new impetus.
The EV Action
New mobility alternatives are also seeing traction in the western Indian auto hubs.
Gujarat is the latest to come out with its unique EV policy aimed at bolstering EV investment in the state. Find out how automakers are taking the news.



But is India really EV-ready? We get you views from stakeholders across the EV ecosystem for a reality check.

The Yamaha Group too is eyeing e-mobility in India. We get you an exclusive interview with the Chairman of Yamaha Motor India Group of Companies, Motofumi Shitara.
But that's not all. This exciting content-laden edition brings you all the action from the past fortnight, be it new launches, fresh deals or the latest collaboration. Make sure that you grab your copy today.
How you can read this issue
Autocar Professional magazine is also available through all good newsagents and for download from Magzster. You can also buy one-off copies of Autocar Professional magazine – contact Ganesh at ganesh@haymarketsac.com. Alternatively, never miss an issue – subscribe to Autocar Professional magazine today
RELATED ARTICLES