Autocar Professional's December 1 issue is a must-read
From in-depth analyses of the latest industry moves through to a Lightweighting Special, this edition has it all.
It is the dawn of the last month of the year and as the Yuletide spirit grips the world, Autocar Professional's December 1 issue gets you the highlights of automotive action from the world over. Electrification, vehicle lightweighting and connected vehicles are among the global automotive megatrends. The latest issue has them all..

The Skoda Strategy
As Skoda and Volkswagen come together to take the India 2.0 story forward –
Skoda Auto's CEO Thomas Schafer points out that 'India 2.5 is an initial idea but maybe it has a 3.0 and a 4.0'. We get you a sneak peek on the three pillars of focus for the Czech carmaker and details the 'Next Level – Skoda Strategy 2030'.
Gurpratap Boparai, Managing Director, Skoda Auto Volkswagen India says Skoda Volkswagen is also evaluating electric options and added that though there are internal rivalries between the brands, they "act together."
The many facets of chip crisis
The chip crisis is hampering automobile production schedules the world over –

Yamaha Motor Company has acknowledged that the present semiconductor crisis has hit its Indian operations at a time when premium bike sales are on the up. Find out how the bike maker is planning to address the challenge?
Aakash Minda, Minda Corporation's executive director, says the "semiconductor shortage is a challenge which is affecting order" but he sees every crisis as an opportunity. We get you details about the company's future roadmap.
Given SKF's significant presence in the two-wheeler and PV markets, the impact of the ongoing chip shortage is another challenge. We speak to India MD, Manish Bhatnagar.
Auto world's nimble edge


The new Maruti Celerio adopts the lightweight Heartect platform in the race even as it adds kilometres in the efficiency metre. A detailed lowdown
Coimbatore-based Boom Motors claims it has 40 percent fewer parts in its electric offering and has achieved significant weight reduction compared to similar electric scooters.
Naveen Mehta of Jindal Aluminium introduces the many facets of vehicle lightweighting. With increased adoption of EVs, he says the demand for aluminium extrusions and high-pressure aluminium die-cast parts continues to grow, helping automakers align to new mobility trends.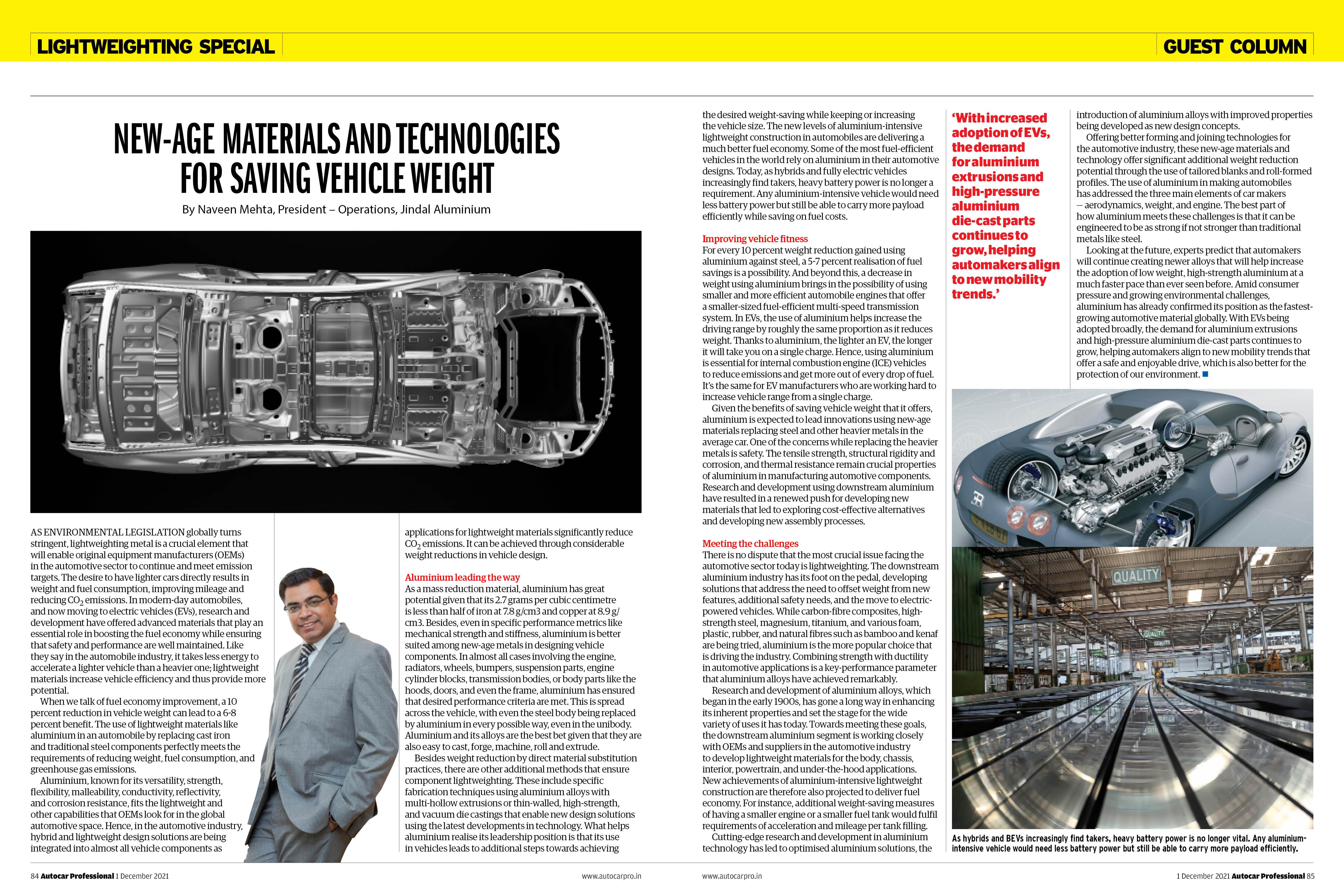 How you can read this issue
Go grab your copy for all that action and a lot more. Autocar Professional magazine is also available through all good newsagents and for download from Magzster. You can also buy one-off copies of Autocar Professional magazine – contact Ganesh at ganesh@haymarketsac.com. Alternatively, never miss an issue – subscribe to Autocar Professional magazine today.
RELATED ARTICLES