Autocar Professional's May 15 magazine edition packs many an ace
We reveal full details of the Intra, Tata Motors' latest salvo at the SCV market, move into premium bike terrain with Hero MotoCorp, talk strategy with Bajaj Auto, bus around with VECV and check out the E-Way Bill too.
In a bid to carve new market share in the small CV segment and also stave off growing competition, Tata Motors has readied its new last-mile assault weapon: the Intra.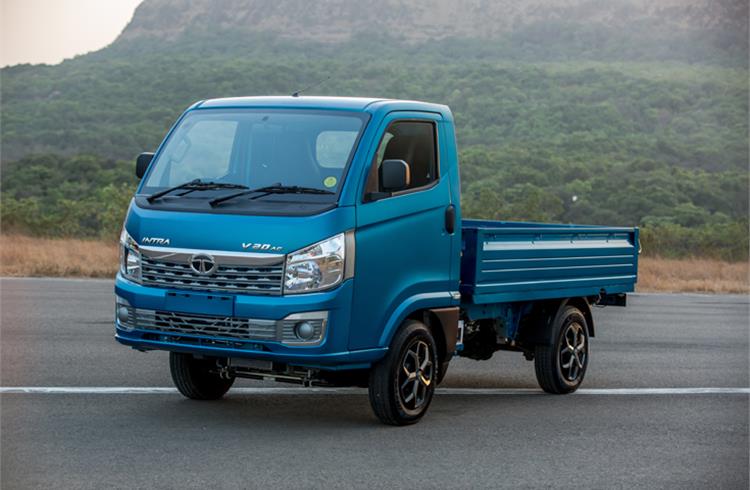 Ace of space. That's what Tata Motors promises with the new Intra which has a large loading deck (8.2 feet long x 5.3 feet wide), designed to enable the operator to transport greater volumes.
The soon-to-be-launched Tata Intra's cabin. Tata Motors is aiming to bring a car-like experience into the small CV segment, making CV driving a happy experience.
The mid-month edition of Autocar Professional has rolled out and it's packed with content that will keep you happily engaged with all the exciting action in the Indian automotive industry, on two, four and more wheels.
Let's Intra-duce you to the lead cover story on the new Tata Intra powered by a 70hp, 1.4-litre diesel engine. We reveal full details, the first pictures – both exterior and interior – of the brand-new small commercial vehicle built on a new platform which is set to spawn an entire new family of small CVs, designed for varying applications.
Bigger and wider, it is billed as an ace of space and is aimed at delivering more profitability to the operator. Among its highlights are a car-like driving experience, comfortable interiors and capability to transport greater loads. And as, RT Wasan, vice-president (Sales & Marketing), CV Business Unit, Tata Motor, tells us in an exclusive interview, the Intra has come about following extensive feedback from SCV customers across India. That's not all, we also provide detailed sales statistics of the small CV segment, company-wise and product-wise for FY2019, to show the heightened competition in the market where the new Intra will play.
In a similar strategy, albeit in a different segment, VE Commercial Commercial Vehicles is looking to be the challenger brand to Tata Motors and Ashok Leyland in the bus market. In an effort to make the most of the uptick in the domestic bus market, the company is concentrating all efforts on producing feature-rich and safer buses. B Srinivasan, senior vice-president, Sales & Marketing (Buses), VECV, reveals the strategy to gain market share.
Small CVs and bus or, for that matter, no CV would be able to get traction without a capable transmission. That's where the transmission major Eaton comes in. As Indian OEMs gear up to take on the era of disruptions, a confident Nitin Chalke, president, Vehicle & Hydraulics, APAC, Eaton, says the company has what it takes to help them navigate change. One of the drivers of that change is the automated manual transmission, of which Eaton has a comprehensive range and proven product line-up.
The E-Way Bill is one of the many changes seen in the Indian market of late and it is a big positive for transporters, the logistics industry and the country. Our-depth feature, which decodes how the E-Way Bill functions, reveals just how this technology-driven initiative is benefiting all industry stakeholders. We also speak to Tata Motors' Girish Wagh, Mahindra Logistics' Pirojshaw Sarkari, TVS Logistics' R Shankar, Delhi Rajasthan Transport Company's Ashok rathi, Frost & Sullivan's Satendra Kumar, and the Indian Foundation of Transport Research and Training's SP Singh for their views on this game-changing growth driver.
The big launch of the past fortnight came from Hero MotoCorp. The two-wheeler market leader launched not one but all of three new motorcycles – the XPulse 200 adventure bike, the road-going XPulse 200T and the fully faired Xtreme 200S. Developed at the Hero Centre of Innovation & Technology in Jaipur, the trio of bikes are aimed at taking Hero into the premium motorcycling zone. And according to Sanjay Bhan, Head - Sales & Aftersales, "They are only the first of plenty of action to come from Hero MotoCorp." He reveals plenty more but for that we'd like you to read the full interview.
Within the two-wheeler industry, the company making all news and profitably at that is Bajaj Auto. Not only has it regained market share in FY2019 but it is charting new growth paths including electrification on two, three and four wheels. Find out just how from what executive director Rakesh Sharma tells us in an interview.
No automobile would run smooth without the assistance of ball bearings. MinebeaMitsumi, the Japanese major which commands 60 percent of the global market for miniature and small-sized ball bearings, remains bullish on its Indian operations. Not only that but it is now ready to snap opportunities emanating out of the high level of electronic content inside vehicles including navigation and audio systems, and also the megatrend of vehicle electrification. In a comprehensive interview, Ashok Astha, MD and CEO, NMB-Minebea India, details the company's India growth strategy.
Another global megatrend is that of lightweighting. Apex component industry body ACMA recently held a conference in New Delhi which all experts, from India and overseas, debate and discuss the latest trends and technologies that can help cut the kilos and shave the grams. Also, how the automotive industry can leverage lightweighting knowledge and technologies from the aerospace and aircraft industry.
All this plus plenty of industry news from the past fortnight including Autocar Professional's webinar on road safety.
Where to buy?
Autocar Professional magazine is available through select newsagents and for digital download from Magzster.

You can also buy one-off copies of Autocar Professional magazine – contact Ganesh at ganesh@haymarketsac.com
RELATED ARTICLES