Autocar Professional's Green Industry Special full of eco-friendly content
Green, clean and being seen. That's the mantra for the automotive industry, in India and globally. Our annual Green Industry Special is a must-read for all stakeholders.
Three hundred and 65 days from today, BS VI emissions norms come into force in India. The first of April is also when Autocar Professional's annual Green Industry Special rolls out, as it has for the past 8 years.
As the automotive industry and its supply chain thinks, plans and works towards greener mobility, we bring you the inside story on how Evoke Motorcycles, the Chinese motorcycle manufacturer, is readying for its entry into the Indian EV market on two wheels. The strategic game-plan involves local EV manufacture, setting up its own EV fast-charging stations. We reveal details of the Indian plan codenamed Project M1, about a competitively priced electric two-wheeler aimed at taking on 125-150cc petrol-engined rivals in the Indian market.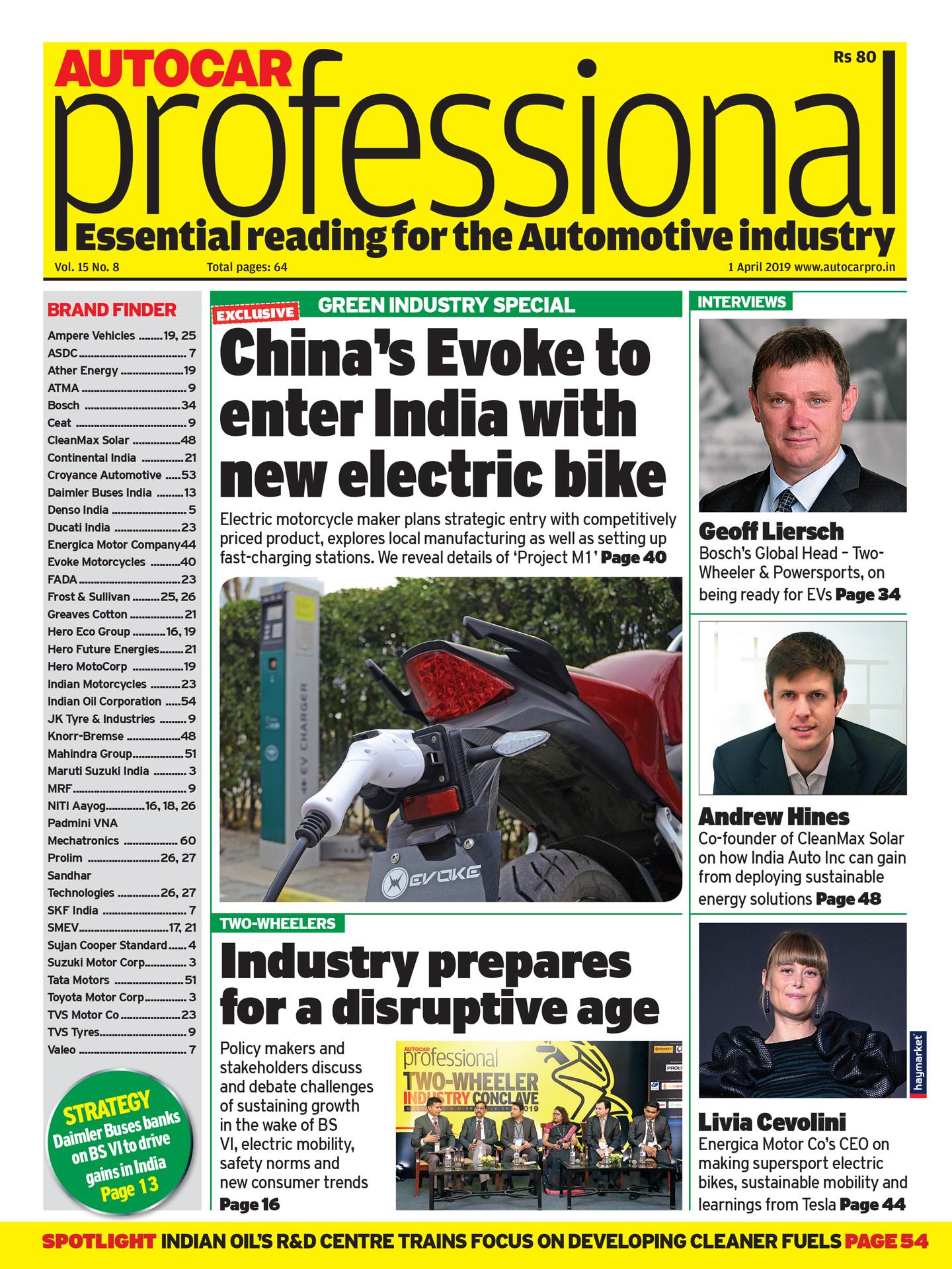 Electric motorcycles can also be fast. We have an exclusive interview with Livia Cevolini, CEO of Modena-based Energica Motor Company, which is the sole supplier of supersport electric bikes for the FIM Enel MotoE World Cup. She speaks on sustainable two-wheeled mobility, how India can accelerate adoption of EVs and learnings from the EV evangelist called Tesla.
What is a given is that if e-mobility is take firm grip in India, EVs have to be affordable to customers or subsidised. It is imperative that the battery, the costliest component in a EV, becomes cheaper. Our detailed study points out just how that is achievable.
April has begun and the heat is on. But the benefits of the sun can be harnessed in a plentiful manner by the Indian automotive industry, says Andrew Hines, co-founder of the Mumbai-based CleanMax Solar. The company, which is India's leading rooftop solar developer, has solutions that can enable OEMs and suppliers to generate clean energy and also reduce expensive conventional power costs.
Global technology and component major Bosch also has many a solution for green motoring. Geoff Liersch, Global Head, Two-Wheeler and Powersports at Bosch, says the company is ready for EVs with its integrated electrification system. In an expansive interview, he speaks on a host of issues including hybrids, electrification and the challenges of battery swapping.
Meanwhile, Croyance Automotive, a Gujarat-based company, is readying its first EV -- the Electro 1-tonne light commercial vehicle. We reveal the product strategy.
Daimler India Commercial Vehicles is another CV maker which is thinking green. Find out how the company, which is leveraging its parent company's extensive knowledge and engineering of Euro 6, aims to drive gains in the India market with the shift to BS VI.
Component suppliers are putting their shoulder to the wheel to enable OEMs ride out the wave of disruptions. Like Padmini VNA Mechatronics. Managing director Kabir Bhandari reveals the company's sharp focus on new product development, indigenous development of best-in-class cool-seating solutions, its readiness for BS VI-compliant products and lots more.
Whether BS VI, electrification or improved safety norm, the entire Indian automotive industry is grappling with disruption. Two-wheelers, which account for 76 percent of India's vehicle parc, are the most affordable form of personal motorised transportation.
Autocar Professional's third Two-Wheeler Industry Conclave, held in New Delhi on March 15, saw industry stakeholders including the government, CEOs, suppliers and marketing heads discuss and debate both challenges but equally the many opportunities that are arising out of technological disruptions. Our comprehensive 9-page report has it all.
All this plus plenty of exciting news which starts with Autocar Professional's exclusive on Hyundai Transys setting up an all-new plant in Andhra Pradesh to supply to Kia Motors India.
In his exclusive column for Autocar Professional, KK Gandhi, Auto and Fuel Expert, E-Mobility, Strategic Planning & Convener, Centre for Auto Policy and Research, writes on how India can tackle the challenge of BS VI emission norms.
Where to buy?
Autocar Professional magazine is available through select newsagents and for digital download from Magzster.

You can also buy one-off copies of Autocar Professional magazine – contact Ganesh at ganesh@haymarketsac.com
RELATED ARTICLES