Autocar Professional – June 1 issue: A Software & Simulation Special
India Auto Inc, which is engaged in meeting BS VI norms, improved safety mandates and also speedy time to market, using the right software and simulation techniques is vital if it is to gain an edge in the marketplace.
As the global automotive industry takes on disruptive technological challenges as well as looks to benefit from global mega trends like connectivity, electrification, safety and lightweighting, there are also cost pressures to deal with. This even as they deal with the one who has the final say: the buyer. And, after all that, they have to ensure they stay profitable and sustainably at that.
Automated production lines, tightening emission norms and higher safety standards means the business of manufacturing vehicles is getting increasingly tougher. Getting it first time right is vital. Rather than spending expensive capex, the smart way to see tomorrow today is VR or virtual reality. VR is one method that helps OEMs and suppliers build better products. By deploying VR, engineers can dive inside a vehicle in the virtual world and gain a much better idea of how their designs work, resulting in a better overall product.
For India Auto Inc, which is currently engaged in meeting the new BS VI emission norms, improved safety mandates and also new model programmes, using the right software and simulation techniques is vital if it is to gain an edge in the marketplace. That's where Autocar Professional's annual Software & Simulation Special, with its host of special features, interviews and analyses, plugs in.
Find out how the California-based Unity Technologies, which develops simulation platforms and caters to eight of the Top 10 global automakers, is driving a new dynamic in automotive.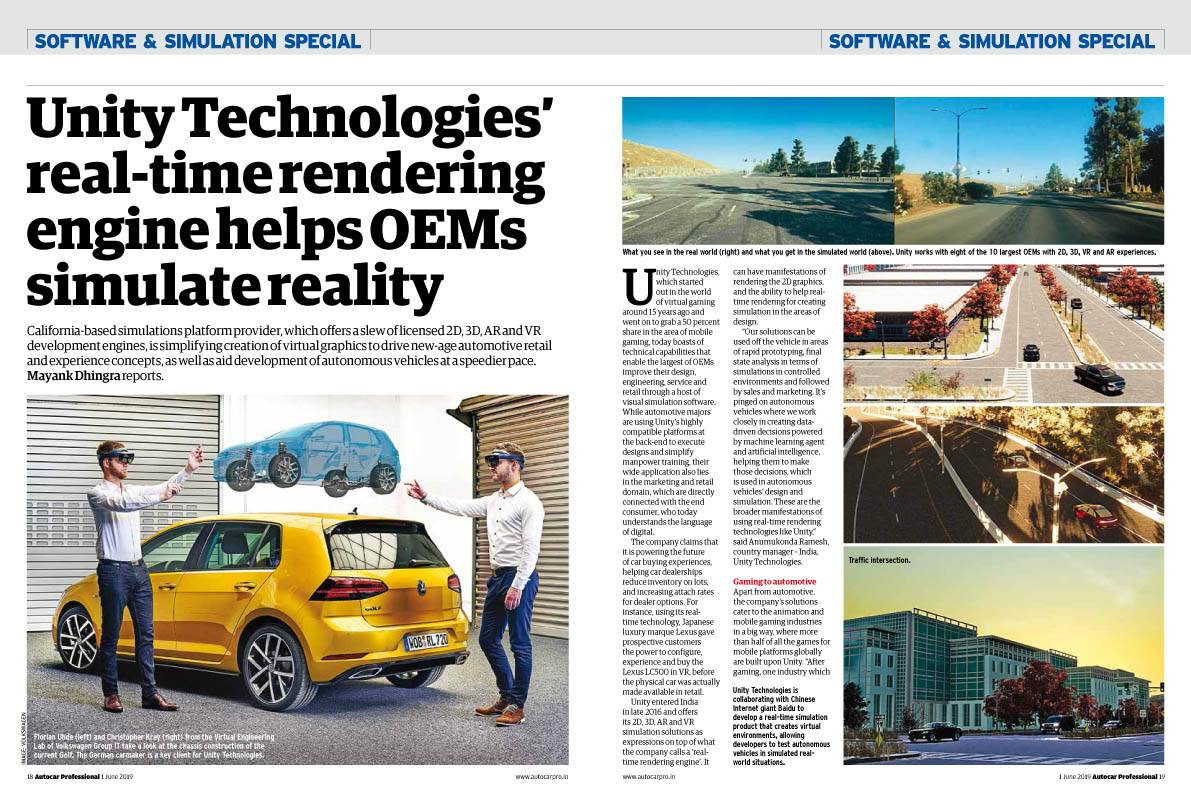 We also speak to Anumukonda Ramesh, Country Manager, and Sharatchandra Aithal, Field Engineer, Unity Technologies, to know how automakers in India, who are dealing with issues of improved crash safety and BS VI norms, can benefit from VR.
As connectivity takes roost inside today's vehicles, as seen in many new model launches in India, they are also targets for hackers. As Ian Yip, Chief Technology Officer, Asia Pacific, McAfee tells Autocar Professional in an exclusive interview, the paradigm shift in vehicular infrastructure demands a comprehensive security system.
We'd love to tell you more about this hugely informative interview and the 15 most hackable and exposed attack surfaces in a car but it's best if you get your hands on the June 1 issue.
We've got more on the cyber security front – Kiran Zachariah, Vice-President, IoT Business Solutions, Subex, details how cyber attacks on vehicle can be kept at bay and the benefits of developing a risk matrix.
Mahindra & Mahindra is among the Indian OEMs which use software to build accurate simulation models and also assist its design engineers through custom applications – all in the quest for reducing time to market. Comsol is the firm that is helping M&M and industry in introducing simulation early into the design process. We have the latest updates on this Boston-headquartered major.
Stiff competition, cost pressures, excessive production capacity and short development cycles are challenges facing OEMs and suppliers. With India Auto Inc seeing new upgrades in crash testing and emissions, a software solution like Simulia can help minimise cost and maximise efficiencies. That's what Bhavesh Kumar, Simulia India Brand Leader, Dassault Systemes, has to say among many other top tips for the Indian auto industry.
We also speak to Prabhu Patil, President and CEO of Prolim Global, a fast-growing, Detroit-based, end-to-end PLM, IT and engineering services company. Patil tells us why now is the time to modernise businesses to innovate, develop, and commercialise more profitably.
Kronos, the American workforce management company, is targeting India Auto Inc through its software solutions that can enable automakers to have an efficient workforce, reduce overhead costs and also avoid people downsizing. There is a digital way to keep people happy as per what James Thomas, Country Manager. Kronos, tells us.
Meanwhile, as the developed world already engages with disruptive mobility trends, French major Renault is working on four strategic areas of innovation: electric mobility, connected mobility, autonomous mobility and new mobility services. Our first-hand report from the company's test laboratory in Paris Saclay reveals how the company is walking the tech talk.
The past fortnight was a newsy one what with Hyundai Motor India launching its first-ever compact SUV, the Venue, MG Motor India revealing the Hector SUV, and Fiat Chrysler Automobiles making a 'friendly' proposal for a 50:50 alliance with Renault. We've got them all inside this very readable 64-page issue.
Where to buy?
Autocar Professional magazine is available through select newsagents and for digital download from Magzster.

You can also buy one-off copies of Autocar Professional magazine – contact Ganesh at ganesh@haymarketsac.com
Also read: Autocar Professional's April 15 issue walks the safety talk
RELATED ARTICLES