Autocar Professional – August 15, 2018
The latest issue encompasses the story of the Indian automotive industry – new products, trends, sales analysis, exclusive interviews and lots more.
The latest issue of Autocar Professional, which has rolled out on Independence Day, encompasses the story of the Indian automotive industry – new products, trends, sales analysis, exclusive interviews and lots more.
India Auto Inc is fast gearing up for the upgrade to new BS VI emission norms and the supplier community is working in tandem with OEMs across segments. Find out how the Bangalore-based SEG Automotive India, which manufactures starter motors, generators, start-stop and mild-hybrid solutions, is enabling automakers to be future-ready.
Another company which is aiming to be future-ready is Tata Motors, which is fast implementing its Turnaround 2.0 strategy. With its passenger vehicle sales notching near-50 percent year-on-year growth in Q1, FY2019, the car maker is expanding manufacturing capacity at its Sanand plant in Gujarat. This facility, which produces the Tiago, Tigor and the Nano, in 21 variants and 150 vehicle combinations, also produces the Revotron 1.2 petrol, Revotorq 1.05 diesel and 1.2 NGTC petrol engines. Now, Tata Motors, which plans 10-12 "new brand nameplates", some of them from the Sanand plant, is set to have its existing 154,000 units per annum capacity ramped up. At present, it contributes 60 percent of the company's PV output, the rest coming from the Pune plant. We also speak to Mayank Pareek, president, Passenger Vehicle Business Unit, on the company's future growth plans.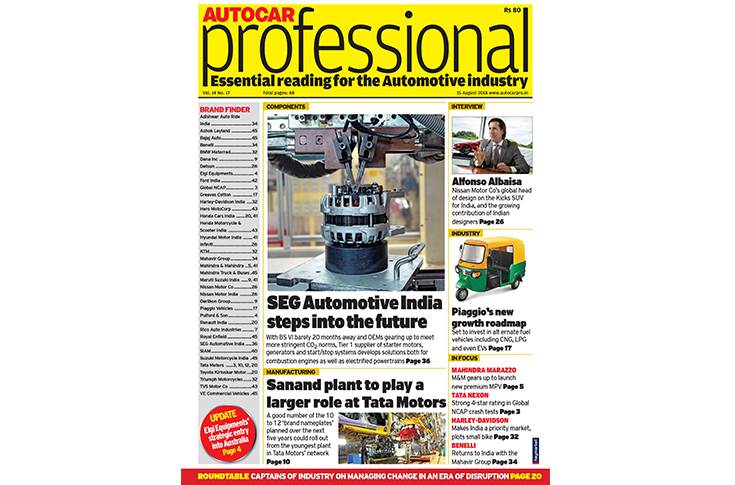 The company's commercial vehicle business is also firing on all cylinders but faces new challenges in the form of the revised axle norms, growing competition and new emission and safety norms. Girish Wagh, president, Commercial Vehicle Business Unit, Tata Motors, details the entire strategy designed to keep the automaker ahead of the competition and grow market share.
Meanwhile, three-wheeler major Piaggio Vehicles is taking a cautious but optimistic approach to growth in the Indian market. We reveal the growth game-plan which involves investing in alternate fuel vehicles including CNG, LPG and electrification.
Sustainable growth in an era of disruption brought about by global megatrends is giving industry executives sleepless nights. In a special feature, four business heads representing India's commercial vehicle market leader and three carmakers reveal how they plan to transform and reinvent in an era of disruption. We report on a recent roundtable meeting in New Delhi where Girish Wagh, president, Tata Motors Commercial Vehicle Business Unit; Sumit Sawhney, MD and CEO, Renault India; N Raja, deputy MD, Toyota Kirloskar Motor; and Rajesh Goel, senior VP and director (Marketing and Sales), Honda Cars India, held sway.
Automobile design is the pivot around which mobility sells. Alfonso Albaisa, Nissan Motor Co's senior vice-president for Global Design, who was in India recently to launch the Roots of Design program in Chennai, speaks to Autocar Professional on upcoming products like the Kicks SUV which promises to turnaround Nissan's fortunes in India, future growth strategies and lots more.
Looking for higher sales is another global major but on two wheels only – Harley-Davidson – for whom India has become a new force in its global mid-term growth plan as it scouts for sales outside its home market.
The lure of the booming Indian two-wheeler market has also drawn iconic Italian bike maker Benelli, which had made a premature exit from India. The company has returned, this time in association with the Hyderabad-based Mahavir Group which has, till now, been into passenger vehicle retailing. Will the move click for Benelli? Find out.
Q1 FY2019 automobile sales were robust and provide a good foundation for the entire fiscal. July 2018 numbers too are good, albeit YoY growth for PVs seems tepid when compared to the high year-ago base created by GST-driven tax benefits. We provide the full stats, monthly and for the first four months of the fiscal year.
All this and much more in the August 15, 2018 issue.
Where to buy?
Autocar Professional magazine is available through all good newsagents and for download from Magzster. You can also buy one-off copies of Autocar Professional magazine – contact Ganesh at ganesh@haymarket.co.in. Alternatively, never miss an issue –subscribe to Autocar Professional magazine today.
RELATED ARTICLES