Autocar Professional's Safety Special Issue is out – download for FREE
The annual Safety Special, which packs a robust mix of exclusive interviews, in-depth industry reports and analyses, covers a varied range of topics as well as top tips on how to restart the manufacturing engine.
Road safety is really important and it's a well-known fact that 1.35 million people die on the world's roads each year, with over 150,000 of them in India. At the current time though, the topic of safety, at home and in the workplace, has been hijacked by the Covid-19 pandemic which has held the world, countries and companies in a vice-like grip.
With India in lockdown mode, for nearly 45 days now, companies across sectors are eagerly looking to restart operations. India Auto Inc, which has battled a prolonged slowdown for nearly 20 months, is readying to restart its engine of growth. Autocar Professional's latest edition, a combined April 15-May 1 issue, is all about the energy and the cautious optimism that industry stakeholders are displaying. Importantly, as all of India works from home, Autocar Professional has made this 64-page issue available to download for FREE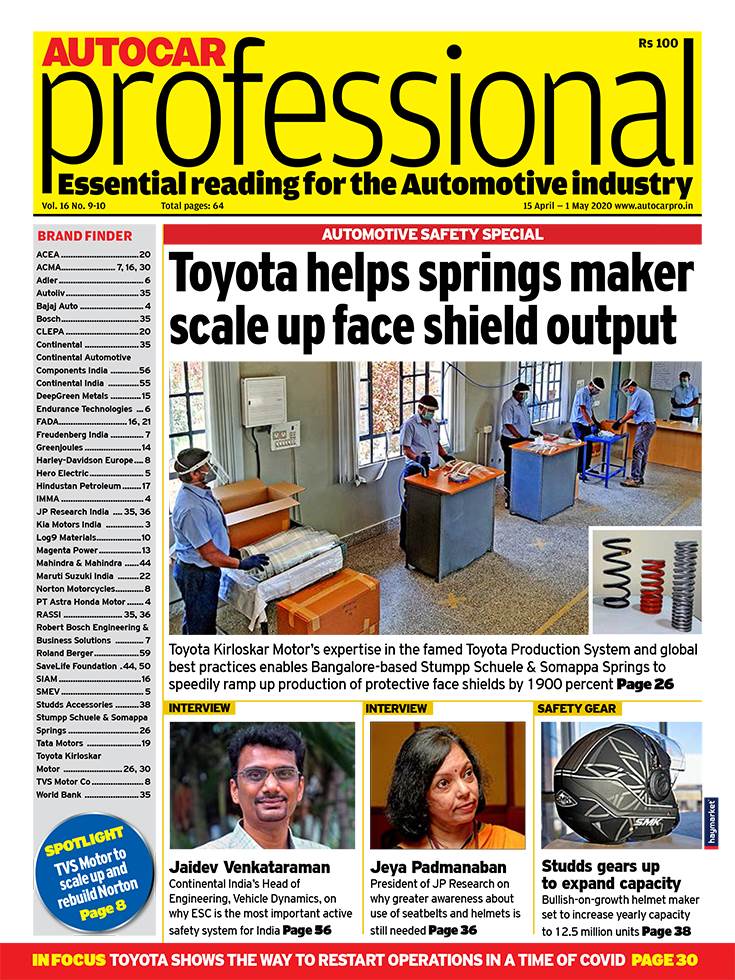 One of the unintended consequences of Covid-19 and the lockdown worldwide is a sharp fall in the daily death rate from road accidents and the bright blue skies in even the most polluted cities is a silver lining no doubt. But safety today has come to mean a lot more than just that. The health and safety to employees who would return to work is primary. While lockdowns will eventually be lifted, the pandemic cannot be wished away so easily and implementing the new normal in a time of social distancing is the way forward.
Safety at work in a time of social distancing
Toyota Kirloskar Motor has shown the way to industry with its comprehensive 'Restart Manual'. An all-inclusive guide to re-organise and safely resume business operations to near-normalcy after the lockdown is lifted, it adheres to the WHO programme of social distancing. It highlights a new code of conduct, and will push all stakeholders including logistics players to follow the new SOP to enable safe production.
Toyota does not stop at just that. It is also lending a helping hand to other industry stakeholders – it has helped Bangalore-based Stumpp Schuele & Somappa Springs to speedily ramp up production of protective face shields using its famed Toyota Production System and global best practices.
Satish Machani, the Managing Director of Stumpp Schuele & Somappa Springs reveals that deploying theToyota Production System to design an appropriate layout factoring people and material movement did accelerate the face shield output massively.
We move from safety inside manufacturing plants to safety on the road. JP Research's Road Accident Sampling System – India (RASSI), dedicated to scientific road accident data analysis and automotive safety for India, has completed a decade of operations.
Jeya Padmanaban, president of JP Research, tells Autocar Professional that says the organisaation is now expanding its crash and dataanalyses to more cities in India and elaborates on why greater awareness about use of seatbelts and helmets is still needed to save lives of motorists in India.
Studds Accessories is one of the largest two-wheeler manufacturers in India. Along with plans to double its manufacturing capacity to 12.5 million units per annum, Studds Accessories is readying to introduce a first-in-India helmet with in-built camera and innovative bone conduction technology. Siddharth Bhushan Khurana, Managing Director, Studds Accessories expects the Studds exclusive outlets across India to create a buzz and greater awareness even as he targets sales of as many as 7 million helmets this year.
Meanwhile, CV Raman, Maruti Suzuki India's Senior Executive Director (Engineering) details what goes into making safer cars, dispelling notions about light-bodied cars offering less protection, why the Bharat New Vehicle Safety Assessment Programme with its 56kph crash tests is ideal for India and why the need for personal safety should be at the top of the consumer's mind.
How can truck drivers be safer on Indian roads?
Trucks are the leading cause of road accidents in India. We reveal the shocking facts behind unsafe driving practices by truck drivers as well as other reasons which push them to compromise safety, theirs as well as other road users' safety. The report, which details the SaveLife Foundation's study of truck drivers in India, also highlights pertinent issues in the trucking industry and points at important gaps that need to be addressed to improve the status of truck drivers in India.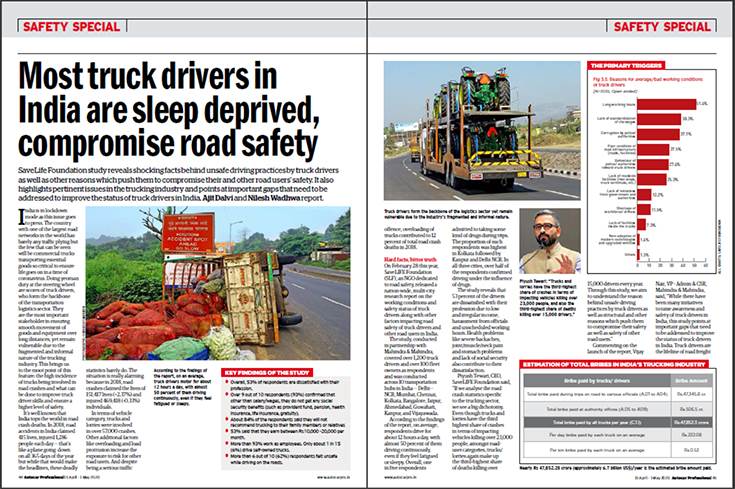 In an interview, Piyush Tewari, CEO of SaveLife Foundation,says he is hopeful the many findings of this comprehensive study will get the government, companies and fleet operators thinking and modify their approach to this important human resource of the country. After all, they are the ones who have kept the supplies of essential commodities going across the country in this time of lockdown.
Do you know German Tier 1 supplier, Continental's R&D operations at its Tech Center India contribute 80 percent to global development of safety functions such as a 'pre-crash safety monitor'? We speak to Sudeepth Puthumana, Head of Engineering, Business Unit Passive Safety and Sensorics, Continental Automotive India and also to Jaidev Venkataraman, Head of Engineering, Vehicle Dynamics, Continental Automotive Components India, says that ESC is the most important active safetysystem from India's perspective, introduction of BNVSAP in phases, and on the need for a fixeds afety legislation roadmap to help work on localisation of new technologies ahead of time.


In mid-April, TVS Motor Co went ahead and acquired the iconic British brand Norton Motorcycles. Find out how the Chennai-based two-wheeler OEM plans to expand its global footprint and give Norton a new charge.
It's the time for collaboration and cooperation
The past three weeks have seen Autocar Professional come up with three different webinars, all on specific topics of interest to industry stakeholders. The first one was held on April 11, on ' 'Rising to a Challenge: Business in the Midst of a Pandemic' and it turned out to a lively debate on the road ahead for India Auto Inc.
The four panellists – Rajan Wadhera, President, Society of Indian Automobile Manufacturers (SIAM); Deepak Jain, President, Automotive Component Manufacturers Association of India (ACMA); Ashish H Kale, President, Federation of Automobile Dealers Associations (FADA) and Rajendra Petkar, President and Chief Technology Officer, Tata Motors – offered very valuable insights, experiences and suggestions which should prove very useful for the industry as it prepares to resume operations.

Writing exclusively for Autocar Professional, Dr Wilfried Aulbur, Senior Partner, Roland Berger says as with all previous crises, Covid-19 too will pass. But its impact and cost will be significant and much more severe than any crisis in living memory. Solidarity with and support for citizens at the bottom-of-the-pyramid as well as vulnerable emerging and developed markets is the need of the hour. This is a must-read feature.
EV-angelists for greener motoring
In the electric mobility space, there continues to be a lot of start-up activity. Log9 Materials is betting big on alumnium-air battery tech to power EVs while Magenta Power is carving out a strategic plan to set up EV charging poles across the country. Meanwhile, Greenjoules has set up a bio-refinery plant in Chakan, and is currently producing 2G diesel-equivalent fuel from agricultural waste, which is validated as a replacement for diesel fuel.
How you can read this issue Click here to download
Once you've downloaded our Automotive Safety Special, use the Adobe Acrobat PDF viewer and switch to page-by-page view mode for the best reading experience!
Autocar Professional magazine is also available through all good newsagents and for download from Magzster. You can also buy one-off copies of Autocar Professional magazine – contact Ganesh at ganesh@haymarketsac.com. Alternatively, never miss an issue – subscribe to Autocar Professional magazine today.
RELATED ARTICLES