ATMA Partners Summit sees tyre industry captains urge sustainability
The summit explored how the stakeholders in the tyre value chain can respond to evolving industry needs, benefit from emerging opportunities and work towards creating a more sustainable ecosystem.
Anant Goenka and Anshuman Singhania with (from L) Virendra Rathod, Srikanth Chakravarthy, Ashish Pandey & V Natarajan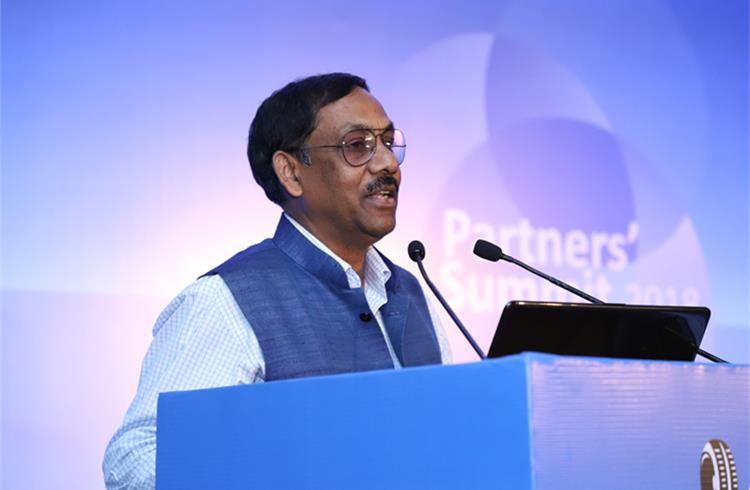 Anil Srivastava addressing the delegates at Partners Summit
Anil Srivastava at Tyre Safety Pledge pavilion with Ashish Pandey and ATMA DG Rajiv Budhraja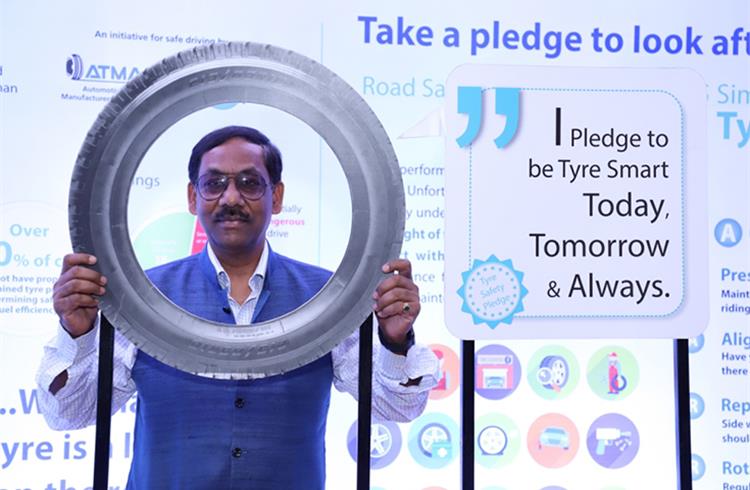 Anil Srivastava inaugurating Tyre Safety Pledge Station
P J Xavier, Past Convener ATMA TESS Group thanking Anil Srivastava
The annual summit of the Automotive Tyre Manufacturers Association (ATMA), held in New Delhi, saw industry leaders urge greater engagement and dialogue between the tyre industry and raw material partners to develop a more sustainable ecosystem and respond to emerging challenges.
"India is emerging as a manufacturing base with more and more global companies showing interest in the country. There has been lot of activity on the automobile front in India. The tyre industry is perfectly poised to align itself with the ever-changing scenario and has committed more than $8 billion (Rs 58,552 crore) in the last few years. More investments are flowing in," said Ashish Pandey, convener ATMA Supply Chain & Resources (SCR) Group, in his welcome address.
This year's ATMA Partners Summit assumed all the more importance as it was focused on synthetic rubber and reinforcement materials which together account for 35 percent of the tyre industry's spend, added Pandey.
Chief guest Anil Srivastava, who heads the Infrastructure Connectivity and E-Mobility verticals at NITI Aayog, said, "With 8.2 percent growth in the economy in the last quarter and projections of more than 7 percent for many years to come, India offers huge size and scale for almost all the consumer durables including automobiles and tyres." Urging the tyre industry and raw material suppliers to achieve a higher level of growth, Srivastava said, "Indian tyre companies are some of the best corporates in the tyre sector globally. The industry is doing very well but there is tremendous potential and scope that is going to be there."
In his keynote address, Anant Goenka, chairman, ATMA said that new technologies are redefining the auto ecosystem and the tyre industry as an integral part needs to see the writing on the wall. "Changes in the entire automotive value chain will make the next decade far more different than what we experienced in the last few years. Three big changes – technology, need for higher protection of environment and growing uncertainty in the world – will determine the future course of action," pointed out Goenka.
The ATMA Partners Summit saw strong representation from the tyre industry and raw material providers. "The tyre industry is raw material intensive industry with raw materials alone accounting for 60 percent of turnover. The summit explored how the stakeholders in the tyre value chain could together respond to the fast unfolding changes, benefit from the emerging opportunities and work towards creating a more sustainable ecosystem," said Rajiv Budhraja, director general, ATMA.
ATMA is the apex national body representing the Rs 57,000 crore automotive tyre industry. Its members comprise 11 large tyre companies – Apollo Tyres, Birla Tyres, Bridgestone India, Ceat, Continental India, Goodyear India, JK Tyre & Industries, Michelin, MRF, TVS Tyres and Yokohama – who represent over 90 percent of production of tyres in India.
Also read: ATMA Convention charts out road map for tyre industry
RELATED ARTICLES