Ather Energy gets a new charge with Hero MotoCorp's strategic investment
Hero MotoCorp's Rs 205 crore investment for a 30% stake in Ather Energy is the largest investment in the smart electric two-wheeler segment in India.
E-scooters can also look snazzy. Ather S340 is 20 percent lighter than conventional scooters.
S340 has a range of 60km on a single charge. Top speed is 72kph.
The S340 features a well-protected motor, imported from Europe, claimed to handle dustiest Indian roads adroitly.
The smart e-scooter's intuitive lights respond to ambient light conditions.
Ample storage space inside S340 can house 2 helmets.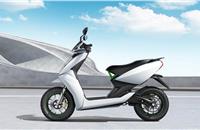 Ather Energy, the Bangalore-based smart electric two-wheeler start-up, has announced that India's largest two-wheeler manufacturer Hero MotoCorp is taking a 26-30% stake in the company.
The start-up company has received a fresh round of funding of Rs 180 crore, which forms the bulk of an overall Rs 205 crore investment from Hero MotoCorp. The funding marks the third round of investments in Ather Energy, which is building the S340 – India's first smart, electric scooter. Previous rounds of investments in the company were by Tiger Global, and Sachin and Binny Bansal, promoters of Flipkart, in their personal capacity.
Above: Tarun Mehta, CEO and co-founder (astride the S340) and Swampnil Jain, CTO and co-founder, Ather Energy.
Speaking on the new investment, Tarun Mehta, CEO and co-founder of Ather Energy, said, "The funding is a strong validation of our product roadmap and technology capability, endorsed by one of the biggest global automotive players. We believe smart connected electric vehicles are the future and India will be an important global player in it. Our vision is to fast forward to that future and this investment will help us leapfrog several years of automotive experience"
This new round of capital infusion will be used by Ather Energy to sustain momentum in its journey of building a future-ready product platform, and to accelerate the infrastructure and ecosystem development around electric vehicles in the country. Essentially it will go towards beefing up R&D operations, developing a network of charging stations and expanding the product portfolio of which the S340 is the first model.
What is clear is that Hero MotoCorp believes the start-up has what it takes to be a key player in the two-wheeler market. Also, in Hero MotoCorp, Ather gets a partner who could come along for the EV journey. In an interview to Autocar Professional in February 2016, Tarun Mehta had said: "We have to find a set of people who have strong reasons to believe in what we are building. We are not trying to build a niche product. We have clearly built the product something that gives belief to anybody to buy. It has several features that will attract the mass market two-wheeler customers. It has a lot of storage space, safety features and several other attractive features and comfort as compared to any existing conventional petrol or electric scooters today in the market."
Hero MotoCorp plugs in to EVs with an eye on the future
For Hero MotoCorp, buying into Ather Energy is a strategic decision. Commenting on taking a stake in Ather Energy, Pawan Munjal, chairman, MD and CEO of Hero MotoCorp, said: "Adoption of environment-friendly fuel is a priority for Hero, as is propagating sustainable manufacturing through green facilities. One of our strategic priorities, therefore, is to engage with the external ecosystem, including start-ups in adjacent areas. Hero MotoCorp intends to enhance its participation in the electric vehicle space by pursuing its internal EV program in addition to partnering with Ather.
"Ather is the best start-up in the two-wheeler EV space and we firmly believe that they are on the way to become one of the leaders in India, potentially even globally. They bring together a vision with high aspiration, ability to progress rapidly and the humility to learn and improve continually. We are excited to be a strategic investor and see this as an important step in building the necessary eco-system needed to support commercialisation of EVs in the country."
The funding from Hero MotoCorp is likely to accelerate the commercial launch of the S340, which has been pushed to early 2017 from end-2016 due to manufacturing constraints. Moreover, Ather might be able to leverage the country's largest two-wheeler maker's expertise in other domains such as marketing and supply after the launch of the eco-friendly scooter.
Redefining travel on two wheels
In February 2016, Ather Energy had unveiled the in-house designed S340, which is slated to go on sale in the second half of 2017 from a new manufacturing plant in Bangalore.
The electric scooter with a lithium ion battery pack has a top speed of 72kph and a range of 60km on a single charge. The S340, for which the company has filed 15 patents, promises a richer ownership experience manifested through vehicle intelligence which enables on board navigation, pre-emptive diagnostics, remote configuration and personalised ride profiles through a touchscreen dashboard and mobile app.
The S340's touchscreen dashboard integrates cloud-based data to help personalise the consumer ride
Structurally robust and intelligently designed, its IP67-rated battery pack can last 50,000km. The vehicle achieves an 80 percent charge in 50 minutes in fast charging mode and can be charged from any 5A normal socket in normal mode. It has a distinct sporty look with zero lateral weight offset, a low centre of gravity and intuitive LED lights that respond to ambient light conditions.
The experience extends to the go-to-market strategy with a combination of online sales complemented by experience centres that will bring the brand to life. The ownership experience also ensures convenience through doorstep delivery and servicing and a mobile app for remote access and configuration. Ather also aims at setting up a ubiquitous charging infrastructure in every city it will operate in, partnering with government and private enterprises.
Recommended: How Ather Energy is treading a different path
How will the Indian two-wheeler industry meet BS-VI norms in record time? Be a part of the upcoming Two-wheeler industry conclave to find out!
RELATED ARTICLES