Ashok Leyland's sales rise 30% in January 2016, unveils Captain 40iT tractor
Thanks to the consistent uptick in the M&HCV segment, the company maintained double-digit growth (40%) with strong sales of 11,208 units (January 2015: 8,009 units).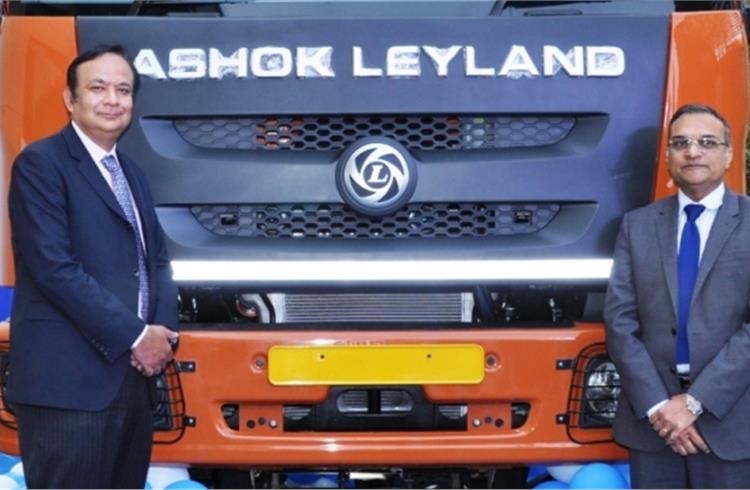 Ashok Leyland, the second largest commercial vehicle maker in India, has reported a 30% increase in its overall sales in January. The company sold 13,886 units in the month (January 2015: 10,643 units).
Thanks to the consistent uptick in the Medium and Heavy Commercial Vehicle (M&HCV) segment, the company maintained double-digit growth (40%) with strong sales of 11,208 units (January 2015: 8,009 units). Meanwhile, its LCV sales grew marginally by 2% with sales of 2,678 units in the month (January 2015: 2,634 units.)
During April-January 2015-16, Ashok Leyland's sales rose 36% with 110,349 units despatched (April-January 2014-15: 81,386 units). M&HCV sales are up 44% with 85,721 units (April-January 2014-15: 59,403) while LCV numbers are up 12% at 24,628 units (April-January 2014-15: 21,983 units).
In January, Ashok Leyland received an order for 680 vehicles and spare parts, worth US$ 50 million (Rs 315 crore) from Zimbabwe.
Also, in November last year, the company had bagged a contract for supply of 3,600 vehicles worth $200 million (Rs 1,263 crore) from Cote D'Ivoire". The vehicles, which include trucks and buses, will be delivered over the next 12 months. This is the largest contract for this country with any firm in India, and also represents the largest such contract till date for Ashok Leyland.
Captain truck range grows with 40iT tractor
Extending its Captain range of heavy duty trucks, Ashok Leyland today unveiled the first Captain 40iT tractor in Jaipur.
Co-created with drivers and users following an extensive study of their lifestyle, the new Captain 40iT has been designed specifically for Indian requirements. It has undergone more than 2.3 million kilometres of on-road testing, and extensive internal testing on paved tracks and 6-posters. The company says this new series of Captain Tractors comes with a world-class cab and a fuel efficient new drivetrain in the 40T / 49T range. It features an intelligent engine management system – the dual data switch – that ensures optimal fuel consumption on empty and full load at the flick of a switch. A flat torque ensures lesser gear shifts, while the CRS engine ensures optimal performance. The new Captain 40iT is claimed to offer a better pickup, ease of repair, and the highest cab tilt angle in the industry.
The Captain 40iT is powered by a turbocharged diesel engine that develops 180bhp and maximum torque of 660Nm. The indigenously designed cab adheres to best ergonomic and styling standards, with spacious interiors, roof hatch and leg vent for ventilation and comfort in all weather conditions, lockers that can be opened from the outside for items required when the truck is parked, safe locker storage for valuables, comfortable sleeper berth, mobile charger, music player with a USB port, among others.
The tractor segment has seen very good growth over the past few years, and constitutes almost 12% of TIV. Rajasthan alone contributes nearly 21% of the tractor TIV, with tractors constituting nearly 50% of all MDV vehicles sold in Rajasthan.
Speaking at the launch, Rajive Saharia, president – Trucks, Ashok Leyland, said, "The Captain 40iT reflects the same comfort, reliability, efficiency and versatility that the Captain series of trucks is renowned for, and comes to the market after extensive testing and proven reliability. It offers versatility and adaptability not experienced in the segment before. I am confident the new Captain 40iT will maximise productivity and enhance returns on our customers' businesses."
The Captain 40iT will be manufactured at the company's state-of-the-art facility in Pantnagar, Uttarakhand.
RELATED ARTICLES