Ashok Leyland reveals all-electric Dost and Boss
After unveiling the all-electric Versa bus from its UK arm Optare Plc at the Bus & Special Vehicle Show, organised by SIAM in Delhi earlier this month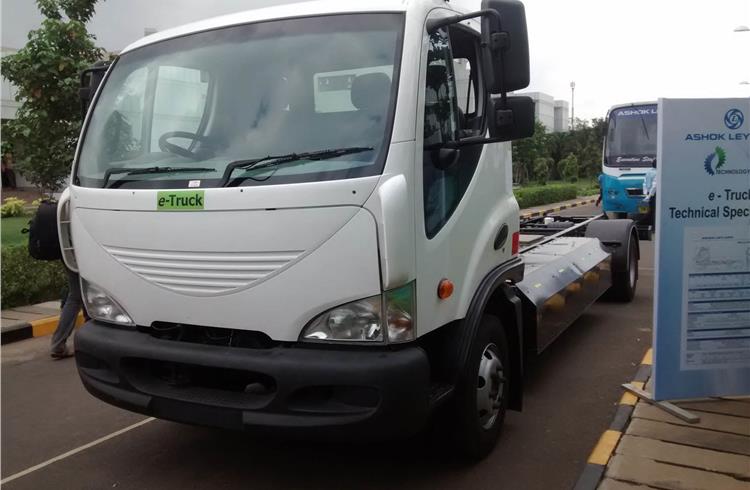 After unveiling the all-electric Versa bus from its UK arm Optare Plc at the Bus & Special Vehicle Show, organised by SIAM in Delhi earlier this month, Ashok Leyland is driving ahead with its focus on alternate fueled vehicles.
The commercial vehicle manufacturer has now readied zero emission vehicles (ZEVs) in the form of an all-electric Dost LCV, a 10-tonne electric Boss truck and a 10-tonne electric midi bus. There is also a Dost powered by an ethanol engine completely developed in-house.
Although these vehicles may not be commercially viable immediately, the company says it wants to be future-ready, given the Indian government's new focus on eco-friendly vehicles.
Speaking to Autocar Professional about these concept vehicles, Dr N Saravanan, senior vice- president, product development, Ashok Leyland, said: "The idea behind coming up with these vehicles is to develop various concepts and, depending upon their demand in the market, introduce the right one at an appropriate time. We are looking at a whole spectrum of vehicles and what potentially could happens going forward and be prepared for it."
According to Dr Saravanan, electric vehicles globally haven't yet made commercial profits but combined with governmental incentives in polluted cities they make for a socially beneficial proposition. In the Indian context, he said bigger cities like Delhi, Chennai or Mumbai could look at having a larger parc of electric vehicles as the government is looking at offering incentives for such transportation under the National Electric Mobility Mission Plan (NEMMP).
As regards the electric Dost (pictured above) and the e-Boss, he said, "We have conducted a lot of trials and are ready with these vehicles. Once there is market demand, it will be an easy conversion for us."
The 10T GVW Boss truck can carry up to 5 tonne payload and can go up to 125km on a single charge depending upon the drive cycle. The company also has off-mode 40 kW charges which help charge the battery in one-and-a-half hour with up 80 percent of the total charge. Similarly, the Dost LCV can go up to 50km on a single change with 650kg payload.
Dr Saravanan said the company is working on four key technological areas including vehicle safety, alternate fuel, vehicle comfort and fuel efficiency. On an average Ashok Leyland spends nearly 1-2 percent of its total sales on research and development
Meanwhile, recently Ashok Leyland celebrated its second Technology Day with a two-day symposium-cum-exhibition at its global R&D centre in the outskirts of Chennai. This year the theme was 'Powertrain Technology' with a focus on technical advancement related to engines, drivetrain, and hybrid electric technology and ethanol engines.
The company's global R&D centre, spread across 130 acres, is one of the largest for OEMs in India, and has nearly 1,000 engineers working on vehicle styling, design, simulation, development, building physical products, testing, validation and homologation.
A 200-member team is working on engine development for commercial vehicles. Ashok Leyland's engine portfolio comprises motors starting from 1.5 litres through to 8 litres with output from 60hp to 360hp engine in diesel, CNG and ethanol.
RELATED ARTICLES