ASDC facilitates 60,000 skilled jobs in auto sector through FY22
The apex training and certification body, ASDC is revising curriculum to meet EV and Industry 4.0 demand.
ASDC facilitates 60,000 skilled jobs in auto sector through FY22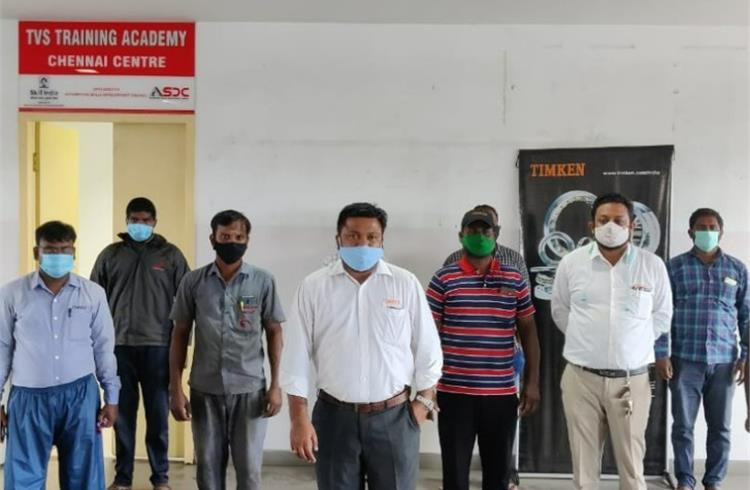 ASDC facilitates 60,000 skilled jobs in auto sector through FY22
The Automotive Skills Development Council or ASDC has facilitated training for 60,000 new skilled employees in the automotive sector in FY22. The chunk of these associates joined various OEMs, suppliers, as well as vehicle dealerships, under the government's apprenticeship programme, which allows for on-the-job training and evaluation of an individual, before they get the course certification from ASDC.
ASDC, the apex non-for-profit training and certification body has been constituted by the government to take care of the skilling requirements, particularly those of the Indian automotive industry. According to Arindam Lahiri, CEO, ASDC, "The automotive industry is undergoing a two-way disruption with an immediate need to reskill / upskill the existing manpower, as well as getting fresh candidates with new skill sets that cater to the technology evolution."
"We have had a record intake in FY22, and were able to get more than 60,000 new people become part of the automotive workforce, despite the first two months being a washout due to the second Covid wave in April last year," Lahiri added.
"We are taking help from the government's apprenticeship scheme which is a very flexible programme that allows the industry to induct new manpower, train them in the process, and derive both financial and non-financial benefits," he added.
The fresh manpower is being primarily seen getting deployed into roles in manufacturing such as welding, machining, assembly operations, and quality alongside getting placed in technician positions in dealerships to service incoming vehicles. "Almost 95 percent of the apprentices continue to be in jobs even after completion of their course and about 65-70 percent continue to be in the same organisation," Lahiri pointed out.
Reskilling staffers, overhauling courses
With technology evolution such as transition to BS VI, reskilling the existing manpower has also been one of the key mandates for this training administrative body that comes under the aegis of the National Skill Development Corporation. According to Lahiri, "We have reskilled close to 30,000 people throughout FY22, notwithstanding the challenge of being unable to do physical programmes due to the pandemic."
Given the undergoing transformation in the automotive industry globally, ASDC has revised more than 100 course curriculums all through 2021 during the peak of the pandemic, in order to make the new workforce future ready.
"All the existing job roles have been upgraded to reflect the changes that are happening in terms of technology. We have also brought in a new curriculum, especially in the areas of Industry 4.0 as well as electric vehicle-related courses in manufacturing, engineering, and service." Lahiri explained.
He further mentioned that ASDC is also trying to build certain international partnerships to get hands-on exposure on these incoming technologies, learn from the experts, and bring the skill sets to India by creating a pool of trainers.
RELATED ARTICLES