Apollo Tyres launches Vredestein Pinza all-terrain premium SUV tyres in India
The Vredestein Pinza AT is a global product which is produced in India; its key highlights include all-weather grip and excellent stability, ruggedness and quieter ride quality.
Apollo Tyres has introduced its Vredestein Pinza AT premium tyres for SUVs in the Indian market. The Vredestein Pinza AT is a global productwhich is manufactured in India.
Produced at Apollo Tyres' Vadodara and Andhra Pradesh facilities, these tyres have been tested extensively in different climates and weather conditions across multiple continents. The key highlights of the Vredestein Pinza AT are:
- 'Silent Groove' and multi-pitch technology for quieter operation than competing all-terrain tyres.
- Stone ejectors and three-ply triplex casing for enhanced durability and protection against external damage.
- Jagged-edge shoulder design for rugged aesthetics and full capability in mud, sand and snow.
- Fifth-generation polymer blend provides outstanding wet weather stability with full depth Interlocking sipes.
- Wider tread pattern, increased tread stiffness and four herringbone grooves for water evacuation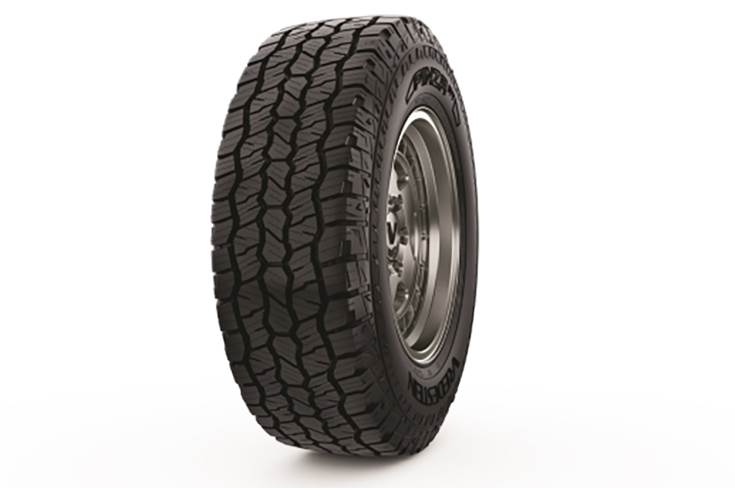 According to the company, the Vredestein Pinza AT is targeted at premium SUVs from brands like Jeep, Jaguar Land Rover, Mercedes-Benz, Toyota and Volvo. The ultra-high-performance tyre has been developed after intensive study into SUV owner / driver habits and preferences.
Commenting on the launch of Vredestein Pinza AT in India, Satish Sharma, President, Asia Pacific, Middle East and Africa (APMEA), Apollo Tyres said: "The introduction of Pinza AT demonstrates our unwavering commitment to meeting the drivers' needs and ensuring that they have carefully thought-out and expertly engineered solutions, no matter what they drive or where they drive it. These tyres have been refined for on-road civility but built rugged for off-road capability, and will appeal to the off-roading enthusiast with premium SUVs or with a premium mindset."
RELATED ARTICLES