ACMA conclave urges global mission with Atmanirbharta
The focus was not just enabling an Atmanirbhar Bharat but also seeking to identify the key challenges in maximising local content and building a strong brand – India.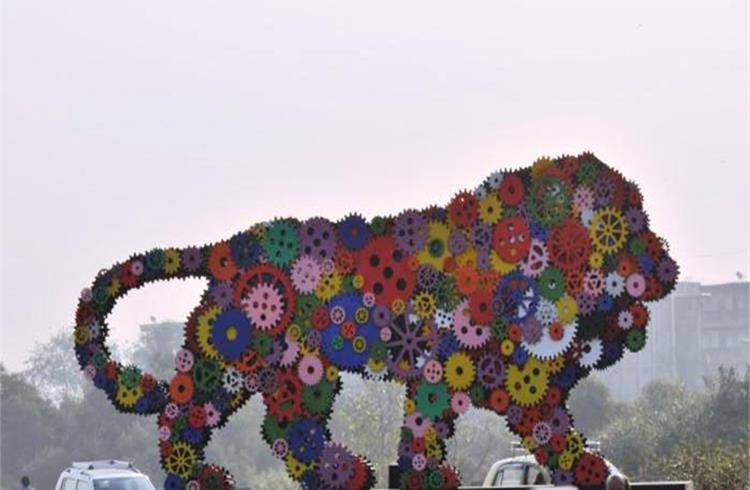 The Automotive Component Manufacturers Association of India (ACMA), the apex body representing India's auto component manufacturing industry, today hosted its 60th Annual Convention under the theme "Auto Components Industry- Shaping the New Normal". The focus was not just enabling an Atmanirbhar Bharat but also seeking to identify the key challenges in maximising local content and building a strong brand – India.
Spread across three sessions, discussions centered around the future course for the industry, defining pathways to explore new avenues of growth, while building strategies to thrive in the post-Covid world and saw participation by captains of India Auto Inc and key Ministries.



Deepak Jain, President, ACMA & CMD, Lumax Industries kicked off the day's proceedings calling this a "year of resilience for the overall industry." He reiterated that, "A more confident & self-reliant Indian industry prepares to take centre stage in global manufacturing and build a strong brand – India."
Maximising local capability, increasing exports


The newly appointed SIAM President, Kenichi Ayukawa, MD & CEO, Maruti Suzuki India, seconded Jain's call for localisation saying, "Need to maximise production, exports and maximise local content and capability- the essence of Atmanirbhar Bharat." As SIAM president, he had three key requests to the component industry, "Need to keep taking care of your employees but please try and increase production, please take care of quality processes, implementing SOP may be a problem in current scenario but make sure there is no compromise on quality and safety. Thirdly – make use of the opportunity in adversity. Many companies in China are putting up plans in other countries, we have to look at bringing them to India. Will try and explore business opportunities from Japanese players who can come to India."
Uday Kotak, President, CII and MD & CEO, Kotak Mahindra Bank too echoed the sentiment of creating an Atmanirbhar Bharat, "Auto component manufacturers in many way represent the concept of Atmanirbhar Bharat….A true symbol of a self-reliant and globally competitive manufacturers. The entire value chain in the auto sector needs to be considered as a whole. As the IC engines gradually give way to EVs, need to see how technology can help adapt and evolve. Continuous risk of supply disruption a key risk for the component manufacturers. Need seamless coordination between centre and state for a demand push to the auto sector."
Pawan Munjal, CMD & CEO, Hero MotoCorp called this post-Covid period as the "dawn of a new era. I am aware of the status of the automotive industry. This pandemic following two years of slowdown could not have come at a worse time. But need to look for opportunities in every crisis. Need to design a new future, paving the way towards Atmanirbhar Bharat." He highlighted that, "Constructive partnership between OEMs and component manufacturers key to growth. Connecting and collaborating way forward for auto industry."

Bringing in the government perspective at this juncture and touching upon the key aspects of the auto component industry, Amitabh Kant, CEO, NITI Aayog said, "The future course requires to focus on local manufacturing and across tier 1, 2 and 3 suppliers as we believe all resources and capabilities are available in India. We need to ramp up R&D to create indigenise technology and therefore reduce imports. There is also need for new synergies such as with IT industry in the areas of power electronics. India must look at using the first mover advantage for producing all components for electric vehicles, thus driving towards the path of being a future global leader. The EV battery prices are set to go below $100, throwing a huge opportunity in the sector to localise. Moreover, we also need to reskill our existing workforce with information related to electronics and digitisation."
Road to self-reliance


The second session of the ACMA convention started with a warm and encouraging note from Osamu Suzuki, chairman, Suzuki Motor Corporation, "I am sure India will grow and revive despite the Covid-19 crisis. In Japan, July and August sales were optimistic and we anticipate the Indian market to show a similar response. We will make best efforts to recover production and sale normal to pre-Covid levels and strive to promote 'Make-in-India' and 'Atmanirbhar Bharat' (self-reliant India) along with the stakeholders."
T Suzuki, president and COO, Suzuki Motor Corporation, entrusted upon the automotive component suppliers for being the key drivers of India's economic growth and that their support was critical to revive production which has been impacted due to the pandemic.
Suzuki further outlined his optimism on the potential offered by the domestic automotive market in India, which, he stated, "May grow to over 10 million units in a few more years." "The regulatory environment in India is concurrent with the global norms now. It is very important to focus on quality, localisation and building capability through human resource development. Localisation of components, raw materials, tools and dies and technology will help the industry to be competitive both in domestic as well as global markets," Suzuki said.
"India can be an attractive destination for investments and the industry must leverage the opportunity," he added.
Taking note of the ongoing global crisis, Guenter Butschek, MD and CEO, Tata Motors, said, "The fierce onslaught of Covid-19 has impacted every individual, country and economy around the world. It has placed unprecedented and extraordinary demand in front of us but, I am overwhelmed by the tremendous resilience shown by ACMA members and the entire supplier fraternity."
However, according to the industry stalwart, while the global automotive industry entered this crisis coming out from one of the longest periods of success, India, in contrast, was reeling under challenges such as liquidity-crunch-induced market slowdown and BS IV to BS VI transition.
"Therefore, the impact of Covid-19 has been nothing short of devastating on the Indian automotive industry and at Tata Motors, we strongly believe that we are only as strong as our ecosystem. From the outset, it was clear that we will have to support each other to survive this catastrophe," Butschek said.
The company set up an IST (Inclusive Sustainable Transformative) task force, which has been working with its supplier partners and providing quantitative and qualitative support, along with prudent risk management to its stakeholders.
Now, as the economy is entering the restart phase, Tata Motors says it is seeing some green shoots and also observing fast-changing consumer trends such as conscious consumption, new standards of hygiene and cleanliness, digitalisation, and an enhanced focus on safety and security - which are all going to remain in the consumer psyche well beyond the pandemic.
"Hence, we need to operate amidst a fast-changing consumer landscape and it is vital to adapt to it to be future ready," Butschek said.
He also pressed the crucial need for forging deeper, richer and more purposeful collaborations with strategic partners. "Tie-ups not just between OEMs but between suppliers and OEMs will be as important going forward," he added.
Butschek raised the topic of India's accord to be self-reliance and transform into a global manufacturing hub. "'Vocal-for-Local' is the strongest pledge for India to get self-reliant and reach the next level."

Union Minister for Road Transport and Highways, and Micro, Small and Medium Enterprises, Nitin Gadkari, opened his remarks to the virtual conclave by reaffirming his faith and confidence that the country would overcome the challenges posed by Covid-19. Gadkari also assured the industry of government's support for increasing its production and exports.
Citing the government's measures on the infrastructural development side to boost demand, the Minister said, "We are making 22 green express highways. 50 percent of the Delhi-Mumbai expressway has already been completed and covers the backward areas of Haryana, Rajasthan, Madhya Pradesh and Maharashtra."
To further aid the industry, he reassured government support in the form of smart cities and development of industrial clusters in rural areas with connectivity to cities and ports through the NHAI. This would drive cost efficiency and improve business viability for the industry to expand.
Gadkari also emphasised on the reigning in of the crucial issue of air pollution. "Green environment and sustainability are high focus areas of the government with a parallel focus on creating alternative fuels. We are already fixing standards on alternative fuels like ethanol, LNG, hydrogen cells and the like."
The Minister also appealed to the industry to reduce dependence on imports and with capital investments, develop high-quality alternatives that would be relevant for exports as well. "Improving product quality, more investment in innovation and R&D can help India become more competitive globally. Upgradation of technology is crucial for India. Skilled and trained manpower, availability of technology, government support and having a big domestic market are major advantages for India." he added.
Finally, touching upon the subject that has been lingering on for several months, Gadkari reassured that the Vehicle Scrappage Policy is coming. "I assure you we will clear the scrappage policy within a month with all necessary approvals in place. It might be out as early as by end-September."
Looking to enhance global footprint


The next session started off with an interesting study by Shivanshu Gupta, Senior Partner,McKinsey & Company. Given the global supply chain disruption that is underway and the fact that global automotive manufacturers are looking at supply chain resilience more than supply chain efficiency, he highlighted how auto component manufacturers could utilise this opportunity to their advantage, "India has a significant opportunity on the component side in context of import substitution. $12 billion worth of opportunity exists for import substitution."
According to Gupta, though India has a small share in global trade but it has a big opportunity to expand the share as supply chain shifts take place. While the global auto component exports currently stands at US $ 1,170 billion, the exports from India constitute mere US $ 14.5 billion (1.3 percent of global exports). To offer a perspective, Germany's share in total exports stands at 15 percent of the global exports. Likewise, Japan, China and South Korea contribute 7 percent, 11 percent and 6 percent of total global exports.
Indian auto component industry can aspire to grow three times its present capability by FY2026. "India has a small share of global trade but a big opportunity to expand the share as supply chain shifts take place. Expand exports in categories where it has competitive advantage & low share in global exports" added Gupta.
As per the report, as supply chains shift, India could expand its share in the global auto component trade to 4 to 5 percent by 2026, emphasizing a targeted export expansion and import substitution program for key components. Tier 1 suppliers could work closely with Tier 2 suppliers to build the necessary technological and manufacturing capabilities.
Also, auto component manufacturers could also address demand for overlapping products in non -automotive adjacent spaces, such as consumer electronics, communication equipment and power. Last but not the least, by optimizing product design, especially in the expensive manufacturing processes for BS VI components, the component manufacturers could cut down a quarter of total costs. Similarly, a granular analysis of various hidden cost segments could help them to cut between 15 to 25 percent of costs. The adoption of analytics in supply chain optimization could cut inventory costs anywhere between 20 to 40 percent.
According to Piyush Goyal, Minister for Railways and Commerce & Industry there is huge demand to be tapped by the Indian auto component manufacturers in the global arena. "I see opportunities for Indian component manufacturers to expand their business with high quality globally competitive products. Government will be happy to help in terms of addressing any trade-tariff issues". Indian component industry initiatives have pushed the overall industry to become globally competitive. ACMA is at the forefront of adopting the new normal and shaping the new future. We should be ready for massive change."
He agreed with Gupta on aftermarket as a key area of focus in the drive towards localisation but put in an average consumer perspective by highlighting, "A lot of the aftermarket has spurious products, need to look into expanding the scope and quality issues there. To focus on the OEM to service the car and maintain it in good shape. Need to look at more affordability in this field, aftermarket sales can open up more opportunity. Adherance to quality will enhance export competitiveness."
There is a dire need to change perception of the manufacturing quality in Indian and abroad on the lines of what the government did earlier in the form of Incredible India campaign claims Dr Pawan Goenka, MD, Mahindra & Mahindra (M&M).
"Perception is reality. Both globally and in India, we need to change perceptions and build trust in the manufacturing quality. When will customers start paying a premium for products that are 'Made in India'?" said Dr Goenka
As per Goenka, it is simply astonishing at the way industry has bounced back after the reopening of the lockdown but still a lot needs to be done. "The time has come to redefine the new normal that will chart the growth path for India's automotive component manufacturers going forward." Continued Goenka emphasized that SIAM, ACMA and government needs to work together on road to become more self-reliant. "Do we have the mindset to be Atmanirbhar? The road to self-reliance is not easy. The automotive component industry clearly has the vision. SIAM, ACMA and the government need to work together to realize this"
Lessons from Covid-19


But the Covid-19 has not just been a great leveller, India Auto Inc was unanimous in agreeing that it literally hit the reset button both in terms of professional execution and personal perception. Speaking at the final session of the ACMA Convention, Rajan Wadhera, President, SIAM and Senior Advisor, M&M said it made, "Digital transformation a reality, greater thrust towards local supply chains, need to be agile to respond to changes and respond to it fast."
Soumitra Bhattacharya, President & MD, Bosch India highlighted that "Covid-19 has changed everything. A complete reset for the world, not just professionally but personally too.. great opportunities to not just grab but react too."
Nikunj Sanghi, Chairman, ASDC and MD, JS Fourwheel Motors put the focus on industry's resilience in the face of the crisi, "Covid-19 has taught us to be resilient and how to deal with uncertainty. Covid-19 highlighted the need for effective inventory management. Also digitisation helped rationalise showroom infrastructure. Will help dealerships and industry as a whole."
According to Vipin Sondhi, MD & CEO, Ashok Leyland, "There is greater thrust now on public health, huge learning in terms of understanding the role of national security, migrant labour and business dynamics. LCVs surely seeing the demand at the moment. Expect HCVs, LCVs and ICVs all will have a play."
Arvind Balaji, Past President, ACMA and Jt. MD, Lucas TVS too agreed that it is a, "A huge reset for the entire industry. It is moving from less about control to more about how we operate in a fast-changing environment. A lesson that will stand us in good stead."
Abhimanyu Munjal, joint MD & CEO, Hero Fincorp signed off saying, "Prudent fiscal management is going to be a permanent feature and a greater adoption of digitisation and technology across sectors and in both personal and professional arenas. Fastest adoption to technology is ever. Geography is history now, thanks to technology. Time to reset."
RELATED ARTICLES