89% Indian car purchases digitally influenced: Google & Kantar TNS Study
The survey found out that there was a 2.5x increase in people who bought a four-wheeler within two months of their research.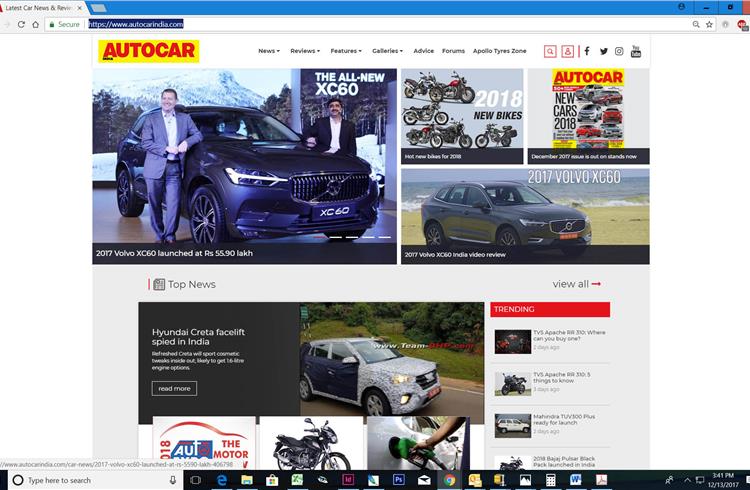 India is going digital but the speed at which the transformation is underway in the automobile market is taking industry and marketers by surprise. A new study, whose findings were revealed today, indicates that more and more people are taking a digital approach to decide on their new set of wheels. Nevertheless, the claimed percentage of digitally influenced buyers seems to be on the very high side.
A research report by Google India along with Kantar TNS claims that in 2017, 89 percent of car purchases in India were digitally influenced compared to 75 percent in 2016.
The survey was carried out across 27 markets covering over 500 respondents in each market, with a total of 13,828 respondents. The survey was carried out both offline and online, with an estimated average survey length of 15 minutes.
The report titled 'The Drive to Decide' states that potential buyers exhibited three key digital behaviour patterns – 96 percent of them searched online, 80 percent watched online videos and 88 percent of them preferred to research on their smartphones.
Vikas Agnihotri, Industry Director, Google India said, "Online video has emerged as the biggest disrupter for the four-wheeler industry in India. YouTube has over 225 million Indian smartphone users watching online video every month, auto content itself has witnessed an astounding 225 percent year-on-year viewership growth. From an advertiser perspective, what makes this trend even more relevant is that car manufacturers can now measure the exact impact that online is having on offline sales, and we believe that is a real game-changer."
In the last two years, the report states that around 2.5x growth was seen in consumers who took only two months to buy a four-wheeler. Concurrently, dealer visits by the consumers saw a decline of almost 50 percent in the last three years. Finally, two-thirds of digitally influenced buyers searched and discovered dealers online. The research report sees all this translating into shorter and more efficient buying cycles.
As per the report, online video (depicted above) is fast becoming a preferred information source that allows buyers to explore a new car from different perspectives. The percentage of online video usage in the process of buying a car in 2017 has nearly doubled from 43 percent in 2016 to 80 percent in 2017.

Safety first
Breaking up the types of videos consumers are watching – 41 percent were on vehicle safety tests; 41 percent on technology and features of the car; 38 percent on performance and 33 percent of them are customer reviews. Furthermore, the report highlights that 79 percent of consumers who view online videos are expected to act upon, underscoring the important role of online video in the decision-making process.
Speaking about the challenges for the marketing team faces today and some future trends, Gabri Herrmann, Kantar TNS said, "The modern auto shopper walks into the dealership armed with a staggering array of information. Delivering on research needs and inspiring the consumer is critical. Brands that succeed in this will win the sale."
RELATED ARTICLES