Wabco to showcase prototype of first-ever electric trailer at IAA CV Show
Commercial vehicle industry's first electric trailer claimed to maximise operating efficiency and lower fuel consumption.
Wabco, the leading global supplier of braking control systems and other advanced technologies that improve the safety, efficiency and connectivity of commercial vehicles, is to present its prototype of the industry's first electric trailer developed to maximise operating efficiency and lower fuel consumption.
Wabco's new electric trailer equipped with an electric motor and its associated control system – named eTrailer – marks the commercial vehicle industry's first prototype that uniquely connects truck and trailer vehicle controls. The company will display its new eTrailer at IAA Commercial Vehicles 2018, one of the industry's largest and most popular trade shows, in Hanover, Germany from September 20 to 27.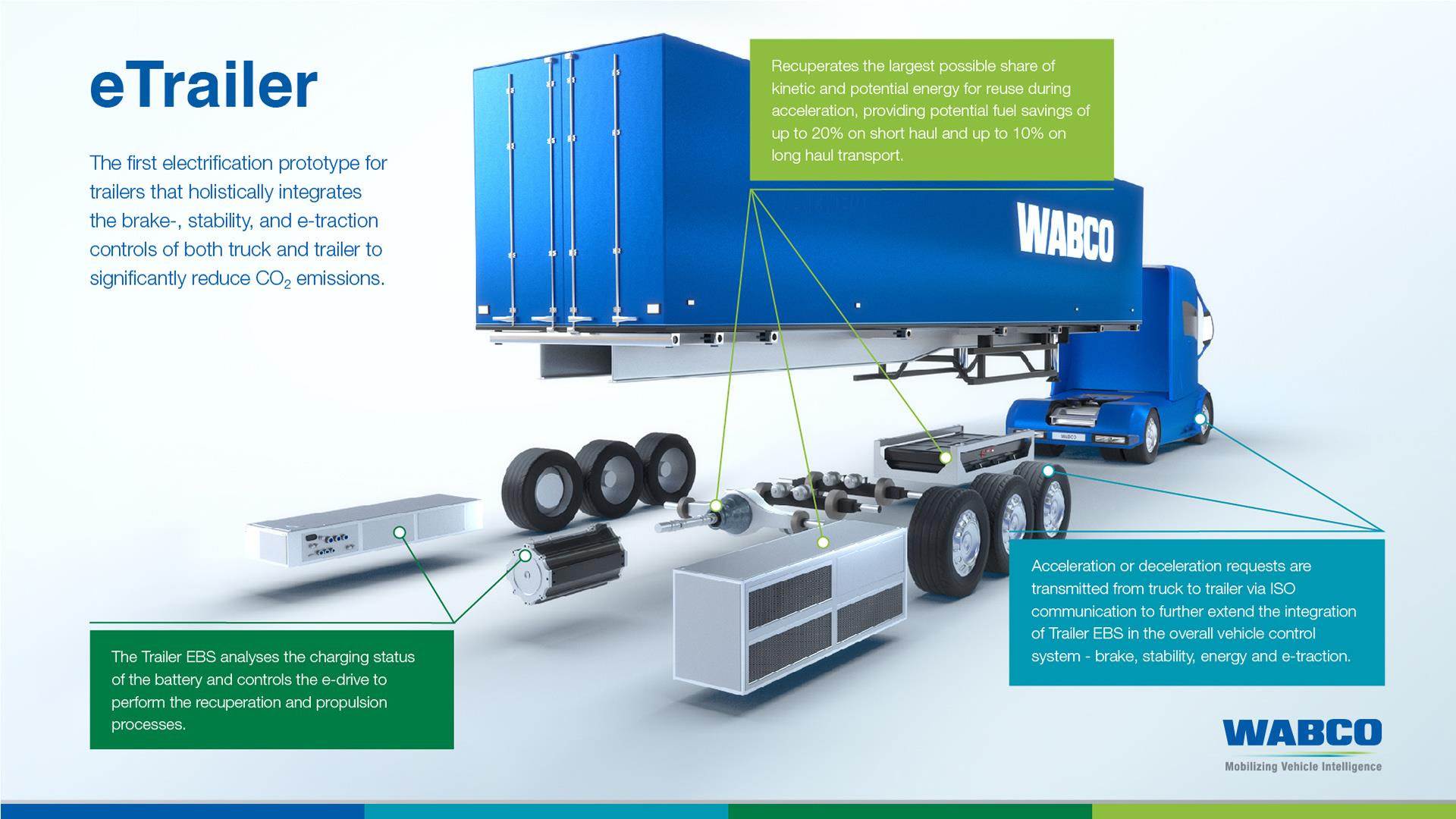 The eTrailer prototype uses an intelligent electric motor control to recuperate electric energy during braking, which can then be reutilised to power the vehicle's traction or to operate onboard electric auxiliaries.
Commercial fleet operators will be able to connect eTrailer to a truck equipped with Wabco's intelligent braking and stability control systems, which could maximise operating efficiency of the truck-trailer combination. In addition, Wabco estimates that its eTrailer could deliver fuel savings up to 20 percent on short haul routes and up to 10 percent for long hauls.
"As a top-tier supplier, Wabco is unique in providing trailer technologies that propel trailer and truck builders into the future of vehicle electrification as exemplified by eTrailer," said Nick Rens, Wabco president, Trailer, Aftermarket, Digital Customer Services and Off Highway Division. "This breakthrough demonstrates our differentiation by connecting truck and trailer vehicle intelligence, and it confirms Wabco in pole position as a development partner for electrification of trailers, particularly within chassis and drivetrain components."
"Wabco's eTrailer further differentiates by targeting best-in-class energy recuperation in any possible mode of operation," said Dr. Christian Brenneke, Wabco Chief Technology Officer and Head of Engineering. "Wabco is mobilising the increasing intelligence onboard and between trailers and trucks to empower fleets to gain further efficiency and improve fuel economy while reducing CO2 and noise emissions."
The e-Trailer innovation extends the range of Wabco solutions available for improved fuel economy among commercial fleets. For example, trucks and trailers equipped with current Wabco OptiFlow aerodynamic technologies can already achieve fuel savings up to 7 percent.
As of today, a tractor-trailer equipped with efficiency-related technologies from the company's portfolio of industry-leading innovations can increase fuel economy up to 20 percent while reducing emissions. These innovations include technologies such as OptiFlow aerodynamics for trailers, OptiDrive automated manual transmission, OptiRide electronically controlled air suspension, c-comp clutch compressor, FuelGuard electronic air processing unit and OptiPace predictive economic cruise control.
RELATED ARTICLES