Tata Technologies and China's NIO develop all-aluminium electric car
Tata Technologies and NIO China collaborate to come up with the ES8, the first electric, all-aluminium vehicle.
Tata Technologies' experts and teams from China, India, UK and Romania worked with NIO engineering team to develop ES8.
ES8, NIO's first electric all-aluminum vehicle, which the company intends to position in the Chinese electric vehicle mass market.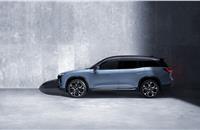 Tata Technologies today announced its collaboration with NIO China, a new-generation electric car company, for the complete product development process of NIO's range of electric vehicles.
The association between the two companies commenced with the collaborative engineering for NIO's first electric, all-aluminium vehicle, the ES8. NIO plans the ES8 to be its first product for the Chinese EV market, which is the largest in the world.
Talking about this association, Warren Harris, managing director & CEO of Tata Technologies, said,"Our close working relationship in the areas of lightweighting, connected vehicles and Product Lifecycle Management (PLM) is a great example of the type of partnerships that will define the future automotive ecosystem. We look forward to our partnership with NIO developing at scale."
Commenting on Tata Technologies's contribution, Roger Malkusson, vice-president, Vehicle Engineering for NIO, said, "They were able to pool in experts and teams from China, India, UK and Romania to work together with the NIO engineering team to deliver the final product which adhered to the highest standards in safety and finesse."
The two companies initiated their association in mid-2015, when NIO was close to being incepted as an ambitious next-gen EV startup. Since then, Tata Technologies has engaged with NIO to drive major engineering aspects related to the development of ES8, such as body structures, closures and exteriors, advanced manufacturing engineering, PLM and off-car connectivity.
Tata Technologies, in this strategic association with NIO, utilised its globally distributed execution model and extended its proven expertise in out-of-the-box engineering processes.
In an exclusive interview with Autocar Professional in May 2017, Harris had said: "We have got a couple of programmes in China. They are EV programmes that again constitute body structure, the platform and interiors. And, increasingly, we are also working with those same companies on the approach that they take to versioning and configuration management of the software that define the user experience, so increasingly we are moving away from just a pure focus upon mechanical systems and are getting into software and embedded technologies. At the moment, we have probably got 7 or 8 active full vehicle programmes."
Talking about EVs and China, he had hinted about the importance of the Chinese market for Tata Technologies. "In the last 12 months, we did business of over $25 million in China and we have got a 150-strong team there now. We are opening up an office in Shanghai. We have had most of our people on the customer side and in a very small Regus office until recently. We went from 3 million dollars to 25 million dollars last year. We expect a similar growth in the next 12 months. China is growing exponentially for us and that's a very exciting space."
"I would be disappointed if China is not the same size as our US and European organisations in 5 years' time and so that would position a target of over a hundred million dollars in China. We are really bullish about the market in China and about the ambitions of the Chinese OEMs. They really do believe that they can leapfrog the world with electric vehicles so they are not going to play catch up anymore. If you look at the calibre of talent that the new OEMs are attracting, it is remarkable. When we looked at China about four years ago and you looked at the traditional OEMs, the calibre of people was not what the industry is attracting right now and so I'm absolutely convinced that the Chinese OEMs are going to do very well. Not all of them will do well but the majority will do very well," Harris added.
ES8's body weight efficiency targets better than EuroCarBody Conference
With the goal of creating a product-development process that would establish an industry benchmark, NIO and Tata Technologies have worked on a range of concepts on weight optimisation using advanced materials. The team has worked on creating a process that would lead the way for more advanced material based vehicles in China. The result of implementing such expertise is that the ES8 is currently achieving body weight efficiency targets that are better than the EuroCarBody Conference.
The association has also achieved significant technological milestones in the PLM domain. The team successfully led and implemented the 3DEXPERIENCE 2016x (Dassault Systemes) solution. It was delivered by Tata Technologies' global talent and is another first in the next-gen EV OEM landscape, enabling engineers to accelerate the product development lifecycle through concurrent engineering.
RELATED ARTICLES