Solaris sells 50 trolley buses in Romania for Rs 217 crore
The buses are powered by overhead traction lines and has a capacity for 140 passengers.
Solaris Bus & Coach, a Poland-based bus, coach, trolleybus and tram manufacturer, has signed a framework contract for the delivery of 50 'Trollino 18' vehicles to the Romanian city of Cluj Napoca over the next four years. The value of the contract amounts to nearly PLN 115 million (Rs 217 crore).
The buses would be operated by the Romanian local transport provider, CTP Cluj Napoca. The vehicles will supplied in batches once in every half year. The vehicles will be fitted with a 250 kW traction motor and an additional energy storage device in the form of supercapacitators. The trolleybuses will come with a capacity of up to 140 passengers with seating capacity for 36. The driveline will be provided by Skoda.
The vehicles would come with air conditioning, passenger information system, 2-2-2-2 door arrangement and indoor and outdoor cameras, including one for monitoring the pantograph.
Last year, the city of Cluj Napoca ordered a total of 23 emission free Solaris Urbino 12 electric bus. 11 of those are already in use, whereas the remaining 12 are to be supplied by the end of this year. As part of the contractual option the producer may supply another 18 of these environmental-friendly vehicles. Taking into account the current order, CTP Cluj Napoca will become the operator with the biggest fleet of Solaris vehicles in Romania. It is also said to be the biggest operator of electric buses in that country and, taking into account its green transport-focused purchasing plans, the city is one of the most advanced in Europe in terms of electromobility.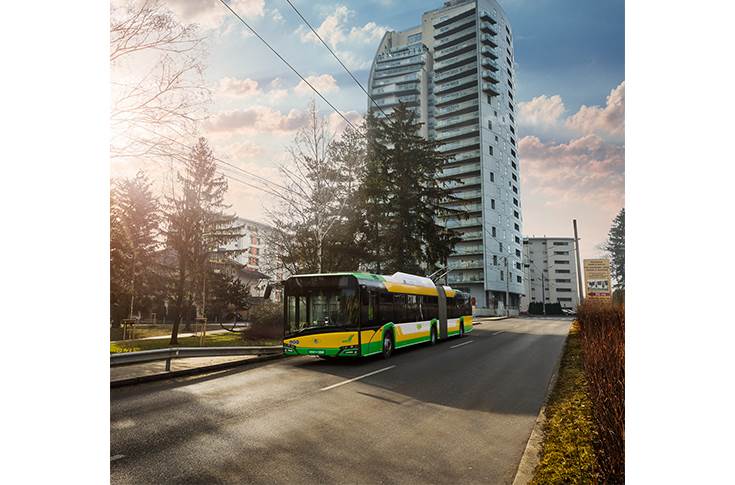 The trolley buses are powered by means of traction lines and are already running in Rome, Budapest, Vilnius, Salzburg and Gdynia, among others. Last year, Solaris supplied trolleybuses with hydrogen fuel cells as range extenders to the city of Riga.
RELATED ARTICLES