REE unveils Leopard fully autonomous last-mile concept CV
Last-mile autonomous delivery solution targeted at delivery, e-retail and logistics, with design developed based on stated needs from specific companies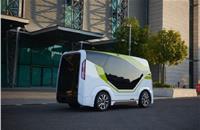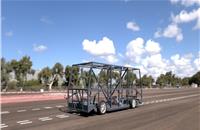 Israel-based REE Automotive has unveiled its autonomous electric vehicle concept vehicle based on a brand new ultra-modular EV platform design.
The full-scale concept is geared for customers including last-mile autonomous and electric delivery companies, delivery fleet operators, e-retailers and technology companies seeking to build fully autonomous solutions.
The company says the fully-autonomous delivery fleets will allow customers to build autonomous and electric vehicle fleets according to their exact specifications with unmatched interior space for transporting passengers and cargo. Its technology will be seamlessly integrated with any top hat and autonomous hardware.
REE says Leopard's design and specifications are the result of collaborative work with leading global delivery and technology companies focused on autonomous delivery and Mobility as a Service (MaaS) fleets. The 3.4-metre concept vehicle with front-wheel-steer, rear-wheel-drive and has a 2-tonne GVW rating and the following additional specifications:
X-by-wire REEcorner technology for drive, steer and brake control
Narrow design of 1.4 m (4.6 ft) and small footprint of 2.5 m2 (26.6 feet) for enhanced maneuverability
Easy cargo accessibility
50 kWh battery capacity
Top speed of 96kph
Cargo volume of 180-feet
The company says the Leopard – a last mile autonomous concept vehicle – is designed to carry significantly more cargo due to REE's low, flat floor. This means improved environmental impact of fewer trips in fewer vehicles, backed by a strong cost of ownership (TCO) structure: each vehicle in the fleet will be less expensive to run and maintain due to reduced energy cost and improved serviceability, leading to lower maintenance costs.
Daniel Barel, co-founder and CEO, REE said: "This concept showcases just one design application of our ground-breaking technology, one that answers the strategically crucial question of how to carry out autonomous, zero-emissions last mile deliveries, which has huge growth potential. Autonomous and electric vehicles 'Powered by REE' offer unsurpassed operational efficiency and the lowest total cost of ownership combined with full flexibility when it comes to integrating top hats in virtually any size, shape or form. We're here to make the shift to a carbon neutral future a reality faster and at scale."
REE and the Mahindra connect
It may be recollected that in August 2020, India's Mahindra & Mahindra signed an MoU with REE Automotive to explore development and manufacturing of electric commercial vehicles (ECVs) for global markets.
As per the strategic collaboration, Mahindra will leverage REE's electric vehicle corner module and platform technology of integrating powertrain, suspension and steering components in the arch of a vehicle wheel. Mahindra will utilise its well-established vehicle design, engineering, sourcing capability and manufacturing assets, that will enable a win-win strategic partnership for both companies.
The partnership will support REE's global customer need for 200,000-250,000 electric commercial vehicle units over a few years, including potential Mahindra's domestic and international volumes. Production would be scaled further to support additional volume in the global as well as Indian markets.
RELATED ARTICLES