Qualcomm targets software-defined vehicles with Snapdragon automotive 5G platform
Supports comprehensive connected services platform powered by Snapdragon Car-to-Cloud Services, enabling connected services for dynamically configurable, software-defined vehicles, trials underway with global automakers; will be commercially available in late 2023
Qualcomm's concept at CES 2023 was to show carmakers the potential of its next-gen technology, including a digital ecosystem, state-of-the-art voice control and high-end AI.
Qualcomm says the displays at the rear can be used for online video games and media streaming.
Snapdragon Auto 5G Modem-RF Gen 2 platform delivers 50% more processing power, 40% power efficiency gains and more than two times the maximum throughput compared to the previous generation.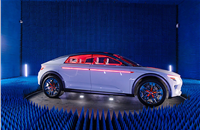 Qualcomm Technologies, which revealed its Snapdragon Digital Chassis concept vehicle designed to enhance features in software-defined vehicles (SDVs) at CES 2023 in January, has expanded its Snapdragon Digital Chassis connected car technology portfolio with the new Snapdragon Auto 5G Modem-RF Gen 2.
The company's most advanced automotive modem-RF system available features high performance processing power and up to 200 MHz of network capacity to support reliable, low-latency connectivity for safe, intelligent and immersive riding experiences. Equipped with the latest advancements in 5G, car owners will now have the broadband to enjoy the comfort and convenient experiences of a vehicle, home and office in one space.
The Snapdragon Auto 5G Modem-RF Gen 2 also introduces a new form of communication to the automotive industry with support for satellite communications, helping to ensure connectivity is ubiquitously available for applications that utilise two-way messaging.
Pushing the SDV envelope
Connectivity continues to play a pivotal role in the automotive industry's digital transformation as it lays the foundation for next-generation, software-defined vehicles. By connecting to 5G, Wi-Fi, and with cellular vehicle-to-everything (C-V2X) and satellite, vehicles can reach new limits on the safety, personalization, entertainment and productivity features they provide to end users.
According to Qualcomm, with the Snapdragon Auto 5G Modem-RF's support for these advanced connectivity technologies, automakers will be empowered to deliver premium digital experiences with:
Higher processing power, coverage and throughput with an integrated quad core CPU and up to 200 MHz of aggregated network bandwidth.

Increased support for vehicle safety for mission critical and emergency services that require connectivity to the network such as next-generation eCall and support for satellite communications.

Reduced cost with fewer components needed as this latest version features a multi-core CPU to allow for apps to run directly on the modem and features hypervisor support to isolate workloads resulting in seamless connectivity and power efficiency.

Next-generation advanced location engine that improves location accuracy and robustness in all environments to support emergency services, navigation, safety alerts and autonomous driving features; accurate positioning in the most challenging environments to enable use cases such as HD maps, automated valet parking and more.

Integrated C-V2X technology to support direct communications to enhance short range safety and mobility service.

Data routing within the vehicle at up to 1GB per second, giving automakers the flexibility to move traffic from the telematics control unit (TCU) to the infotainment system, a Wi-Fi hotspot or other connected device; ensures seamless communication for passengers to enjoy their connected services without any interruptions.
With nearly all global automakers utilising Qualcomm's automotive connectivity platforms, the Snapdragon Auto 5G Modem-RF Gen 2 builds on the company's strong position as a leading transportation industry systems solutions supplier for telematics and wireless car connectivity.
The Snapdragon Auto 5G Modem-RF Gen 2 is 3rd Generation Partnership Project (3GPP) Release 16-compliant and is being sampled by global automakers worldwide for expected commercially availability in late 2023.
"As the culmination of Qualcomm Incorporated's more than 20-year history connecting cars with our telematics or auto connectivity platform, the Snapdragon Auto 5G Modem-RF Gen 2 further harnesses the power of 5G for vehicles to assist automakers in democratizing access to smart, connected vehicle experiences," said Nakul Duggal, senior vice president and GM, automotive, Qualcomm Technologies, Inc. "5G will continue to unlock the future of automotive and transportation, and we're proud to accelerate the pace of wireless innovation in these industries."
RELATED ARTICLES