Marelli showcases EV parts portfolio at Auto Shanghai
Global Tier 1 supplier exhibiting a wide range of products from its Electric Powertrain business unit, including the e-Axle
Marelli showcases EV parts portfolio at Auto Shanghai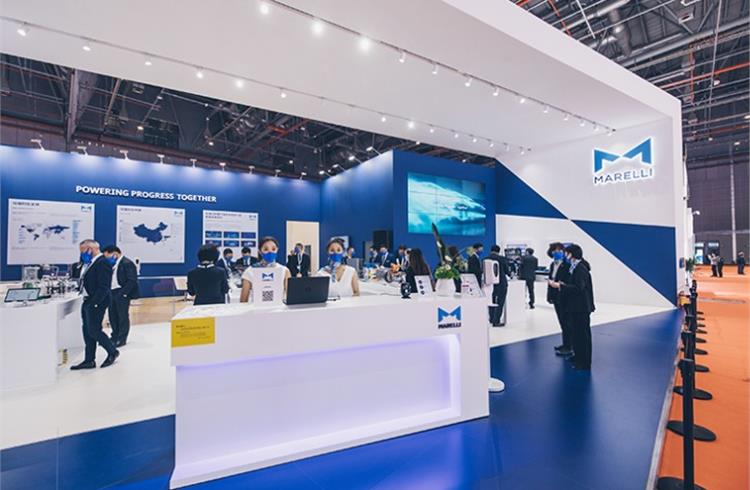 Marelli showcases EV parts portfolio at Auto Shanghai
Marelli is showcasing its portfolio for the first time at Auto Shanghai 2021since it formed from the integration of Calsonic Kansei and Magneti Marelli in 2019 to create a leading Tier 1 under the new global brand Marelli.
In its new, wider integrated footprint, Marelli has a significant presence in China, with 22 production sites and 8 R&D centres in 15 cities. With over 6,000 employees based across China, representing 10% of the Marelli workforce, and a growing customer base achieved through organic growth as well as through its nine joint venture partnerships in China, it is Marelli's most prominent and important market for future growth.
"The automotive sector in China continues to significantly outperform the rest of the world, both in terms of consumer demand and in the development of advanced technologies and the shift towards electrification," said Beda Bolzenius, Marelli CEO and President.
"For Marelli, we have a strong and growing presence in the Chinese market. Our industrial and R&D footprint combined with our nine joint venture partnerships are enabling us to meet the demands of our customers both domestically within China, as well as global customers from China. It is a region where we are actively investing and are strongly committed in a further expansion in key technology areas such as electric powertrain, electronics aimed at intelligent network connection, infotainment and HMI, and automotive lighting specifically focused towards the evolution of ADAS and autonomous driving".
Bullish on Chinese market
As part of Marelli's'Ambition 2024' mid-term strategic plan, Marelli has laid out its clear plan for investment and growth in the China market. It is the largest automotive market in the world, with production volume of light vehicles expected to reach about 28.5 million units in 2024, of which about 42% New Energy Vehicles and hybrids and about 58% still with internal combustion engines.
At Auto Shanghai, Marelli is exhibiting a wide range of products from its Electric Powertrain business unit, including the e-Axle, which integrates the e-Motor, inverter and gearbox all into one key component. Stators, rotors, e-Motors, inverters and battery management systems with distributed architecture are also on display at the booth.
RELATED ARTICLES