Kia bets big on software-defined vehicle tech with flagship EV9 SUV
Kia's flagship product becomes Hyundai Motor Group's first model to offer on-demand features and over-the-air (OTA) software updates.
Kia today introduced its Software Defined Vehicle (SDV) technology through its EV9 SUV's on-demand features and over-the-air (OTA) software updates, allowing customers to remotely purchase and install new software functions based on their needs.
Kia, which is affiliated with the Hyundai Motor Group, has recently launched its flagship electric SUV, the EV9. Notably, it is the Group's first model to offer a range of digital features and services accessible via the Kia Connect Store.
The EV9's electrical/electronic (E/E) architecture allows for OTA software updates, giving customers the added flexibility to select the features they want to upgrade. In addition to innovative experiences, such as Highway Driving Pilot (HDP), which provides conditional Level 3 autonomous driving, further on-demand services will be continuously introduced through the Kia Connect Store, providing personalised experiences and new value for customers through advanced SDV technology.
Hyundai Motor Group's future roadmap for SDV, announced last October at the 'Unlock the Software Age' event, highlights the safe and comfortable freedom of movement offered by software. Upgradeable software can enhance vehicle functions, including safety, convenience, connectivity, security, and driving performance, to offer innovative customer experiences. By embracing the latest technology, Kia is providing customers with personalised, cutting-edge experiences and paving the way for a new era of mobility.
Last month, Hyundai and Kia formed the Model-Based Development consortium with 17 Korean and international companies with leading software and virtual technologies to drive shift to software-defined vehicles.
Ushering a new era of SDVs
One of the most notable features of the EV9 is its expanded OTA software update capability. Unlike previous models, the EV9's OTA software update capability allows for updating not just the vehicle's core components but also its convenience features, providing the EV9 with endless possibilities as an SDV.
With the expanded OTA software update capability, various functions and convenience specifications can now be added or updated without requiring a separate equipment connection to the vehicle. This is possible through wireless communication between the cloud server and the vehicle, enabling control unit software updates without customers having to visit a service centre.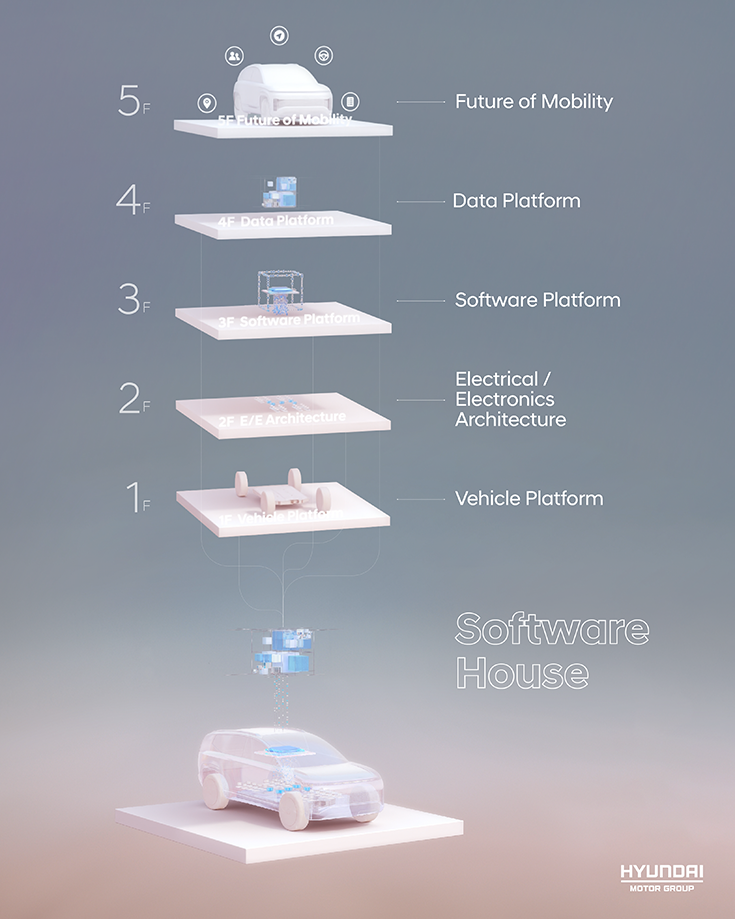 The integration of vehicle control units into four functional areas, based on a domain centralized architecture, is in line with the Group's SDV strategy. This integration process has significantly reduced the number of control units, providing a robust technological foundation for efficient vehicle function and performance upgrades.
Kia is taking a step further in providing a personalised vehicle experience. The company recently announced the introduction of Hyundai Motor Group's first-ever on-demand service with the Kia EV9, available through the Kia Connect Store.
The Kia Connect Store offers a range of features, such as Remote Smart Parking Assist 2, which enables drivers to park and exit their vehicles remotely. The store also offers a feature called Lighting Pattern, which provides five different display modes for the two clusters of small cube lamps affixed to the SUV's front.
Pushing the limits of vehicle customisation
Hyundai Motor Group states that it "is dedicated to continuously advancing the latest mobility technologies. To that end, the brand places an emphasis on creating products and services that empower customers to express their individuality and enhance their entertainment options."
Such features include entertainment-related services like movies, games, and video conferencing, which are highly relevant in the context of mobility as a living space. Additionally, in response to the trend towards personalisation, the Group plans to further develop products and services that allow customers to express their individuality through displays, sound, lighting, and other means.
ALSO READ:
Hyundai and Kia partner 17 companies to accelerate transition to SDVs
RELATED ARTICLES