KG Mobility in strategic tie-up with BYD to produce hybrid and electric vehicles
The rebranded Ssangyong Motor and BYD ink pact to expand partnership; includes a battery pack factory agreement in Korea and an agreement to jointly develop next-generation hybrid systems.
KG Mobility's new BEV pick-up is due for launch in December 2024.
KG Mobility's new Torres EVX is slated for a UK launch in Q1 2024.
Korea's KG Mobility (formerly SsangYong Motor Company) has entered into a next-generation hybrid system agreement with global electric vehicle major BYD.
The signing of the agreement took place at the BYD Group headquarters in Shenzhen, China, attended by KG Mobility Chairman Kwak Jae-sun, CEO Jeong Yong-won, Research Institute Director Kwon Yong-il, BYD Group Chairman Wang Chan-fu, FinDreams Battery CEO He Long, and FinDreams Powertrain CEO Luo Hong-bin, among others. The decision to expand future collaborations between the two companies was made to build on the successful launch of the Torres EVX.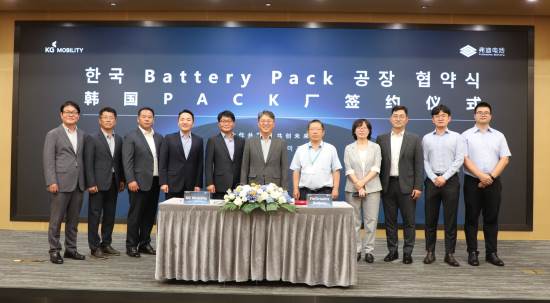 The signing of the agreement at the BYD Group headquarters in Shenzhen.
The agreement will see battery packs produced in Korea integrated into the Torres EVX and the company's new BEV pick-up, which is scheduled for mass production in the second half of 2024, and in other applicable vehicle models.
Before the agreement, researchers from both companies had already begun joint development of the next-generation hybrid system with plans to expand its lineup, starting with a Torres-based hybrid model in 2025.
Additionally, there are plans to concurrently develop plug-in hybrids. In this regard, a restructuring of the research institute was recently completed to bolster EV development capabilities and ensure success in hybrid development.
Chairman Kwak Jae-seon of KG Mobility said: "KG Mobility embarked on a journey of change and development as a mobility company by changing its name last March. We started with the launch of the Torres EVX, aimed at providing safe, affordable, high-performance electric vehicles meeting the needs of our customers."
He added: "We anticipate that this expanded cooperation with BYD will strengthen our electric vehicle lineup, including the Torres EVX, KR10, and F100, while reorganizing our product range to focus on eco-friendly vehicles. This includes introducing a dedicated electric vehicle platform and launching hybrid products."
Furthermore, Chairman Jae-seon Kwak said: "KG Mobility's development direction is evident in the recently released Torres EVX. We received an excellent response from domestic electric vehicle consumers by offering a 10-year, 1 million km battery warranty, the highest in the world.
"We are committed to delivering the utmost safety and assurance to our customers through the application of battery packs produced by KG Mobility in the future," he continued.
KG Mobility CEO Jeong Yong-won said: "By expanding the line-up of eco-friendly vehicles through cooperation with BYD for the joint development of next-generation hybrids, KG Mobility has laid a strong foundation for more stable growth."
He concluded: "This collaboration is especially significant as it allows us to secure future competitiveness by ensuring a stable supply of core components and developing new vehicles with cutting-edge electrical/electronic integration technologies."
BYD sells 301,733 NEVs in October, over 2.3 million in January-October
BYD is on a roll this year. The Chinese EV giant sold a total of 301,733 new energy vehicles (NEVs) in October alone. For the first 10 months of 2023, the company has recorded sales of over 2.3 million NEVs, 500,000 units more than the total 1.8 million NEVs it sold in 2022.
RELATED ARTICLES