Jaguar Land Rover boss: hard Brexit will cost jobs
Ralf Speth says "tens of thousands" of jobs will be lost if Britain doesn't secure a smooth exit from the European Union.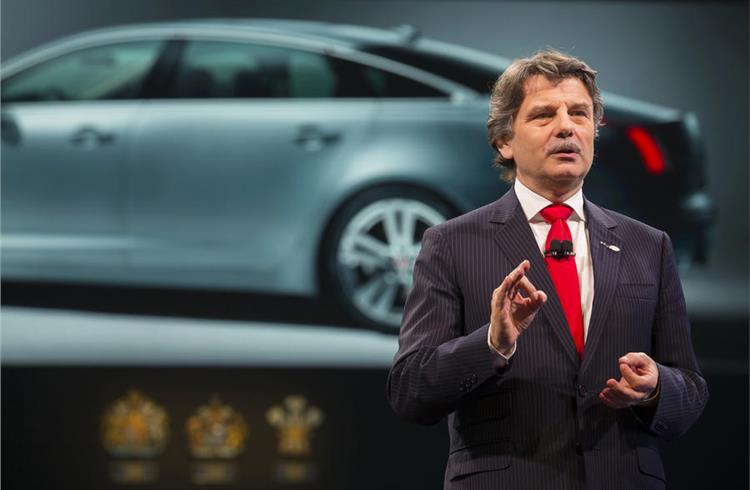 Jaguar Land Rover (JLR) boss Ralf Speth has said that the backlash against diesel and fears over the impact of a 'hard' Brexit have led to job losses in the car industry - at a time when he believes jobs should have been added.
Speth, who has been CEO of JLR since 2010, used his speech at the first Zero Emission Vehicle (ZEV) summit in Birmingham to highlight his concerns over the potential impact Brexit could have on the firm.
He said: "Jobs have been shed when they should have been created. A thousand lost as a result of diesel policy. Those numbers will be counted in the tens of thousands if we do not get the right Brexit deal."
Speth has warned of the dangers of Brexit to JLR in the past, and highlighted the lack of clarity from the Government around the issue in his speech, adding: "Brexit is due to happen on the 29th of March next year. Currently, I do not even know if any of our manufacturing facilities in the UK will be able to function on the 30th.
"We will not be able to build cars, if the motorway to and from Dover becomes a car park, where the vehicle carrying parts - vital to our processes - is stationary. Any friction at our borders puts our production in jeopardy - at a cost of £60 million (Rs 568 crore) a day. Unfettered access to the single market is as important a part to our business, as wheels are to our cars."
Speth said that clarity from the Government is vital to the company's decision making: "Six months from Brexit and uncertainty means that many companies are being forced to make decisions about their businesses that will not be reversed, whatever the outcome, just to survive. Talk diesel, petrol, hybrid or electric. Free, frictionless trade and clarity are the paramount fuels for our business."
Speth also said that the backlash against diesel has already cost 1000 JLR workers their jobs, with more at risk if it continues. He was particularly concerned by Government action against the sales of new diesel cars, rather than older cars.
"A disincentive has been placed on the newer, cleaner models, through tougher regulations and higher taxation," he said. "It has cost jobs; at Jaguar Land Rover 1000 people have been let go - with all the knock-on effects to their families and our local economy. More may be lost in the future.
"Let us focus on that we wish to build, rather than that we wish to ban."
The job losses, which came from the brands' Solihull facility, were confirmed in April, following a slump in UK sales for diesel cars. Between January and April 2018, just 33.5 percent of registrations were diesels in the UK, compared with 44 percent in the same period last year.
It's not the first time Speth has warned of diesel and Brexit risks; Speth has been outspoken on the problems to JLR that a hard Brexit would cause, saying "diesel has to – needs to – have a future."
Despite JLR's move towards electric mobility, with numerous electric models arriving in the next few years following the introduction of the Jaguar I-Pace, Speth reiterated diesel's importance. He said: "new diesel will still be the right choice for many people. What will happen to our rural communities, the idyll of English life, if it is banned without alternative? Without the right infrastructure being put in place? All Hybrid powertrains require internal combustion – diesel and/or petrol - alongside electric technology."
RELATED ARTICLES