Harman reveals new scalable car audio systems platform at CES
New scalable software platform offers the latest in-vehicle audio experiences as they become available, providing consumers the personalised experiences they want, when they want them
Harman's 'Ready on Demand' display button press
Ready on Demand display straight-sn screen A.
Ready on Demand is part of Harman's line-up of new products introduced at CES that are road-ready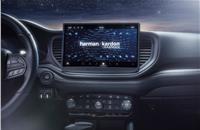 Harman, the automotive technology company and subsidiary of Samsung Electronics Co, today unveiled Harman 'Ready on Demand', a software platform for delivering branded audio value, feature enhancement, upgrades, and monetisation opportunities in an easy to-use app. An industry first product, Ready on Demand is the foundation for providing expanded experiences and future upgrades that can be unlocked by the consumer at any time via in-app purchases throughout the life of the vehicle.
As of 2019, consumers now trigger well over 200 billion smartphone app downloads per year creating an expectation that the devices in their lives should stay current in addition to adapting to their needs. The majority of today's car audio systems can't keep pace with this expectation, as car audio systems typically cannot be extended after production. With Ready on Demand, consumers can improve in-vehicle experiences and personalise their vehicle with premium audio features at any time.
"Today, when you purchase a vehicle, it's not always possible to get every feature you may want right at the start — cost may be a factor, as are availability and packaging constraints," said Armin Prommersberger, Senior Vice-President of Product Management, Harman International. "Ready on Demand transforms the traditional complex retrofit upgrade process for audio into something quick and easy for consumers, who can now create and customise their in-vehicle listening experience with just a few clicks, even after the initial vehicle purchase, all built on Harman's audio, system integration and user interface development expertise."
Ready on Demand is part of Harman's line-up of new products introduced at CES that are road-ready — and have demonstrated they deliver compelling in-cabin experiences. Each product is designed to work independently to deliver specific vehicle safety, wellbeing, and connectivity benefits — but also integrates seamlessly with other Ready products for an even more enhanced experience. For example, Ready on Demand is pre-integrated with not only the Harman Ready Upgrade application framework, including AudioworX audio processing libraries, but also with the Harman Ignite cloud back-end for ecommerce and content download. This will significantly reduce required development and increase speed of implementation for Harman Ready Upgrade partners.
As a key element of Ready on Demand, Harman has developed an initial set of on-demand experiences including packaged bundles of engaging, carefully selected audio and sound features. Exclusive brand-specific features can also be tailored within the packages. Examples of currently defined packages include:
Personalisation: features aimed at providing users with simple, seamless and customised audio experiences that can travel with the user from vehicle to vehicle in the same way that apps and in-app features can be accessed across multiple devices, especially useful for consumers who use more than one vehicle.
Communication: providing users improved ways to better communicate and interact with people both in and out of the vehicle.
Sound Enhancements: activates innovative and proprietary acoustic techniques in the vein of augmented and mixed reality to transport the listener to new virtual environments, adding a layer of ambiance, serenity, or excitement to their favourite music.
RELATED ARTICLES